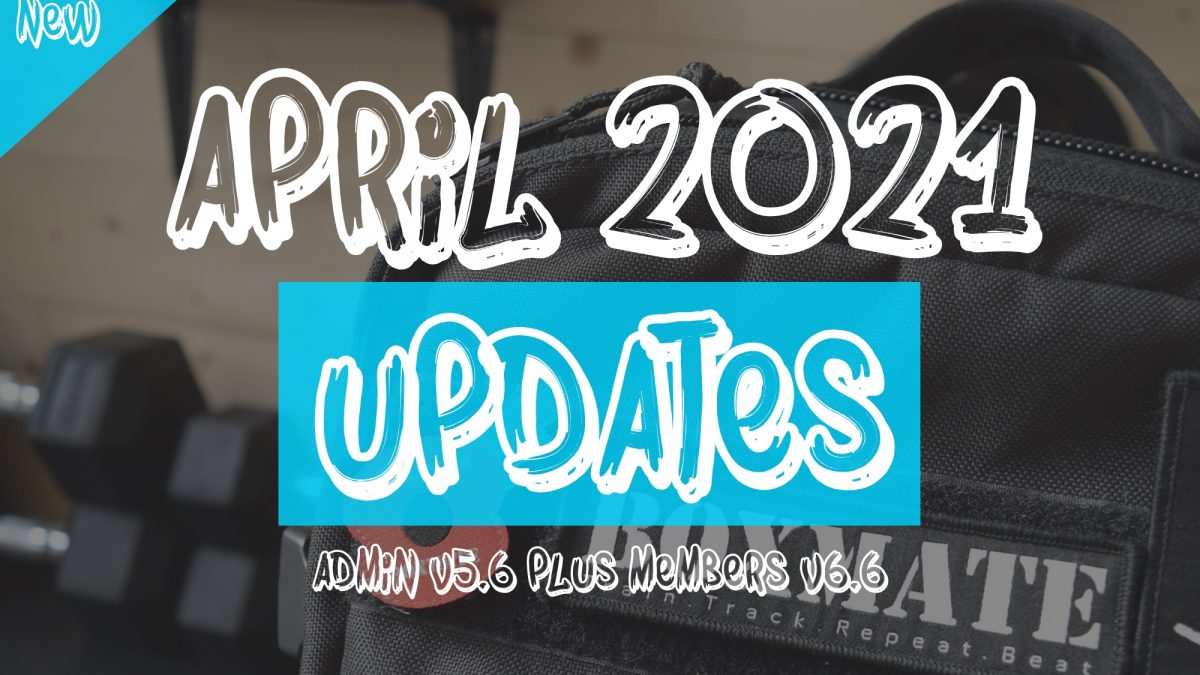 April 2021 Updates – What's New?
Danny, 6 months ago
0
6 min

read
684
Trying to wrap your head around all the new features and improvements that have gone live with BoxMate's latest update? Look no further, this blog is your breakdown of everything you need to know! Click the video above to watch and read about all the updates below. 
We have been working hard throughout Lockdown to bring both Admins and Member's an update brimming with new features and improved usability across all areas of BoxMate in preparations for the reopening of gyms (Thank God!🙌🏼).
New Features

28% Faster Than Current Weeks | 40% Faster Than Session Calendar ⏱
We have completely revamped programming through our newer Weeks View. Whilst previously a quicker way to programme but limited in features compared to the Session Calendar, this area now supports all programming features existing and new and is streamlined to massively decrease the time taken to input programming.
If you haven't made the switch to programming in weeks yet, now is the time! Click the video above to see our new Weeks Learn Tutorial.

The new Pack option for session blocks makes your sessions available in the app for members to select themself, choose a start date that suits them and then automatically add all sessions to their calendar. This is a great feature to add any additional optional programming for members outside of your regular sessions. Think '12 Week Strength Programme', 'Foundation Course', 'How To Get A Muscle Up' and much more! Extra revenue stream here we come! 💰
There are a few different options you can choose to let members access Sessions Blocks:
Free: This makes the session pack free for any member who has access to your BoxMate to use as they wish as many times as they want.
Requires Voucher: Another new feature added 'BoxMate Vouchers' allow you to set the Session Pack to require a code entering to gain access to the pack (These are created and sent out in BoxMate).
Requires Membership: The final option is to link a Session Pack to a TeamUp Membership. This way only members with that membership in their account will be able to access the Pack. Members can purchase the pack easily using the button provided.
Session packs are part of session blocks which is a BoxMate PLUS feature, you can start a free month trial here.

Sticking with the theme of videos, Sessions Videos is a new feature we think members and coaches will get a lot out of and lets you attach both a Coaches and Members video to sessions.
An assigned member video is the first thing the members sees and plays directly in the timetable, no links or buttons! With more and more gyms upping their video game during lockdown this can be used to explain warmups, session breakdowns and covering movements/scaling going forward for all sessions.
The coaching video can be found in the coaches corner popup in the timetable and is a great tool to give other coaches an insight into how the session should be run or any other important pointers prior to the session easily accessible at the touch of a button before taking the session.
Session videos can be added/edited from your Session Editor, Weeks View, and also directly from your members app using the Coaches Corner popup in the timetable 📹

This update brings the ability to assign your uploaded movement videos and demos for workouts and exercises to a new Video Movement Library in the members' app. By editing a video and tagging the 'Movement Library' option the video will be visible in a standalone area in the app with all videos along with the existing link in the timetable when it is programmed 📺
You can also now add the video to a "Series" which groups videos together for members, an example might be a "How To Get Your First Pull Up" series with 4/5 videos showing progressions and strength exercises which members can see all together and watch in the app.
We are also excited to announce that we have teamed up with The Athlete Program who had provided us with a comprehensive movement video library also available in the members' app that can also be synced to the corresponding exercises, exclusive to BoxMate PLUS. The library is a growing project and will continually be updated with new videos and is a great way of improving the member experience if you do not have the equipment/time to film/edit the videos yourself.
Categories in Box News 🔖
Categories add a new dimension to Box News, your members' private in-app news feed. You can now specify a category for a post eg. nutrition/events/news when publishing so it is then easier for members to filter through and find what they are looking for.
Refreshed Members List! ✅
Your member management list has a new sleek look and highly requested features. Members list multiple select feature has had a facelift with improved mechanics for bulk suspending/restoring members and adding to groups all from a new clean toolbar. You can now filter lists and switch between All Members, Live, Suspended, Pending, Away, and Deleted and gone are the days of refreshing on each action losing your spot when managing members!
Improvements
When creating a new weighted exercise BoxMate can now automatically create other variants of that exercise instead of manually adding 1/2/3/5/10RMs 🏋🏻‍♂️
Different programmes can now be assigned a programme color to make identifying them in the Session Calendar and weeks view much easier 🎨
Smart sets now keeps a record of recently used formats (5×5, 3×10 @80%, etc) and stores them for you so it can make suggestions the next time you are using smart sets 🧮
Got a chunk of programming that you want to add to a block? With the multiple select tool in the session calendar you can now convert sessions and then add them to a block 🧱
Component titles are titles that you can add to the components (Workouts or Exercises) inside of a session that are then displayed clearly above the component name in the member's app eg "morning cardio"/"afternoon lifting" ✍🏻
For member we added a timer/rep counter in the app for them to use during workouts to keep track then auto log the score when done! ⏰
We hope you enjoy and benefit from this latest update and the new features we have added improve your experience with BoxMate! As always, we want to hear back from you on your thoughts on the new features so reach out and let us know what you think!
Stay safe team! 💪
Danny & Team BoxMate
Related posts
Instagram
Instagram has returned invalid data.