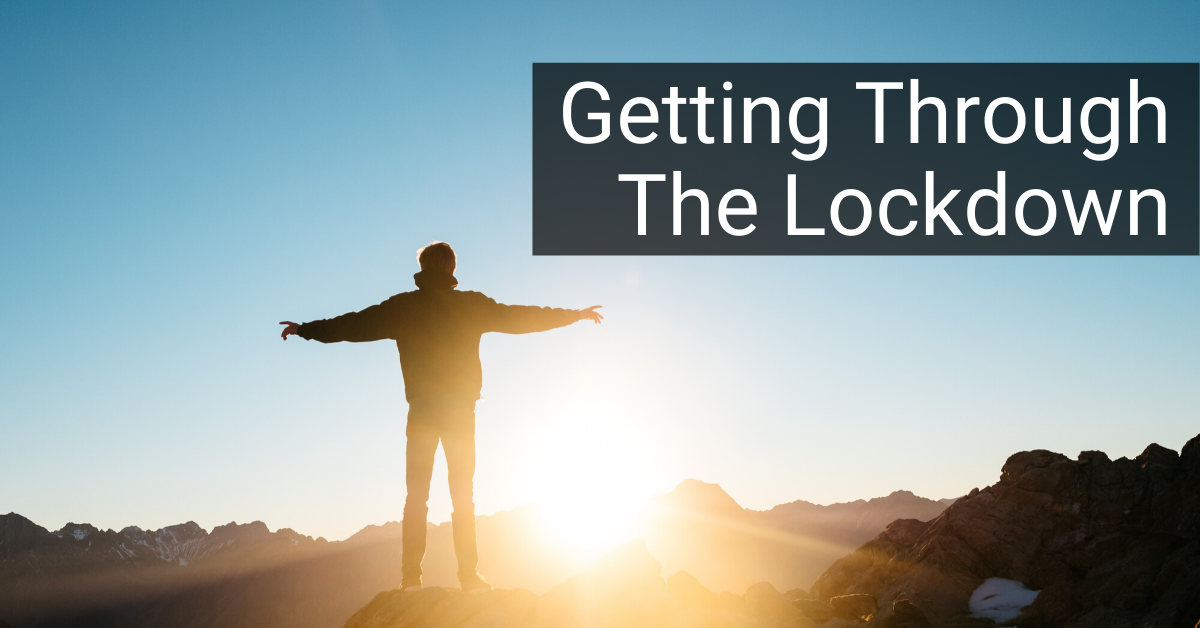 How to Get Through Lockdown.
Gabriella Redfern, 1 year ago
0
11 min

read
1531
None of us have ever experienced social distancing measures like this in our lifetime and now, more than ever, building a routine and focusing on positives is going to be vital to help us stay healthy, motivated and upbeat.
Some of us might have never worked from home before – add to this the fact that the places we work at might not be able to function as normal, so workloads might be lighter, or we may have even been sent home with no work at all to do – and suddenly there is a lot of empty space and time to fill.
With no CrossFit box to go to, no school run to do, no commute to work every morning, no familiar friendly conversation with colleagues, no lunch dates or drinks out with friends… it's a lot of change to deal with. With the added natural anxiety many of us are feeling for loved ones and those working hard to keep the country running it can start to feel a bit overwhelming. We are all in the same boat of having to adapt to a new lifestyle for the time being and we can take comfort in that.
Read on for some steps to take to help you stay positive and accountable.
Make a new normal
Many of us function around set routines that give a sense of calm and order to our lives. We are so used to being incredibly busy and rushed off our feet getting everything done and this gives us a sense of accomplishment.
The fact that we've stopped performing these normal routines can lead to feelings that we somehow aren't doing enough.
The first thing to remember is that by choosing to follow the advice to stay home (if you're in a position to do so -ie. not a key worker) – you ARE doing something. In fact, you're doing something pretty incredible – you are helping to save lives. Accept that and allow yourself to feel good about that positive action you're taking every day. You're not choosing to stay in and do less – you're choosing to stay in to do something compassionate and amazing.
Once you have accepted that you are playing your part, it's time to focus on making a 'new normal'. The only thing any of us can control right now is our response to this situation. So, try not to think about all the things you're missing out on – the things you normally love to do, such as go to your CrossFit box to get a sweat on, head out for drinks with friends at the end of a long week on a Friday, take your kids to the park, or go away on holidays. You can't control any of that or change it – so by feeling down and worried about it you are actually wasting energy on negative feelings.
Instead, try to accept the situation and decide to take control of what you can – your daily routine. See the next few weeks/ period of time that this takes as a challenge that you are going to turn into a learning experience.
Build New Routines
Start every day by moving your body
Ben Bergeron talks about this a lot on his 'Chasing Excellence' podcast and describes the huge benefits of starting off your day with movement. Whether this is 10 minutes of stretching, some yoga (there are lots of free beginner classes on YouTube like this one), going out for your one walk/ run for the day, or doing a home workout. It doesn't actually matter what it is you do just get your body moving at the start of your day and it will get endorphins flowing and help to boost your mood.
If you have children, Joe Wicks live PE class at 9am on his YouTube channel has been a real hit and can be a fun way of getting moving in the mornings together as a family. Give it a try!
Plan in time to talk to friends and family that you don't live with 
In a normal working day, you will spend at least some of your time having a natter with colleagues or friends – even when you're really busy. Don't let that go while you're at home and sit working non-stop, or feeling lonely. Schedule catch ups – even if this is just for a 10-minute check-in on your lunch break. Apps like Zoom, FaceTime or Houseparty are amazing for the added benefit of being able to see familiar faces too.
It's important to actually schedule this time in too. Unlike normal life where you bump into people throughout the day, you'll need to make it your 'new normal' to actually put the effort into making these catch ups happen.
Plan in a time to get your exercise done each day and stick to it!
Just like with planning in time to catch up with friends and family – you NEED to plan in your workouts. This might become your morning movement, or it might be in addition to it at a time that you prefer to get a sweat on.
Moving your body is so important for your physical and mental health – although it's tough to lose the normal training routines we have and the buzz of going into the box and training with friends, try and see it as a positive that you can train when you like now. Whether you chose to stick to your usual slot (many gyms are holding live classes still via various apps) or whether you mix it up and train in the middle of the day when you wouldn't usually be able to.
If you hate training alone – try and encourage family members to join in, or if this doesn't work – get a time with some of your training buddies and workout together on an app like zoom. It will help you stay connected and you can still have that competitive feel as you workout.
Do something you've been putting off.
Every one of us has something we put off because we can't normally find the time. Whether it's tidying the wardrobe, mowing the lawn, going through your gym wear and deciding which bits you don't wear/ could give to charity… we all put something off in 'normal' life. Now is your time to get it done and feel good about it.
Even if your work at home is keeping you really busy, you may still well be saving time on your daily commute. Use that time positively and see it as a bonus that you're getting time to do something you may have always wanted to try but haven't ever found time to do before.
This might be a chore like DIY at home or cleaning, but it might be something fun like learning something new online. It might even be some self-care that you never normally give yourself time for like a lie-in. If you're at home with your kids, there are so many online tutorials that you can do together – trying to learn some words in a new language, getting crafty with things about the house or baking together.
Limit your news intake.
This is a biggie. Of course, it is important to keep informed with key information and updates each day, but try not to consume too much more than that as watching too much of the news can start to creep into our thoughts and cause us to feel anxious and only focused on all the worrying stuff going on.
Why not just tune in for the essential daily update to keep yourself informed and then turn off the news after that? Watch something light-hearted and uplifting instead and help boost your mood. For any Disney lovers out there… (surely it can't be just our guilty pleasure!) Disney+ has just launched, you can get a 7-day free trial to watch some old classics and Marvel films too!
Manage your expectations
Your expectations of your daily life now really should be to be inside your home staying safe – not to be going about your normal routine – even though that's what you'd much rather be doing. Once you accept that it is much easier to feel a sense of calm and happiness.
If you keep worrying that this is never going to be over, or that life is never going to go back to normal it just feeds anxious and negative feelings that then result in us feeling down. Focus on all the positive news stories – like the fact China is now coming out of the other side and that we will too.
Research has shown that 60% – 70% of thoughts in an adult brain are negative – this isn't our fault, it's our natural response to processing perceived danger. Our brain lists all the possible negative scenarios for us and so we can address them – but, when our brain is throwing all sorts of negative thoughts at us every single day it can become overwhelming and unhelpful. It's important that we listen to these thoughts and process them, but then actually rationalise them. Many of the thoughts we are having right now will actually just be worst-case scenario thoughts.
Stuff like: 'I'm going to lose my job, then I won't be able to pay the mortgage and I'll be out on the street', 'My business will never recover and I'll have to start from the bottom again', 'I'm going to lose all the fitness I've worked so hard for over the last few years now I can't get to the gym'.
Of course, there are things we are naturally going to worry about, but try not to focus on worst-case scenario situations. For many of us, it won't actually get to this point that we're so worried about.
So, instead, focus on the positives as much as you can. Think about steps you can have an impact on and positive actions you can take. For example, like many gym/ box owners around the world instead of just going into pure panic mode that gyms have been closed, they've put their focus on putting even more effort into social media to keep in touch with members and have been doing online classes and tailoring programming so members can keep fit from home. If you're reading this and you don't own a box this applies to all kinds of businesses too – think about what your customers would find helpful at this time and try and do online tutorials for them.
Communicate, communicate, communicate.
Communication is ESSENTIAL for getting through this lockdown. Staying connected to friends and loved ones will help us to stay positive and look after our mental well-being while we are feeling lonely or trapped indoors. If you are living with family or friends, make the most of this time to really appreciate each other. All too often busy lives mean that when we do have time to spend together we're often too exhausted to really talk in depth or be fully present. Use this time to enjoy things you might not usually have the chance to do.
As said earlier, Zoom and Houseparty app are incredible for keeping in touch with loved ones  (here at BoxMate HQ we've regularly been using these apps to catch up with our friends and family. Can highly recommend the drawing/ Pictionary game on Houseparty! ). Now is the time to reach out as much as you can to those you care about. Send a message, pick up the phone, schedule a zoom meeting and check-in.
Spread positivity when you do communicate. Social media channels are being used even more than usual at the moment – so when you're online, spread messages that will help other people. Write kind words on pictures of friends, share nice pictures of good things happening like the lovely weather, activities you're getting a chance to do at home and positive things that are happening in the world. Don't fuel the bad stuff.
For those of you reading that are part of the incredible CrossFit and fitness community – keep staying in touch about your workouts! By sharing what you're getting up to, you can encourage each other (and those people in your network that might not normally work out) to get their bodies moving.
Obviously, we'd love to see you posting scores on BoxMate, sending High 5s and comments to spread the love and tagging #traintrackrepeatbeat so that we can see what you're getting up to and shout you out on our channels.
But, even if you don't use or have BoxMate – share your WODs and workouts on social media or in family WhatsApp groups or wherever you like to communicate online. Encourage each other to keep fit and healthy.
Remember getting through this is all about being there for each other. So let's focus on building each other up. We are ALL in this together. We will get through it together and we will come out stronger!
Love and (so, so many) High 5s to all of you out there trying your best and getting on with life in this strange situation.
Team BoxMate.
Related posts
Instagram
Instagram did not return a 200.