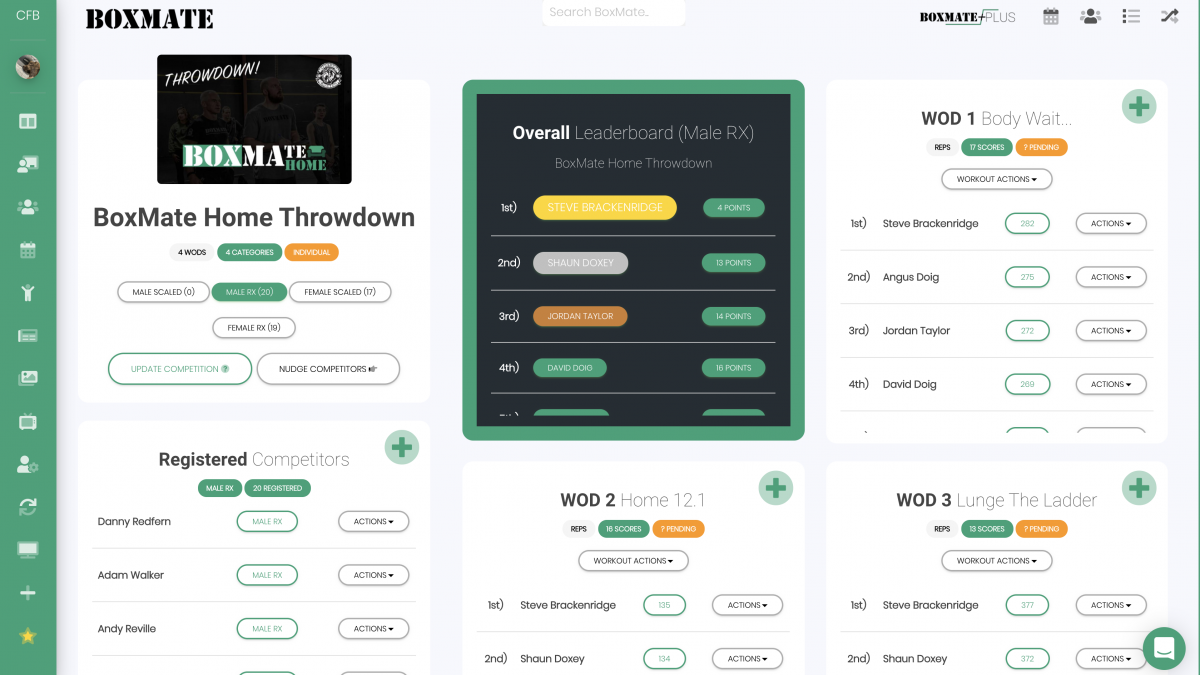 🏆 How to Host a Fun Competition at Your Box 🏆
Gabriella Redfern, 2 years ago
0
3 min

read
1499
How To Host A Fun Competition!
Hosting a competition with BoxMate is easy. With your very own competition management platform through BoxMate PLUS you no longer have to buy in additional support to host your in house competitions and throwdowns throughout the year. You can run as many competitions as you'd like, either live at the box or online spread across days/weeks/months – all without the hassle. You can automate tedious admin tasks, trust in score recording and live leaderboards, and execute your competition easily.
Choose the Comp type – Individual or Team, decide whether this is an Online or Live comp (will members enter their own scores online, or will a coach input scores on the day?)  then add categories for your comp, e.g Male RX, Female RX, Male Scaled, Masters etc and let your members register!
Check out the video tutorial on how to use our competitions feature here >>> COMPETITIONS. 
Once you've created your competition in BoxMate, it's time to get your members excited about the comp. So, here's 3 easy steps to take to get lots of interest! 
1. Upload Videos!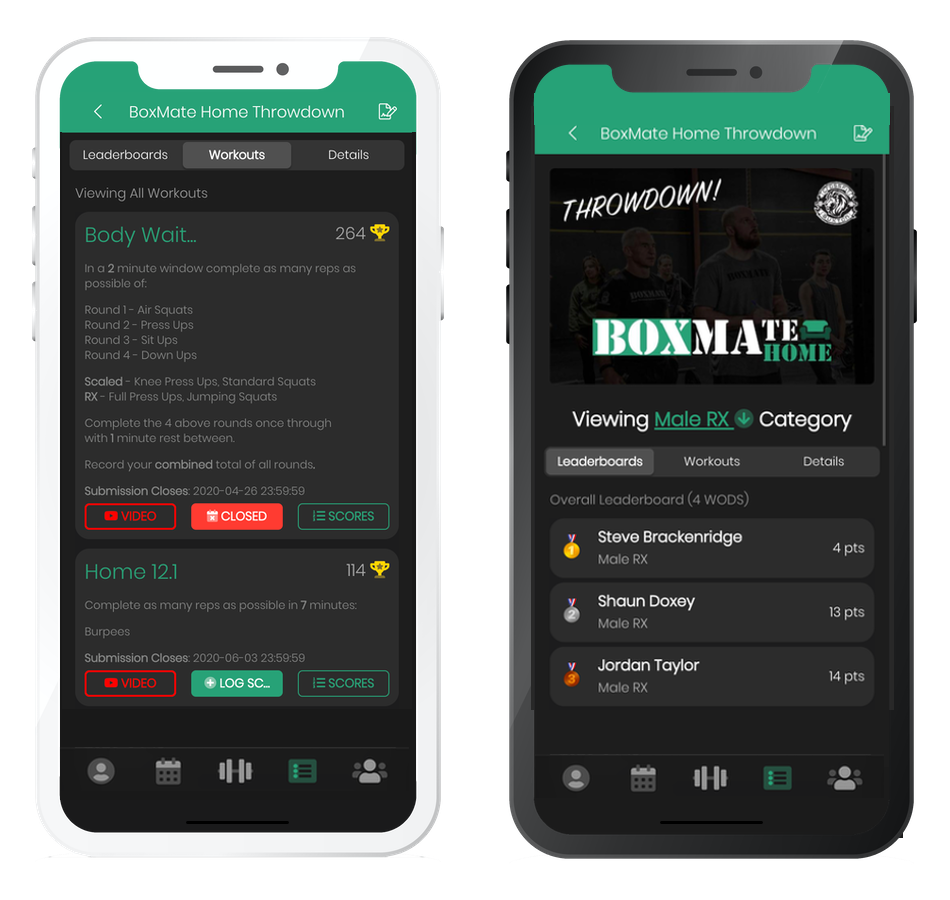 Make a video announcing that the competition is live and tease the first workout with movement demos. This is a great way to ensure maximum uptake and engagement from your members.
Once your videos are live on your chosen hosting site (e.g Instagram/ YouTube)  you can then add them into the competitions feature on the app so members can easily find it again.
You can watch our example video here for an idea of how you might demo the WOD details.
2. Decide On a Prize
Whether your prize is a box of Noccos, a free month of membership, a PT session with a coach, or a new training tee, having a prize to win ramps up the level of excitement for your members.
While the bragging rights of sitting on top of the leaderboard is great, having an actual prize to work towards is even more enticing and will help your members really push themselves when they don't have the atmosphere of the real competition to keep them going in the tough moments.
Not used our Member Spotlight feature yet? Now is your perfect chance! You can check out our video for how to use it here. Celebrate your winner by shouting them out in the app and let your other members and coaches flood them with nice messages and High Fives to help them really feel the love!
3. Make Scaled and RX Categories
When building your comp, you'll have the option to add categories. By adding a wide range of categories you can easily split up the leaderboards and make a competition that is inclusive of everyone – regardless of their ability! You want everyone to feel inspired to take part, so by having a category with a workout they can tackle you can make sure everyone feels part of the team from home.
To see how to build your comp and categories don't forget to check out our video tutorial here >>> Competition Tutorial. 
So, How Does Hosting a Virtual Competition With BoxMate Work?
You already know how to build new workouts with BoxMate, so building workouts for your competition will be a breeze. Use the familiar workout builder to create totally new workouts for your comp, or, dip into the extensive library to add in a workout or exercise that already exists.
Keep your competitors engaged virtually with leaderboard updates, workout teasers, deadline reminders and more and build your competition today!
Remember, you'll need to be subscribed to BoxMate PLUS to access this feature. Not yet on PLUS? Start your completely free month trial today by clicking here >>> PLUS TRIAL. 
Thanks for reading, Love & High Fives
Team BoxMate
Related posts
Instagram
Instagram has returned invalid data.