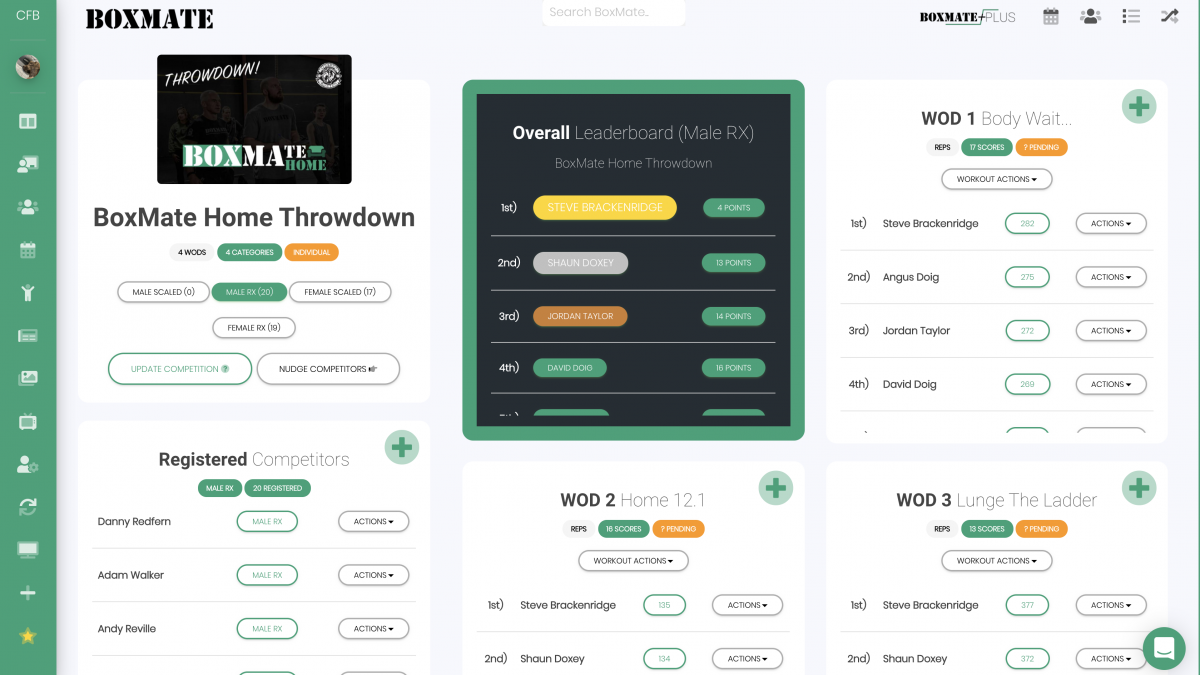 🏆 How to Host a Fun Virtual Competition 🏆
Gabriella Redfern, 4 months ago
0
4 min

read
346
While we are absolutely ecstatic that small groups are now allowed to train together outside (our boss Danny literally had a cheshire cat smile plastered on his face for a full week after his first session back in a small group outside 🤣), and it's looking even more likely that we can re-open indoor spaces in the coming weeks – we realise it might be a fair while before we can get back together in a full competition setting.
Many of us are craving that buzzing environment again, and although nothing compares to a proper in-house comp, hosting a virtual competition is still really good fun for your members (and you and your coaches too!)
For all boxes already using BoxMate, you'll notice we've given you a free upgrade to PLUS throughout lockdown meaning you have unlimited access to our competitions feature to help engage your members virtually.
If you're not yet using BoxMate you can jump on our 30 day free trial here. 
Then you can check out our guide for getting your competition set up in BoxMate.
So, How Do You Make Your Virtual Competition Fun?
Upload Videos!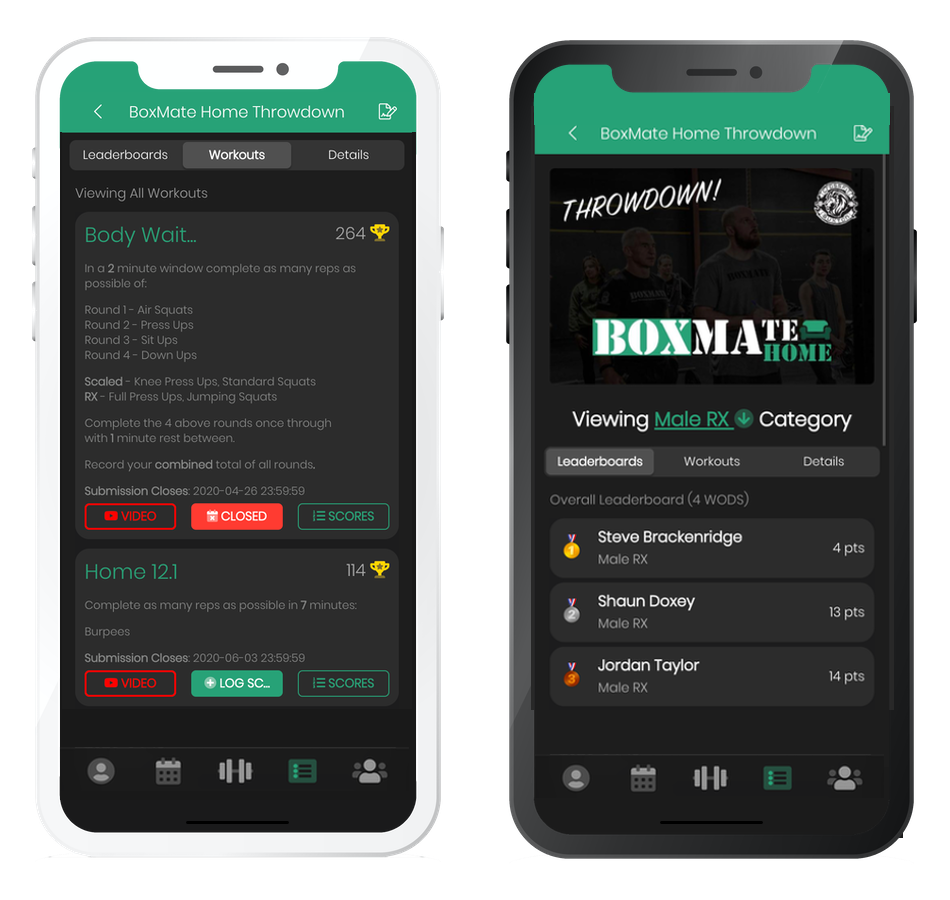 Make a video announcing that the competition is live and tease the first workout with movement demos. This is a great way to ensure maximum uptake and engagement from your members. Let's face it, these days it's just nice to hear a human voice and see someone actually coaching us through the movements rather than just having it written down for us to follow.
Once your videos are live on your chosen hosting site (e.g Instagram/ YouTube)  you can then add them into the competitions feature on the app so members can easily find it again. Check out our article to see how.
You can watch our example video here for an idea of how you might demo the WOD details.
Decide On a Prize
Whether your prize is a box of Noccos, a free month of membership, a PT session with a coach, or a new training tee, having a prize to win ramps up the level of excitement for your members.
While the bragging rights of sitting on top of the leaderboard is great, having an actual prize to work towards is even more enticing and will help your members really push themselves when they don't have the atmosphere of the real competition to keep them going in the tough moments.
Not used our Member Spotlight feature yet? Now is your perfect chance! You can check out our video for how to use it here. Celebrate your winner by shouting them out in the app and let your other members and coaches flood them with nice messages and High Fives to help them really feel the love for winning from home.
Make Scaled and RX Categories
When building your comp, you'll have the option to add categories. By adding a wide range of categories you can easily split up the leaderboards and make a competition that is inclusive of everyone – regardless of their ability! You want everyone to feel inspired to take part, so by having a category with a workout they can tackle you can make sure everyone feels part of the team from home.
To see how to build your comp and categories don't forget to check out our support article here!
So, How Does Hosting a Virtual Competition With BoxMate Work?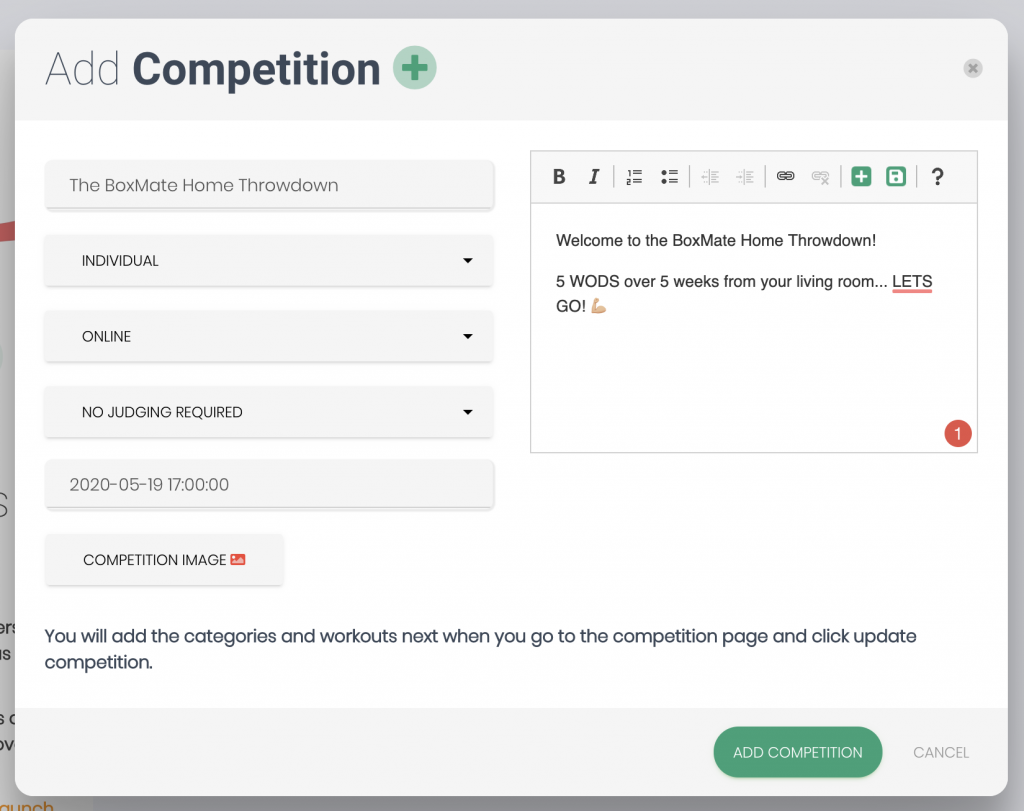 You already know how to build new workouts with BoxMate, so building workouts for your competition will be a breeze. Use the familiar workout builder to create totally new workouts for your comp, or, dip into the extensive library to add in a workout or exercise that already exists.
Keep your competitors engaged virtually with leaderboard updates, workout teasers, deadline reminders and more!
So, until we're bursting back through the box doors in our full numbers, get a virtual competition set up and make it fun for your members!
Thanks for reading, Love & High Fives
Team BoxMate
Related posts
Instagram
Instagram did not return a 200.