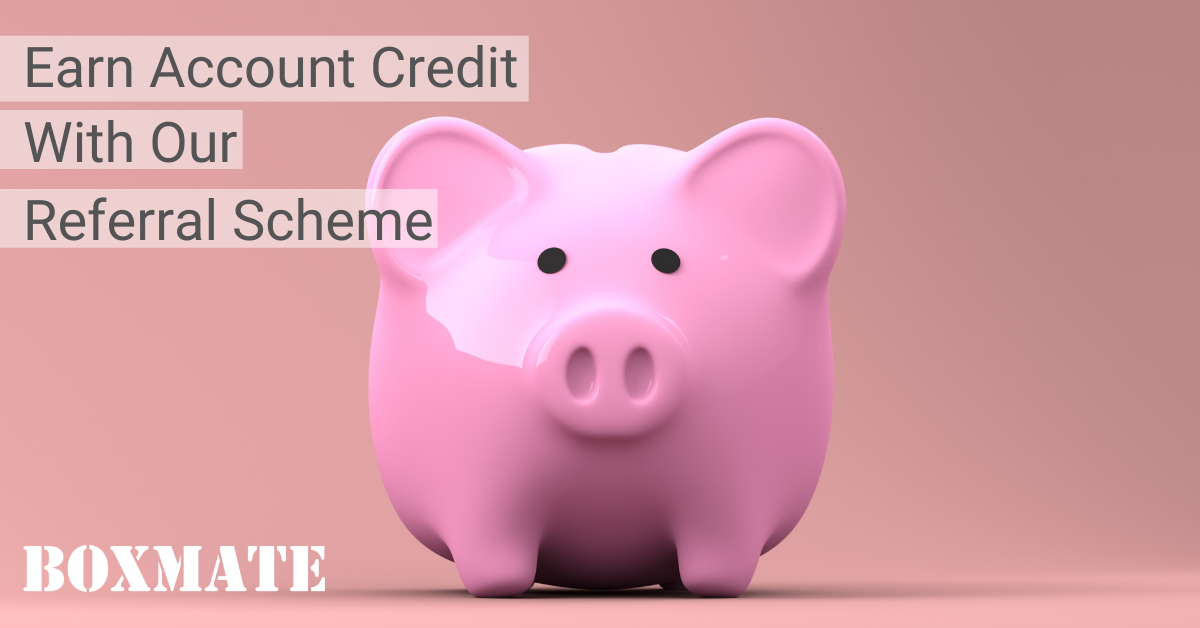 Have You Heard About Our Referral Scheme?
Gabriella Redfern, 2 years ago
0
4 min

read
1165
We have grown pretty much by word of mouth since we started BoxMate back in 2015. Almost all our new boxes come to us as referrals after hearing about our platform from a friend, or from another box owner they know who already uses BoxMate and has recommended us – which is pretty epic!
We wanted a way of saying an extra special thanks to all those gym/ box owners who help us spread the word, so a few years ago we put in place a referral scheme to say thank you to all those boxes who tell other people about their experience of using BoxMate at their gym!
We wanted to put together a quick reminder for anyone who hasn't heard about this scheme or isn't fully sure of how it works.
How does a BoxMate Referral work?
It's pretty simple – if a new box owner comes to us with a referral code from you and signs up for BoxMate you'll get £50 credit on your account (once they've been with us for 3 months). The new gym you've referred will also get an extra 2 weeks on their free trial too, so 6 weeks in total.
How do I generate a Referral Code?
To get your referral code just head to your Admin Dashboard. From there in the left tab go to Account > Resources and then click on referral (as highlighted in the image below).
Here you will find your own unique code. You can either copy this code and send it to them, or you can copy the link and send them this and that will automatically apply your unique code when they follow the link and register. There's no limit to how many boxes you can refer and as you can see below the credit will be automatically applied to your BoxMate account. £50 per box. 
You can then use this credit against future payments and any extra BoxMate add-ons you want. (E.g BoxMate PLUS which is coming soon with PT functionality and the ability to host competitions).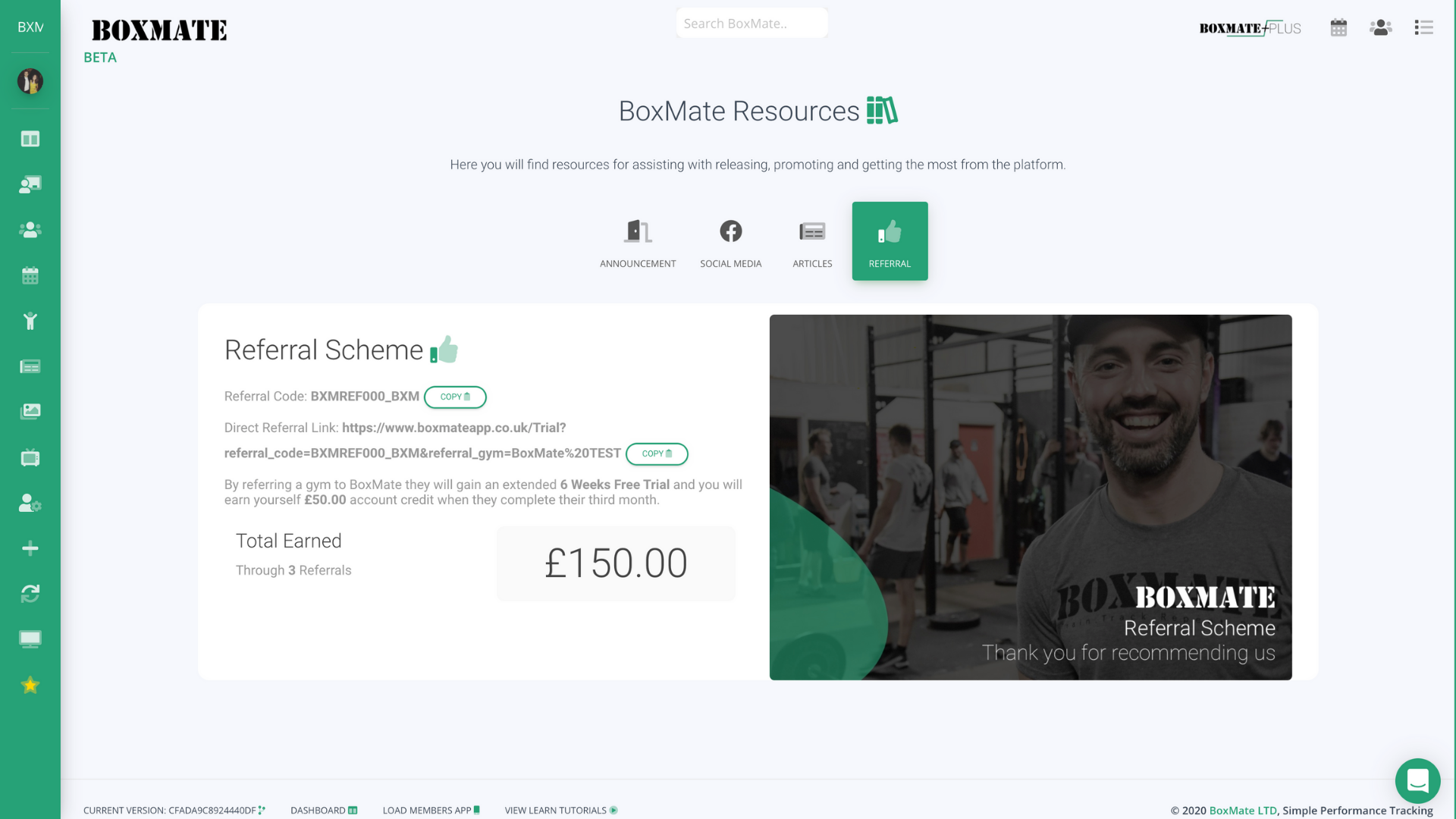 How do the Announcements work?
You can also gain up to £20 BoxMate credit when you sign up by posting out our 'Announcement Socials'.
In the same Resources area as the referrals, you'll find a tab called 'Announcement'. (See the image below). We've put together 4 x Announcement Graphics for you to use on your social media pages. If you post out the first post (picture and text) we'll automatically credit £10 to your account. This is because it's a great way of letting your members know that BoxMate is now in your gym and helps things run smoothly from the start.
There are then 3 x further announcement social posts called 'Why Track?' 'Our Community' and 'Booking with TeamUp'. If you post out these 3 posts you'll receive an additional £10 credit.
We'd strongly recommend using these posts on your social media pages as they provide your members with really important information and will hopefully mean members get the info without having to ask you how it works.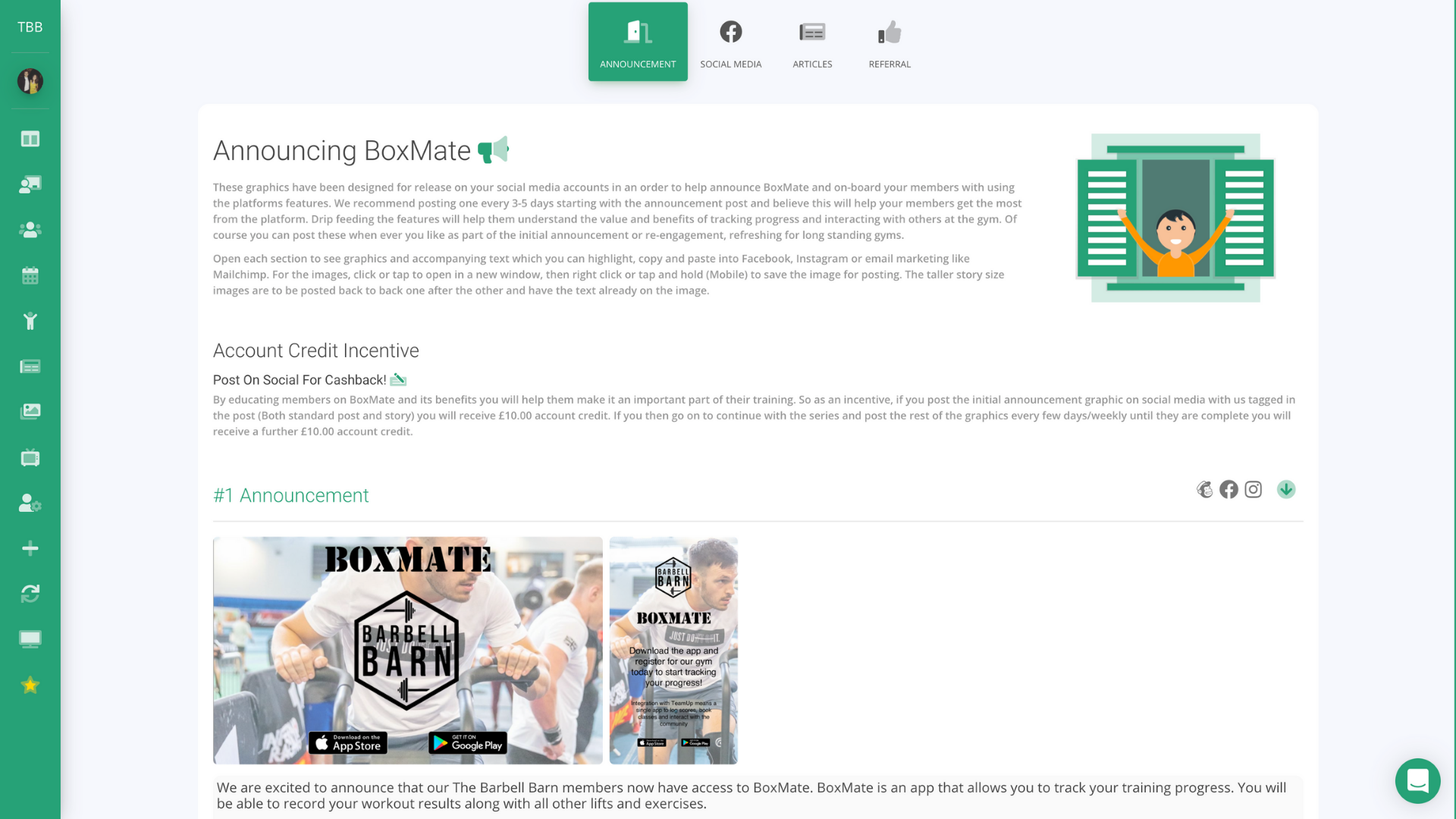 What other BoxMate Resources can I use?
As well as the resources we've mentioned above that can earn you account credit, you'll also see 2 other tabs on this page called 'Social Media' and 'Articles'.
Social Media Resources
We'd urge you to take a look through those social media resources and post them out to your members over the coming months to help them use all the features of the app. Feel free to post out just the ones you find most relevant to your members.
Articles
We are working on building this area at the moment and we have a full Member's Handbook on the way very soon! For now you'll find a blog post called 'Make the Most of BoxMate'. Feel free to add this to your own blog area (and edit it/ change it to fit with your needs) or just post the link out to your members to help them learn about features they'll enjoy using.
You can find the Resources page by clicking this link >>> Resources Page 
Thanks for reading! Love & High Fives,
Team BoxMate.
Related posts
Instagram
Instagram has returned invalid data.