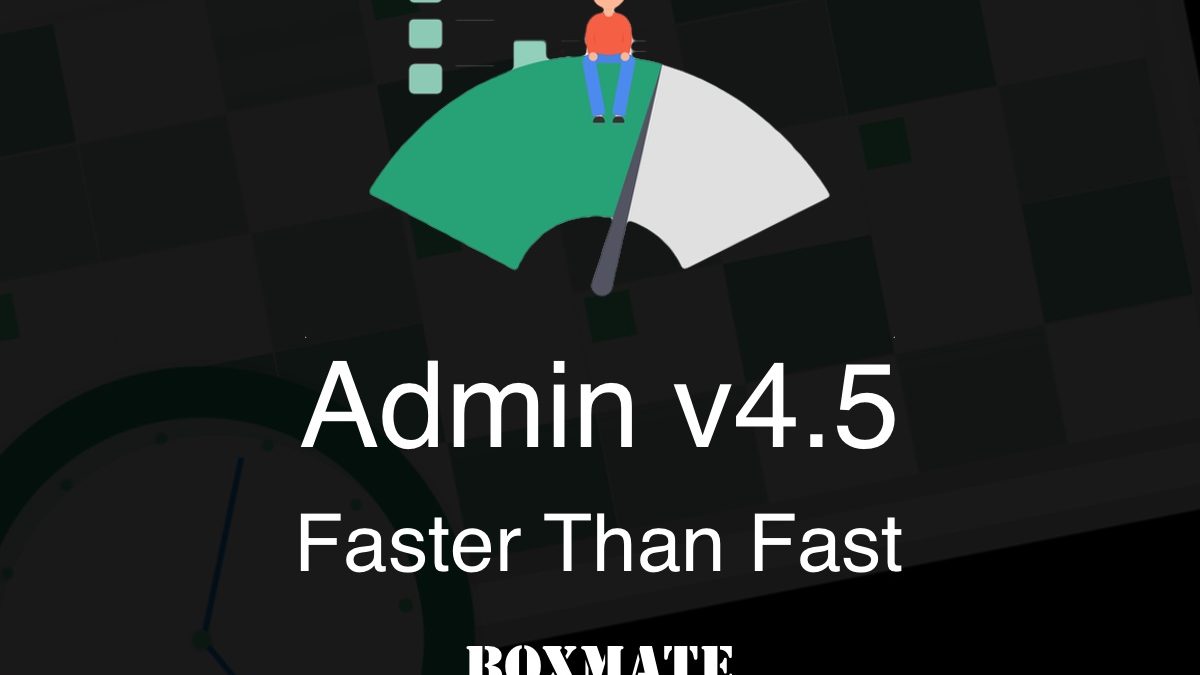 Admin v4.5 | Faster than Fast.
Gabriella Redfern, 2 years ago
0
9 min

read
1202
After our recent survey we realised that speeding up programming, making it slicker and more simple needed to be a focus – so we've made this our main priority in this latest update.
Rico Viglianti – Owner of CrossFit TayHo in Vietnam has been using the early release of the v4.5 and told us:
This latest update has made me get excited about uploading my programming to the system. Simpler, faster and more intuitive – this update frees up a lot of time each week for me to focus on my business.
As well as revamping your programming we've also added more engagement tools and improved many existing features. We've put together video tutorials to show you how these latest features work which you can access here. and through the admin area where you will see red buttons linking you to the video tutorial for the page you're on.
You can also watch our release video with a quick run through of what to expect in our latest IGTV video here. 
Read on for the full line up.
New Features
Weeks' View 🗓
We compared inputting a weeks' worth of programming in both the old and new version and have found it speeds up inputting programming by up to 50% saving you valuable time every week to focus on running your business.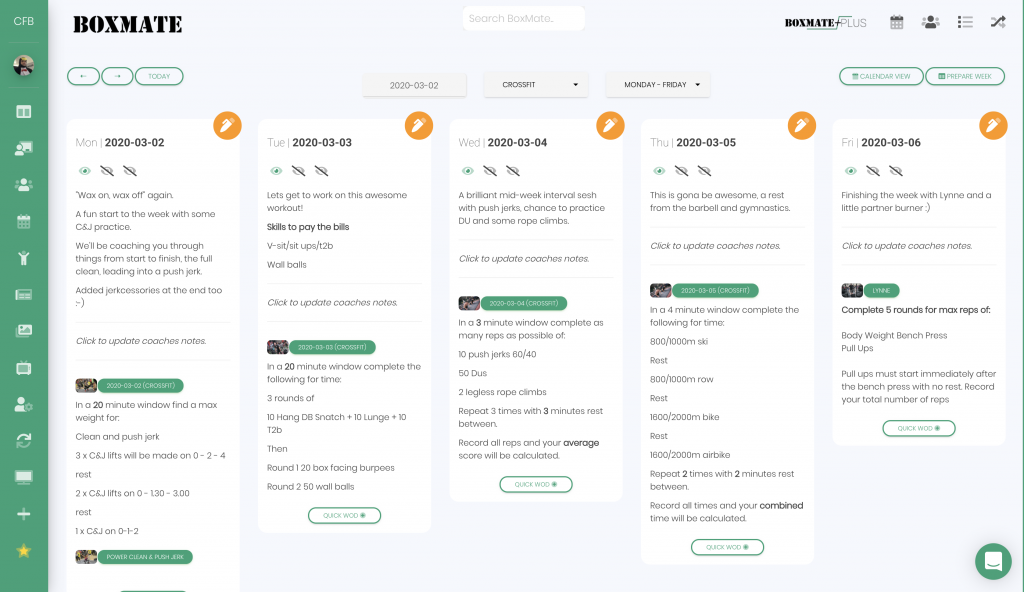 In the Weeks' View you can view and edit all sessions side by side to review or make quick edits. You can also prepare a full weeks worth of sessions and input details, notes and workouts all on the same screen.
If you use 3rd party programming you can now copy & paste session details in for the full week quickly. To see how all the features work please watch both our video tutorials below.
Tutorial for Viewing & Editing in Week View
Tutorial for Preparing & Building in Week View
Quick WOD is another programming time saving feature – reducing the number of clicks you need to make, and as a result, making your experience smoother. As the name suggests, you can quickly select the type of WOD 'e.g EMOM' and then just edit the default text to build the WOD from one screen, fast.
See the Quick WOD tutorial here.
Many of you have asked us for a place to store session drafts or templates that you can find again and reuse at a later date – so we've made you one. If you want to input future programming but don't want this to be visible on the session calendar for your members yet or don't have a set date for it right now, you can build sessions but save them as drafts instead of publishing them. This way once you're ready for members to see them just go into the draft and publish.
You can also then reuse these drafts as templates by editing them slightly and re-publishing but keeping the template in the list for next time – again saving you more time.
We wanted to give you more ways to manage your members in this update. Now you can manage members in various ways to ensure they can only see certain programmes, to adapt to cater for injuries or special circumstances or to make them exempt from TeamUp.
If you have a member who doesn't use/ need a TeamUp account you can mark them as exempt to stop them receiving pop ups in the app.
You can also make sure certain members only have access to the programmes you want them to see! So for example if you have a member who you only want to access Home Programming, or Gymnastics etc you can make it so they only see that programme.
You can also change default visibility options for individual members – for example you might hide your programming as a default but have a member with an injury who needs access to session details in advance so they can plan their training – so you can now make it so that only certain members can view programming in advance.
View the Managing Members tutorial here.
This is an engagement tool we think you will LOVE. Many of you already announce Member of the Month or something similar in your box, so this is a way to celebrate those members inside BoxMate too!
Member Spotlight allows you to add an image and write up about the member you want to celebrate. They will then receive a notification and confetti screen to congratulate them and let them know they've been chosen. All other members will also be able to see who is in the spotlight in the Member Spotlight section and add comments/GIFs to join in with the fun. This will act as an ongoing 'Trophy Cabinet' so all members who've been spotlighted can be seen in the section. It's a great way to engage your members and celebrate them for their hard work & going the extra mile.
Please watch the tutorial here to spotlight your first member.
We've been working hard behind the scenes to keep building our Global Library to give you more options to use in your programming. This is a huge library filled with WODs and exercises that we will keep adding to all the time.
In this latest update we've added 236 new exercises so you now have 324 exercises to boost your own library!
You can browse and search through these workouts and exercises and you can easily see which ones you already have in your own library. You can choose to sync all workouts and exercises to your library with one click, or select the ones you want before syncing.
If there is something you want adding to the Global Library please let us know and we might be able to add it to the list for all gyms to access to save you adding it yourself!
Please view the video tutorial here.
PLUS FEATURES – Competitions and PT 🏆🏋️‍♀️
As we mentioned in our email, we are giving you FREE access to two of the premium BoxMate PLUS features that will be officially dropping later this year. These features will eventually be charged at an additional monthly cost, but as these are really good engagement tools we wanted to give them to you know in the hope they will add to your coaching and member experience during this period of lockdown. You'll see the new + section on your dashboard sidebar menu and you can also access these features through clicking on the BoxMate PLUS logo in the admin area too.
PT 🏋️‍♀️
Personal Training is a PLUS feature that will provide you with a full PT dashboard to train your individual clients. You will be able to add your clients to your dashboard and from here plan in their individual sessions in your PT calendar. This will show you a full overview of all your PT clients and their programmed sessions then filter to see individual clients too. You'll be able to announce to individuals that their PT session is now live and then review sessions with your client looking at their feedback and using the PT Chat feature.
Check out the tutorial article here.
Competitions 🏆
Again this is a PLUS feature that you'll now have access to throughout lockdown. This will allow you to build competitions for your members to keep motivation high and keep the fun going in the community.
The competitions feature will allow you to easily programme the comp workouts, see live leaderboards and more.
Check out the tutorial article here.
Improvements
As well as brand new features, we've been working hard to make big improvements to existing features too!
Single Page Session Builder 📝
As well as the new Quick WOD and Weeks' View features, we've made your Session Builder a single page too. This is to help reduce the number of clicks you need to make in your programming and speed up the process to save you valuable time.
Default Programme & Visibility 👁
In the past you had to input the programme and visibility each time you built a session (e.g CrossFit & Session Hidden) – now, you can set your default to make this come up each time you build a session automatically. Then, if there is a particular session you are building for a different programme, or one you'd like a different visibility setting for you can just edit this as you build. Simply head to your admin profile and update the options!
New Workout Type – 'Comment Only' 💬
We know many coaches like to occasionally programme WODs that are for quality rather than for a score to make sure members are focusing on technique. In the past this type of workout didn't have any option to record a score at all. Now, we've added a 'Comment Score'. This means, in these workouts members will be able to 'log a comment' rather than a score. So this might be to say how they found the workout or what they need to work on, what they notice they've improved on etc.
Extra Options For Configuring Recording 🎚
We've added more options for you when building sessions too. For example, if there is no RX on a workout you can take this logging option off to avoid any confusion. You can also hide leaderboards for particular workouts if you don't want members to go on a leaderboard for that session by simply toggling the switches when building.
Improved Notes on Components ✍🏻
We've improved adding notes to components. You'll now have a full-text editor so you can format the note in an easy to read way for your members. In the app, your members can now tap 'notes' to see a popup with any notes you've written so this no longer needs to all be crammed onto a single line.
Session Calendar 🗓
Small change but we think you'll like it! Now when you're editing sessions in your calendar you'll automatically be taken back to where you were last working (rather than today's date). So, if you're inputting future programming and hitting save you can keep going where you want to be rather than having to scroll back through to the date in the future.
Bugs 🕷
In this latest update we've addressed multiple bugs, we've made the app load much faster and we have really focused on reducing the number of clicks needed to perform your every day tasks. 
Thanks for reading! We've also made lots of updates to the Member's App which you can find here, along with the full Member Handbook here.
Don't forget to check out the new video tutorials for your new features here. As always, any questions just whizz us a message and we will get back to you ASAP!
Love & High Fives, ✋🏻
Danny & Team BoxMate.
Related posts
Instagram
Instagram has returned invalid data.