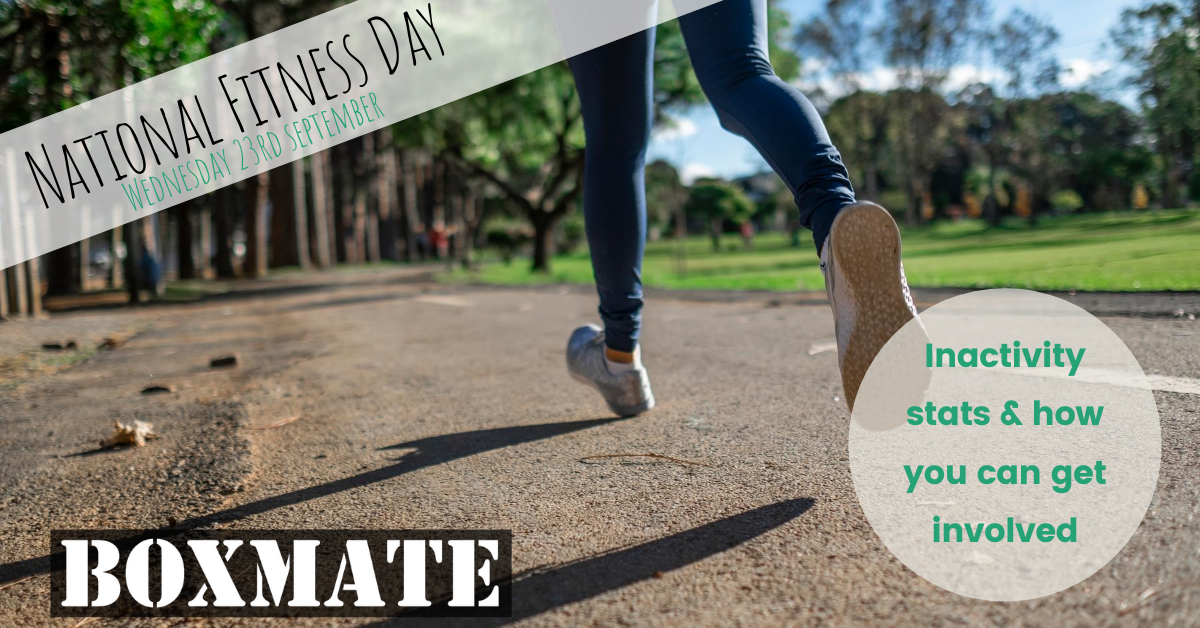 Let's Get Active For National Fitness Day!
Gabriella Redfern, 2 years ago
0
5 min

read
1748
What Is National Fitness Day?
This year National Fitness Day is taking place on Wednesday 23rd September 2020. Probably unsurprisingly, following the shock we all had at the start of the year with COVID-19 sweeping across the globe, the focus is going to be on how important fitness is for our health (e.g being fit enough to fight off illness).
There is also going to be a strong focus on demonstrating the inclusive power that physical fitness has, and this year's slogan is 'Fitness Unites Us'. All of us in the CrossFit/ Functional Fitness industry have witnessed first hand how much truth there is in that statement. Over the past 7+ months our fitness community has pulled together and united, keeping membership payments going, attending virtual workouts and just generally keeping each other sane!
While so many of us in the CrossFit space get to regularly enjoy the endorphins that flow from working on our physical fitness as well as the community aspect every week, there are still so many children and adults in the UK who are not regularly working out at all and their health is struggling as a result.
So, this National Fitness Day, organisers are calling on fitness providers across the country to offer free opportunities for the general public to take part in fitness and start a journey towards a healthier and happier lifestyle!
Why Is It So Important?
Those of us that work in this industry already understand the importance fitness plays in an active, healthy and happy lifestyle – no matter your age or gender. But, much of the UK is in the midst of a physical inactivity crisis. Reports from the charity ukactive show that the average adult spends MORE time on the TOILET every week than EXERCISING which is actually quite shocking when you really let that sink in.
In 2013 a 'Generation Inactive report' was published which revealed that 29% of people in England are classed as physically inactive. Inactive (in their definition) means that more than 1 in 4 people fail to achieve even 30 minutes of moderate intensity activity per week. This is something that clearly needs to change when we know that we should really be aiming for that amount of activity every single day.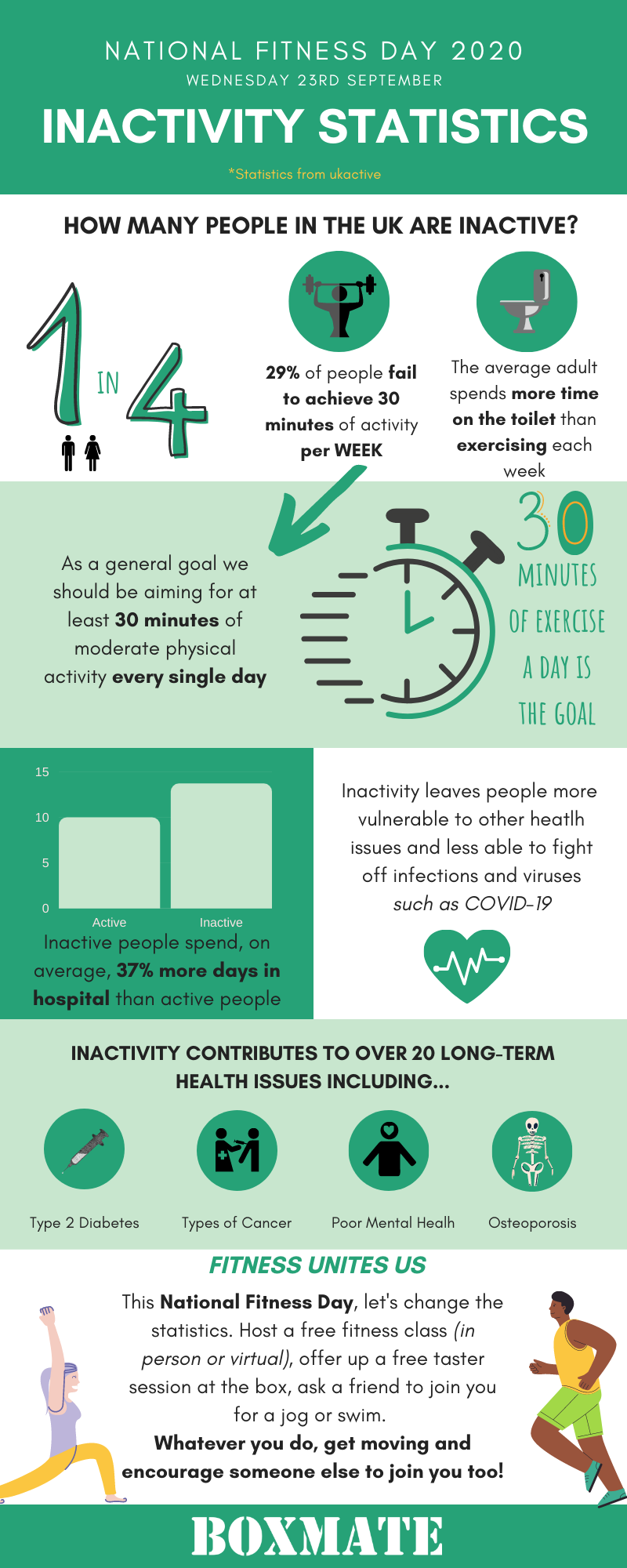 The knock-on effects of being inactive are huge. Studies have shown that an inactive person will spend 37% more days in hospital and will visit the doctor 5.5% more often than an active individual. Inactivity is partly responsible for more than 20 long-term health conditions including serious conditions such as type-2 diabetes, some types of cancers and osteoporosis (which causes bones to become less dense and more fragile).
We've all witnessed how those people with underlying health issues have been struggling even more to fight off the COVID-19 virus and have been left more vulnerable as a result. Not to mention the adverse effects on our mental health –individuals who don't exercise regularly are more likely to suffer from depression, distress and dementia than physically active adults (who have a 20-30 percent lower risk of being affected by such conditions).
All of this combined really showcases how vital it is to make more people see the benefits of activity which is where National Fitness Day comes in. Anything that you can do as a box/gym owner or coach, however small, will inspire someone to get involved in something active on Wednesday 23rd when they may normally have not!
How Can You Get Involved?
Whether you're a box owner, coach or PT you can get involved on Wednesday 23rd by offering something free for your local community to help them work towards their fitness goals.
Whether this is:
Opening your doors for free taster sessions throughout the day on Wednesday (or even throughout the whole week!)

Providing free fitness/ nutritional advice with practical steps for getting started online on a public forum such as social media

Handing out free passes to locals so they can try a session at your facility when they feel ready

Hosting a free virtual workout for people to join in with from the comfort of home (either via zoom or Instagram Live!)

Getting your members involved in a challenge and asking them to share and spread awareness on their own platforms too (such as a plank off/ a rowing challenge or a special National Fitness Day WOD).
In past years some facilities have run challenges for members such as Rowing challenges, plank offs and even world records to raise money for charities such as ukactive , or directly for charities who support health conditions, and to raise awareness for the importance behind National Fitness Day!
If you are someone who is passionate about fitness but you don't have your own facility why not just raise awareness of ways to get involved in the day or take part in a personal fitness challenge?
What Will We Be Doing?
Here at BoxMate HQ we want to get involved too! We've teamed up with one of our BoxMate coaches who will be coaching our National Fitness Day WOD live over on our Instagram at 12.30pm for people to get involved on their lunch break.
The WOD will be absolutely free for anyone to get involved with, and as an extra bonus anyone who is also a BoxMate member will be entered into a prize draw for some fun apparel prizes when they log their score in BoxMate Bits!
Can't make the 12.30pm time slot? Don't worry – we will be posting the video to our feed, story and highlights so you can get involved at a time that suits you best.
Love & High Fives, 
Team BoxMate
Related posts
Instagram
Instagram has returned invalid data.