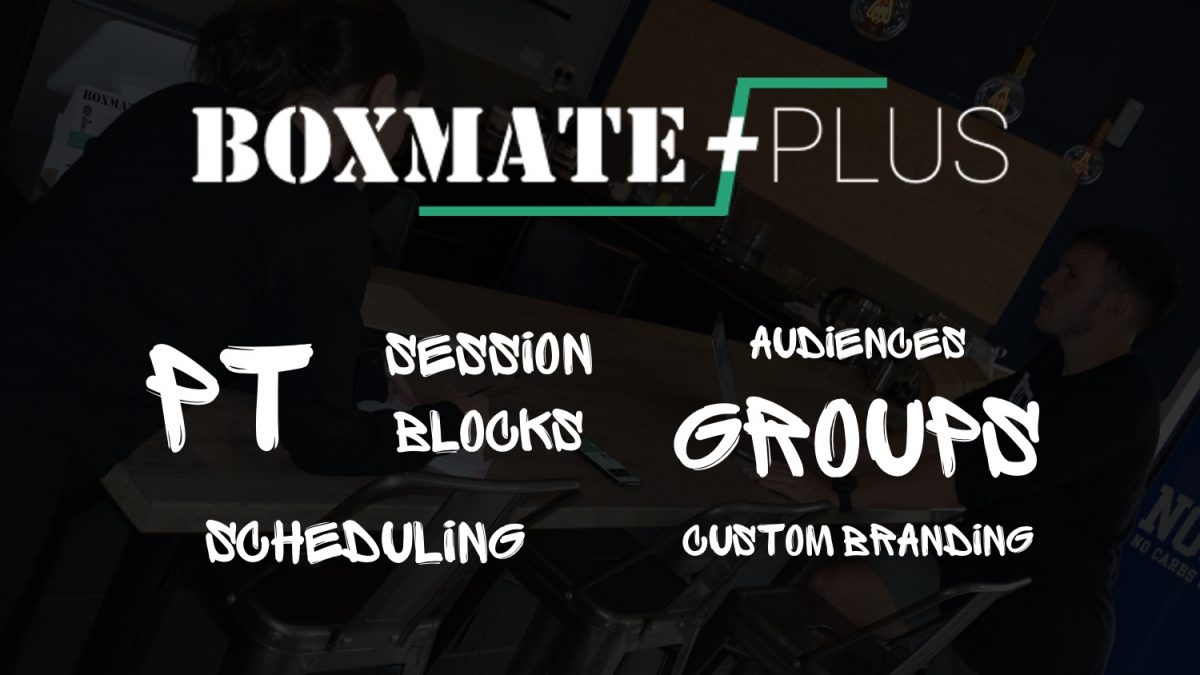 BoxMate PLUS➕ is here! 🎉
Gabriella Redfern, 12 months ago
0
8 min

read
975

We have been dropping teasers of the new PLUS tier over the last few months, and many of you have already been making the most of the free trial throughout lockdown too!
Well, now PLUS is finally ready and we have some features we know are really going to change the game for your gym management experience.
Get ready for the ability to completely customise the colour and branding of the app for a premium look and feel; the option to schedule out your communication posts to free up time for you; ability to automate messages to personalise member experience; and of course being able to now PT your clients with your brand new PT Dashboard.
For those of you that have been with us a while you'll know that there has only ever been one tier of BoxMate since we began back in 2016 – now it's time for us to introduce our first ever premium tier for those who would love to benefit from a more customisable experience for their members and the ability to really fine tune communication and programming.
See how to subscribe for BoxMate Plus here! 
BoxMate PLUS ➕
It's been a long time in the making (5 months!) and we have been working closely with lots of box owners and coaches on the ground to understand which features will really make their lives easier – from surveys, to interviews and drop ins with coaches.
Take your box to the next level and uncover a whole new range of client engagement and box management tools. BoxMate PLUS is the ultimate add-on solution for personal training, running box competitions, branding your app, and so much more starting at only £29 per month.
Throughout this release article you can click on each title to be taken through to a full tutorial explaining in detail how each feature works.
BoxMate PLUS comes with either 2 or 5 PT Passes. So, you can either pay £29 per month for all of the PLUS features below and also access for 2 of your coaches to the PT dashboard with up to 30 clients each, or if you are a bigger gym with more coaches who PT clients, you can upgrade to have 5 PT passes for £49 per month.
These passes open up access to a brand new suite of personal training features in the all-new PT dashboard. The PT Dashboard displays your PT calendar with all of your PT clients and their upcoming sessions to help you keep organised and know what's scheduled. For your clients, they can access their sessions right in the BoxMate app that they already know how to use and stores all of their current data!
As a coach, you can chat privately back and forth with your clients to coach them, see how they've found a session, let them know about time changes or important updates and more. You can also announce upcoming sessions to help them prepare, and monitor their progress closely with your range of analytical tools.
You can also send motivational messages and nudges to keep them on track in-between sessions then view scores and review feedback on how they feel sessions are going to tweak and plan your programming to best help them achieve their goals.(take a look at the PT Dashboard here).
One of our favourite features in PLUS is the ability to Build Session Blocks. Not only is this an epic feature for PT but it can also be used throughout your regular programming at the box too. So, you can build a block of sessions, say your introduction to PT, or a strength pull up cycle then save this as a block. You can then apply this block of sessions to multiple members with a single click and then go in and tweak for individuals if you feel they need some more personalisation. (see how this feature works here)
Build specific groups to tailor the information you want to send out. Do you have a weekend running club, or a group of early birds who always hit up the 6am session, or perhaps a group of new mums coming back into training postpartum? You can add members into a BoxMate Group to make it easier for you to communicate specifically to the needs of those members.
When you have added the members to the group you can then send out nudges, questions or box news posts to this specific set of people. Not only does this streamline your communication but it helps you build your community and keep your members in the know about the things they care about.
You can decide whether to set groups as public or private. If you make a private group, only you the coach has the option to add or delete members from the group. If you set it as a public group, for example a Saturday morning jogging club, members can join themselves like subscribing to an email newsletter so they can get updates that are specific to Saturday mornings. (see how groups works)
Audiences is another way of grouping your members but it works slightly differently to groups. Whereas with groups it is a set group of people you have put together, Audiences will dynamically change depending on criteria you set. For example, you might want to send a motivational message to any members who haven't logged a score in the past week to make sure they're staying motivated and keeping up with their fitness goals. So, you can set 'all members who haven't logged a score in the past week' as an audience requirement and only target those members who are falling off training and send them a nudge.
Other audience types might include things such as: all members who booked a class this week, all members who sent 20 high fives last week, all members who have booked over 100 classes in total – and so on.
You can also do a random member selection to help you select a prize winner or an individual member. So, you might decide you want to see more members logging their scores so that you and your coaches have more workout data to help members make improvements and help you dive into Member Statistics. So, you could tell members with a nudge that over the next week anyone who logs a score will be entered into a draw to win a free Nocco for example. Then, with audiences you can set 'all members who logged a score in the last week' as your criteria, then click on the random member select tool and there you have your prize winner! (See how audiences works here!)
Bringing you the perfect white-label solution with the ability to customise the app for your members. We have been LOVING seeing all the different branded colours for gyms throughout lockdown making the most of this feature while it's been free to use! You can now personalise the app to have your own custom brand colours displayed for your members.
Combine app styling with uploading your own workout and exercise images and videos to the library to really make BoxMate feel like an app developed just for your gym! (See how here!)
With competitions, you can run your own seamless in house competitions without the need for outside providers. This will save you the cost of buying in software to use because you will already have Competitions included in your PLUS package every month – alongside all the other tools too!
Hosting a live comp at the box for your members? With BoxMate PLUS you can do it all in one place. Quickly enter scores for athletes post workout and display live leaderboards on the big screen at the box with a simple chromecast. Notify athletes when the scores are in and the updated leaderboards are live with a nudge in the app!
Running a competition/fitness league online? Members can register and select their category in the app, enter their own scores and easily stay up to date with the live in-app leaderboards throughout the competition and keep people up to date with notifications without any hassle. Specify when workouts go live and keep details hidden until the set time along with setting a deadline for the workout scores to be logged.
(See how competitions works here!)
You now have the option to schedule Nudges, Box News and Questions to go out to your members at specific times. This is a great time-saving feature as you can bulk schedule all your admin tasks and then relax knowing everything is taken care of. Just leave it to BoxMate to send out messages to members at the times you want them to go.
Say you know you want to send out a weekly Box News post, but don't always find you have the time every single week to sit down to do this – you can now give one of your coaches the task to schedule out the News Posts for the upcoming weeks to drop each Sunday evening giving members all the information they need to know! Or, if you want to send out a News Post on a specific day and at a specific time but you know you're going to be away or busy all day you can just write it in advance and schedule it to go out when you want it to!
Want to send a Nudge each Monday morning motivating your members to have a big week of training? Set this as a repeating nudge every Monday and BoxMate will keep sending until you want to stop. (see how to schedule out your communication here!)
See how to subscribe to PLUS here!
Related posts
Instagram
Instagram did not return a 200.