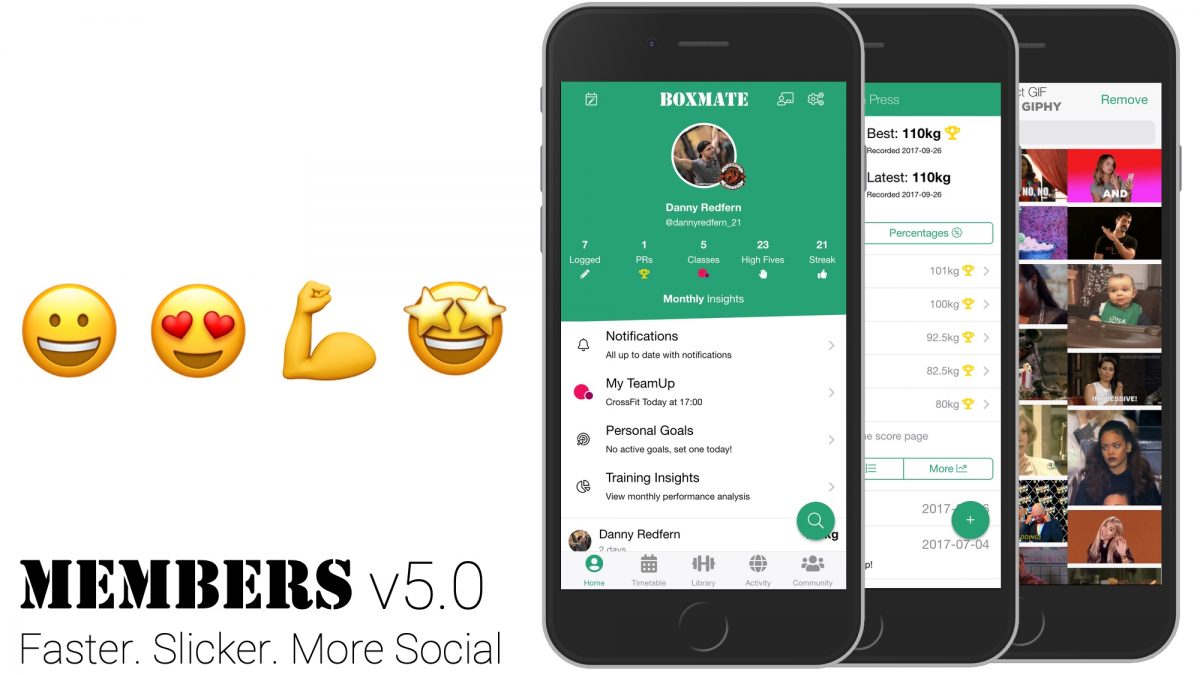 Members v5.0
Danny, 3 years ago
0
7 min

read
1540
We are beyond excited to announce the latest version of our members application today. Introducing our major release – v5.0 🤩
This update makes the app faster, slicker and even more social than its predecessor, whilst not compromising on any of the important stuff we know you love about BoxMate.
Our core values are: community, simplicity, integrity and innovation. v5.0 is focused around these values and stays true to what's so important to us. We've put the emphasis on simplicity during this latest version – we wanted to bring you an improved interface, innovative and exciting new features, a way to bring your box community even more tightly together and all without over complicating the way the app works or getting in the way of your daily performance tracking.
Our developers went to town with optimisation in this update and saw some HUGE performance increases. In certain areas of the app, for example when loading a large leader board of 200 records, we saw loading times up to 96% FASTER! – Yep. That's not a typo – it really does read ninety six. Along with these quicker loading times you will no longer experience reduced performance in the evening. We're the first to hold our hands up and say BoxMate was more tortoise than hare 🐌 when you were all online logging those WODs at the same time… but, trust us – the new version is lightning fast! ⚡
Now, we wanted to give you a rundown on the new and improved features you can enjoy and try out with v5.0 💪
Insights
A brand new section for analysing your performance month by month. Here you can view basic stats on the dashboard under your profile and tap insights to go to the full page view where you can see PR information, workout breakdown data, high fives and leaderboard results all with comparisons.
Quick Search
Looking for quick access to a workout, exercise or member? Tap your new floating search icon on the home page and start typing for absolutely anything you want to view, then tap on a result to go through to the page to log a score or view information.
Today's Session
A quick view from the home screen of today's session for the primary box programme. This area comes in especially handy when your box hides programming and you don't have TeamUp integration as it allows you to log scores for the workouts and exercises even when the details are hidden. This means no waiting until the evening when programming is made available for everyone to see. We made this area more clear to understand and use –  tap the calendar top left of the home screen to take a look.
User Preferences
Configure the app how you like and choose what you want to be notified about. A highly requested feature from the recent survey was the ability to disable 'App Sounds' – we listened, and you can now disable app sounds which will prevent your music stopping when you send a high five if you regularly listen to music through your phone 🔥
Notifications
We wanted to let you see more with notifications so we moved them to their own page and added searching and filtering. Now you can easily find that old comment from someone on your post that you forgot to reply to or see how many high fives a certain person has sent to you.
My TeamUp
The newly designed TeamUp page breaks down your last 6 months of training, works out averages and displays it for you to view in a clean looking simple to read chart. You can see which months you have dropped off with your training and also where you have been smashing it! We think this is going to be really helpful for keeping on top of training.
Timetable
Not a huge amount of changes here, we freshened up the look a little and added a handy training overview to the calendar showing you in pink where you attended a TeamUp class and green where you logged activity. For programmed exercise sets we now show you scores based your most recent score not your PB.
Personal Programming
We have to hold our hands up, the previous implementation of personal programming wasn't the best it could be. In this update we changed it a lot. You can now build sessions much easier and the updated text editor makes formatting your sessions super fast. Another highly requested feature was the ability to add workouts quickly without a session…so guess what – we added that too. To add your own workout go to the library, select the personal tab and hit the plus icon in the top right then build your workout and save. The workout is now in your personal tab ready to start recording scores 😎
Score Pages
We moved the information that you needed right into the first view. When you load a score page for an exercise you will now see straight away your latest score, personal best and related exercise scores for other RMs. Scroll down a little to see every score you have logged and simply swipe left on a score to update or remove. New tabs in score pages also show you more in depth workout data and your progress charts/box averages.
Activity
A fresh new look with more information! Filter the activity you want to view using the top right button, select either workout scores, exercise scores, status updates or all activity. Tap the plus icon on someones score to open the quick score popup and add your own!
Status Updates
We want BoxMate to be a place that you log more fitness activities and let your training partners know what you are doing/how you are feeling. With this in mind, we introduced Status Updates. This new feature is available by tapping the compose icon in the top left of the activity tab. From here, you can upload a status with a GIF or Move (MyZone Required) attached. Tag an activity in your status and even record competition finishes for your other friends to comment on & high five!
Community
The new community tab brings you access to members, box news, competitions, blog content and vendors. In 2019 we plan to bring a vendors area and show you exclusive offers and deals from UK based brands. Keep your eyes peeled for more on this next year 👀 🛍️
Throwdown Calendar
This is a big one. Looking for your next competition? No worries, open the app and go to community then tap the new competitions button to pull in all events from the Throwdown Calendar (http://throwdowncalendar.com). You can search through all events, filter future only and event type then tap to view full details and even follow the booking link. We are SUPER excited about this one so thanks to the guys over at TDC for hooking us up ✌️
GIFs
Spice up those score posts and comments with a GIF. These are really going to brighten up the activity feed and provide a great way to say what you are thinking/feeling without words. Tell me you aren't excited to hit your friend with one of these when they PR their 1RM Snatch…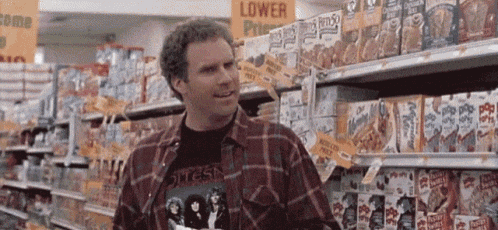 Library
We removed a step from the library so the info that you want is in front of you faster. Simply use the tabs to switch between exercises and workouts plus the new personal tab which keeps all your custom workouts together for easy access. Hit the filter icon on a selected tab to bring up some new options for filtering results. Here's one you are going to love – for workouts hit filter, choose up to 3 movements you want to see in a WOD then apply! You're welcome 😁
Score Recording
BoxMate got smarter. When you PR your next 3RM the app will go through and update baseline scores for your 1RM and 2RM if they need increasing or add a first score if it doesn't exist so you have it for next time. When you hit that RX for the first time from a scaled score or match a previous personal best we will shower you with more confetti! 🎉
High Fives
You can no longer accidentally high five yourself in the activity feed (Hooorray!!!!) 🙈 you can also remove high fives you sent for a particular score by holding on the high five icon.
We hope you like the changes we made and as always we want your feedback, send us a DM or email us at info@boxmateapp.co.uk
✌️- BoxMate!
Related posts
Instagram
Instagram has returned invalid data.