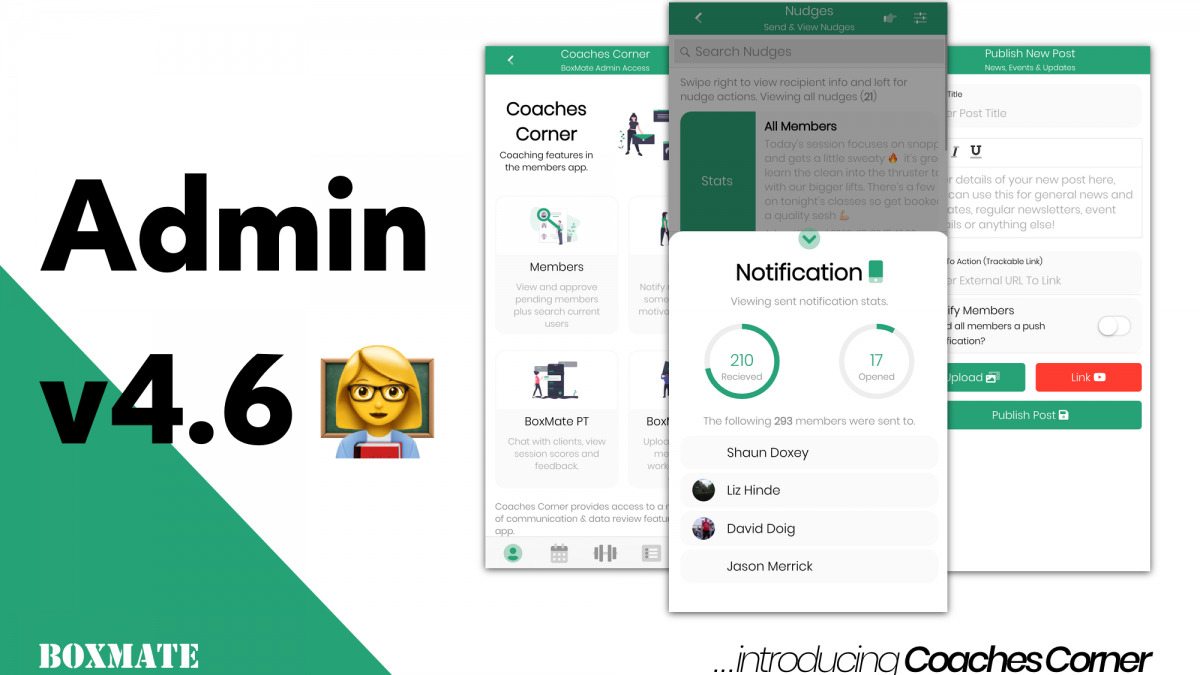 Admin v4.6 | Introducing Coaches' Corner
Gabriella Redfern, 2 years ago
0
5 min

read
886

Click to watch Danny talking through what to expect from the latest update! 
Introducing Coaches' Corner 👨🏻‍🏫
Coaches get ready for your new and improved Coaches' Corner – bringing you easy access to all your favourite admin engagement tools right from your phone!
This update isn't designed to replace your main admin area and you can still use everything as normal from there if you prefer, plus programming still works best on the desktop, however, we think you'll love the new improvements and save yourself a lot of time by being able to carry out day-to-day tasks from your phone!
Not to mention with improvements to optimisation you can expect speeds in the admin area to be 30% faster!
So, what can you do from your new and improved Coaches' Corner inside the Members' App?
Manage Members 📲
Right from your phone you can now approve any pending members, suspend and restore member accounts and remove any inactive member accounts with a single tap. You can also search through all your members and filter to see any members who are dropping off, or those who might have special notes (such as injuries etc) by their name that you and your coaches will want to read before class.
Send Nudges 👉
You can now send nudges to all members or individuals from your phone too. You can easily check the new stats to see how many members have opened and seen the nudge and so if a message is really important you can resend to give your team an extra reminder.
Create News Posts 📰
You can now create your news posts from inside the members app. Just like you normally do from the admin area you can attach CTA links and pictures and now you can upload videos too! In this latest update there is no need to host them on Instagram or YouTube first, just upload the video straight from your phone into BoxMate.
You can also see statistics for all sent news posts and search and filter through to find old posts quickly and easily. You can see who has viewed and clicked the link to the post and just like with nudges if it's really important you can retarget the post and send to either all members, any non-openers or just members who didn't click the link.
Questions ❓
Need to send out a quick question to ask your members about their preferred time for a new class? Build and send a multiple choice question right from your phone and members will get this as a pop up to tap with their answer. Just like on the admin area you can re-send to make sure all members get their answers in and view all answers/statistics in a simple new chart.
Media 📷
In the past you've had to host videos on another site such as Instagram or YouTube then put the link in BoxMate but now you can upload videos directly to BoxMate!
Just filmed a coach demo of a Deadlift on your phone? Upload it to the Coaches' Corner right from your mobile and next time you head to the admin area on your computer it will be there in your custom media. From there you can assign the video to the workout or exercise you want to attach it to.
The new video upload also works inside the Admin area and you can upload videos directly for all workouts and exercises and also News Posts too!
As you already know, the PLUS features have been free to use throughout lockdown. We are extending this free period for a little longer until PLUS is finalised in September, so if you've not checked out the features you still have a couple of months to try them while they're free!
Session Blocks 🧱
Session Blocks is a feature we know you will all LOVE. If you regularly repeat cycles throughout the year – such as a 10 Week Squat Cycle or 6 Week Pull Up Cycle for example, you can build multiple sessions that you always use together and save them as a block.
You can then re-use this block of sessions again and again by assigning to a programme simply selecting a start date with a single click. Blocks work with your PT clients too! Build a block of sessions, save them and then assign that full block to individual PT clients with an easy click. If you want to tweak sessions slightly for your clients, for example to tailor the weights or reps to challenge them individually then you can just go into the individual sessions and tweak them quickly from the calendar or weeks' view. (To see how to use this feature click here to watch the tutorial!)
BoxMate PT – Coaches' Corner 🏋️‍♀️
Using the PLUS feature PT? Along with all the other improvements to your Coaches' Corner you can now view all your programming for your clients from your mobile device too. This makes it so easy to view clients' sessions, feedback and also to chat with them too.
PT Dashboard 🖥
On the Admin area on your desktop you'll also notice big improvements. We've upgraded the PT Dashboard so now you have the ability to view progress on a client by client basis. You can also view and set goals for your clients, and duplicate sessions between your clients to save time. (To see how our PT dashbord works, watch our short tutorial here!)
Don't forget to jump on and check out the PLUS page for all features and pricing here.
Love and High Fives,
Danny
Related posts
Instagram
Instagram has returned invalid data.