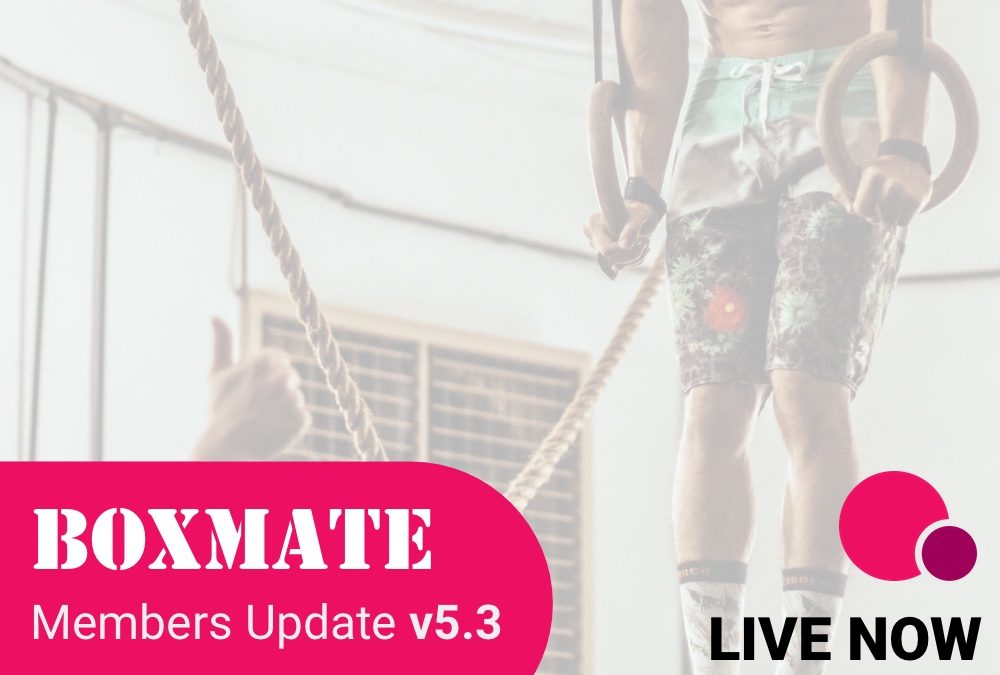 Members V5.3 – TeamUp Reinvented
Danny, 3 years ago
0
5 min

read
1373
What December wind down 🤪? BoxMate HQ elves have been busy and we're about to drop you guys an extra special early Christmas present because… V5.3 has officially landed!
We're talking game-changing new features (did someone say linking scores direct to Instagram posts? 🙌🏼), huge improvements on existing features and a whole lot more fun!
So, let's dive right in.
First up: TeamUp 
How we integrate with TeamUp has completely changed… for the better! How you say? Let's take a look…
Introducing: Waitlist Notifications
You spoke, we listened. Spaces on the waitlist used to come through to you via email, but could get missed or not seen in time. Now, when you get that space on the class you've been waiting for you will receive a notification straight to your phone. Tap on the notification and, depending on the setup at your gym, you'll either be added straight away, or be asked to confirm that you still want the space! No more missed sessions! 🏋🏻‍♀️
*IMPORTANT* – When you first open the app you will need to do a one-off authorisation. You've been sent an email with instructions on this, but you can also check out how to do it here if you need some help.
Introducing: Logging reminder notifications + improved quick logging 
Ever forget to log that class you've been to then find the next day you can't fully remember your time or the weight you used 🤯? Well, now you'll be notified 1 hour* after your class finishes reminding you to log that workout so those all important improvements don't get missed 💪🏼. Tap the notification and go straight to a quick log function for the class you attended. You can now also subscribe to receive a notification when your coach uploads a picture of the daily board if you prefer to wait until then to log!
*But, don't worry – you can turn this feature off in preferences if you'd prefer not to be prompted to log your scores!
Introducing: Housekeeping 
Let's face it, no-one likes admin, so we're putting all your CrossFit paperwork in one easy-to-access space. With V5.3 you can purchase any new memberships, pay for any additional cost or drop-in classes, sign waivers your gym may require and fill in forms your gym needs – all inside the app. ✍🏼
Second's the best: Instagram 
👀 We see you out there on insta posting your awesome workout videos, PBs and…even some epic fails 🤣.Well, now you can attach an Instagram post to your score in BoxMate! This means your friends at the gym can tap on the insta logo next to your score on the BoxMate activity feed and be taken straight through to the video you've taken of your latest lift, workout or fail!
It's simple to do too! Just copy the share URL directly from your instagram post, paste it into the instagram feature next to your update on BoxMate and the app will do the rest. We think this feature is also gonna be great for when your coaches want you to see workout demos they've made for you to view before a class or important announcements they need to make. Whenever you see the instagram logo on a workout session you can go straight through to that post.
Improving: Programme features 
We've made it simple to scroll through and search through programmes. Fancy redoing a session you've really enjoyed? Know it had double unders in it? Just start typing 'Double unders' into the search function and you'll see all the sessions you've done that had that particular movement in it.
It's also now really easy to swap between different programmes at your gym and you'll also have the ability to set a particular programme as your default right from the timetable. 🙌🏼
Say hello to … Global Programming
And finally, this is one we've been really excited about! You guys know by now that we're all about the community. We LOVE seeing you guys interact with each other. Whether that's sending high-fives or commenting on each others' workout scores, we know that it's an awesome feeling to get recognition for something you're proud of! We also know it's pretty epic getting to compete against your friends at the box (especially when you've come out on top 🤣!) but, up until now you've only been able to interact with those in the same box as you.
We felt like it was time to let you guys meet the whole BoxMate family, from the across the UK to Vietnam, NewZealand and beyond. Which is why, in this new version, we let you compete with, and interact with ALL members of BoxMate in two brand new FREE programmes.
BoxMate Bits 
We will be programming weekly WODs on our new free programming, BoxMate Bits. This is your chance to up your game in open gym or take on some extra weekly workouts and enjoy some good old friendly competition! Subscribe and look out for your first workout dropping in January 😉
BoxArmour
Loads of you already take on the BoxArmour programming on insta (if you don't yet, check it out! @boxarmour) and now you can log your scores for those workouts in BoxMate! You can compete globally against everyone that's taking part inside BoxMate and see how you match up with the rest of the community and send high 5s and interact!
One final thing, when your coaches ask a question you can now see and manage all of your answers (Plus make changes if you tapped the wrong answer). You will find this new section in the community section.
We know you're gonna love this present and we can't wait to start getting feedback on the new features! If you don't yet follow us on Instagram, now is the time to do it! Just click here …
Merry Christmas! Love from Team BoxMate!
Related posts
Instagram
Instagram has returned invalid data.