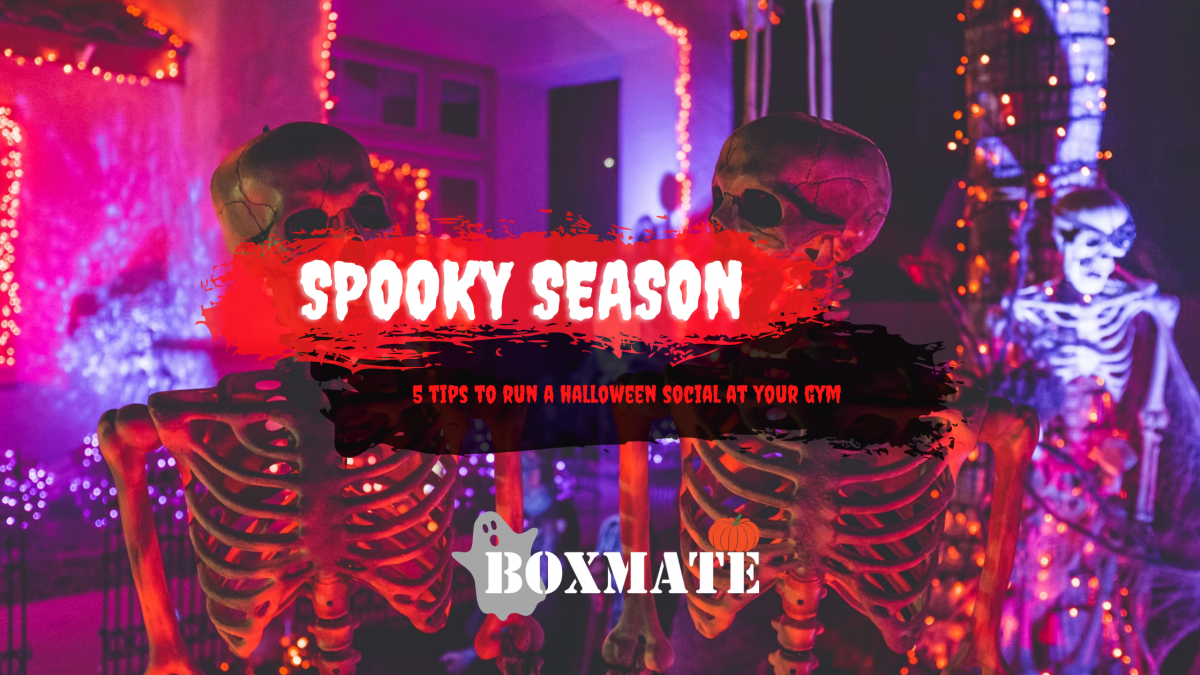 Spooky Season.
George Selby, 2 years ago
0
4 min

read
679
With Halloween quickly approaching this year as well as falling on a Sunday it presents gyms the perfect opportunity to host a spooky social that will shoot a shot of adrenaline into your gym's community spirit!
Even though we do not typically go as nuts as our friends over the pond (America) for Halloween with the lack of social events over the last 2 years I think it's fair to say we will all jump at the chance to dress up and have a bit of fun.
5 Tips On How To Run A Halloween Social At Your Gym.
1. Fancy Dress
Top of the list and for a good reason is fancy dress. Getting dressed up is the backbone of Halloween, whether you set a theme for your members or give them artistic license it is great fun and brings a smile to everyone's face to see their gym buddy, who they've shed pints of sweat with dressed as Harry Potter.
It is worth bearing in mind here that if you will be asking members to partake in physical activity when dressed up you will need to partake in a risk assessment regarding fancy dress and check for potential hazards such as choking hazards, possible overheating, unsuitable footwear, etc before working out.
2. Decorating The Gym
It is easy to get carried away with this step, however, the smallest accessories (inflatable pumpkins, fake cobwebs, skeletons, etc.) all found online or at your local supermarket for cheap, can be added to your gym and change the workout environment that your members have become accustomed to when training Mon-Fri to a fun, casual and interactive one.
3. Activity 
Now that your member and gym are ready the next step is to put on an activity, with us being a fitness community it only seems logical for this activity to be a workout. There are plenty of festive workouts you can schedule to keep in theme with your social event including BoxMate's very own – Don't Drop The Pumpkin! (found in the BoxMate workout library if you want to schedule it and allow your members to track scores)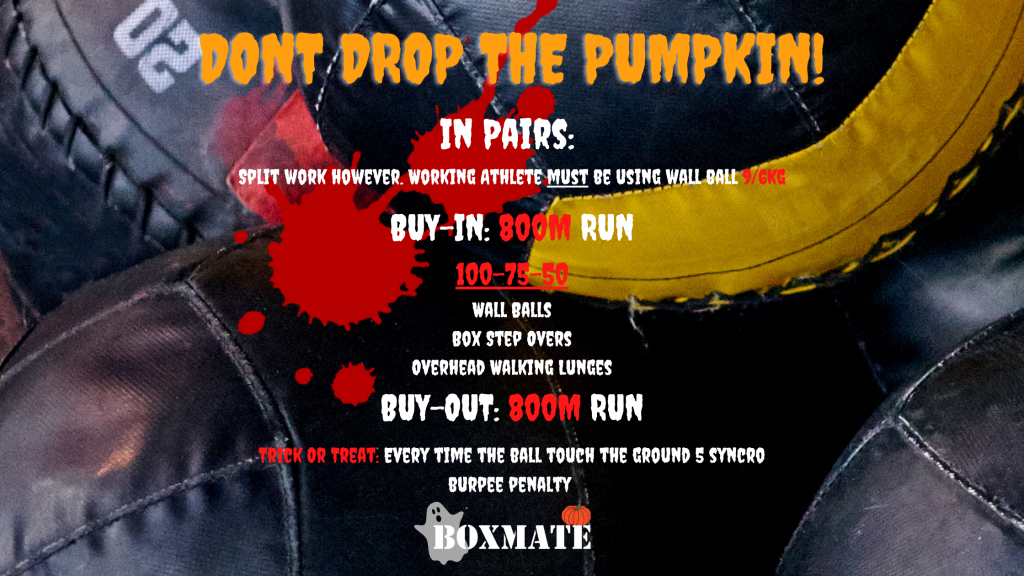 Social events such as this are a great way of attracting new clientele to your business, so in the interest of keeping it all-inclusive it is always a good suggestion to offer other activities for newbies who might find the idea of a workout daunting. These activities could be anything from carving pumpkins, apple bobbing, face painting, mummy wrapping, and anything else typically spooky you can think of!
Not only will adding the extras activities open your doors to new clientele it also gives your existing members the option to bring along their children and make a family day out of it.
4. Prize
What for the vast majority of individuals is the driving factor for putting in maximum effort? PRIZES!
You can offer prizes to a multitude of different winners when it comes to a Halloween social:
Best fancy dress
Best team name
Top 3 positions in workout
Best pumpkin art
Fastest mummy wrap
The list is endless!
Prizes can get expensive so it is important to factor this in beforehand, a can of Nocco or protein bar can easily suffice as a prize, however, the general rule of thumb is that better prizes result in more interest/engagement.
5. Fundraising
If you host a well-structured event with plenty to do your members will be more likely to help towards a cause financially, this could be raising money for a charity of your choice or going towards leveling up your gym with new equipment.
Asking for money off your members is never easy with them already paying a membership, so different options could be charging members entry to the event, selling refreshments and food, having a raffle, or simply asking for donations.
The Benefits Of Hosting A Social.
Reading the previous steps might have you thinking to yourself "That seems like a lot of work, what's the point?" There are always benefits to running social through your gym but this year more than ever offers you the unique experience to thanks your members for sticking with you and support your gym through the toughest period our industry has faced.
As mentioned earlier it is also the perfect way of attracting a new audience to your business and potentially if done right taking a step forwards in overall growth.
Finally, for you members who come rain and shine, it's a chance to enjoy each other's company outside of a  coach/client environment, to better get to know newer members and further build that community spirit that makes CrossFit and class functional fitness training so special!
So that's it, your five tips for running your very own spooky social. Good luck everyone and we look forward to seeing all your amazing photos and costumes on social media! 🎃
Related posts
Instagram
Instagram has returned invalid data.