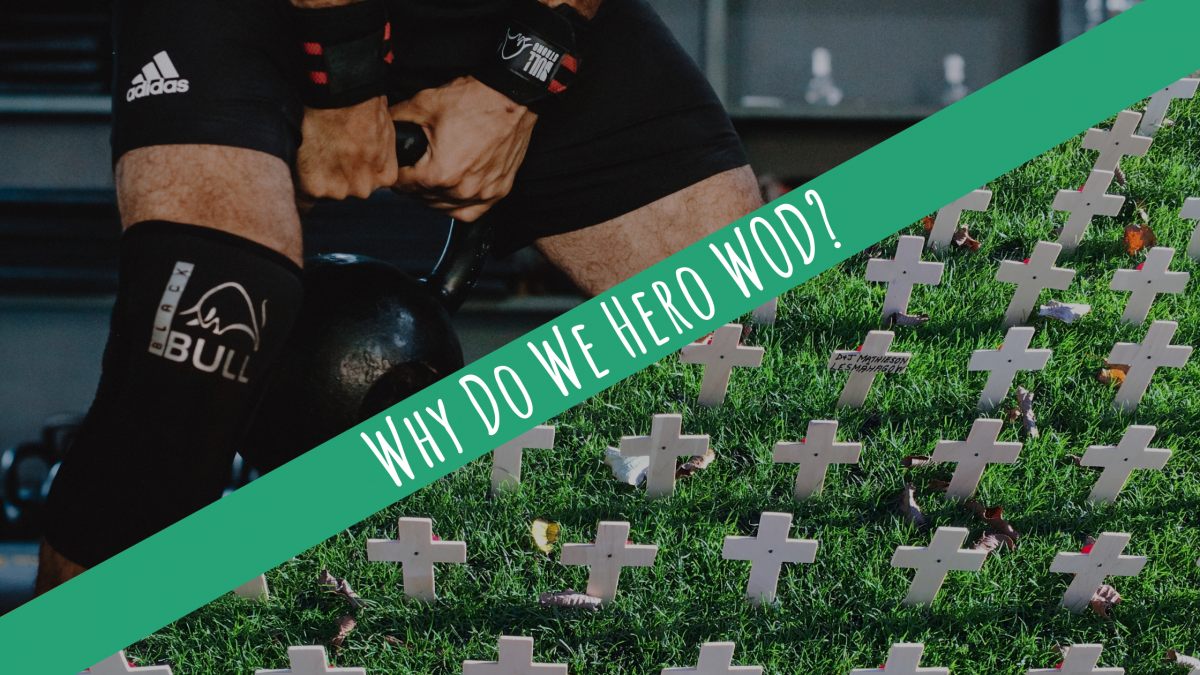 Why Do We Hero WOD?
George Selby, 2 years ago
0
3 min

read
890
Whether you have been doing CrossFit for what feels like forever now or a newer member in the community I think it's relatively safe to say everyone has heard the phrase 'Hero WOD', but what is a hero WOD, and what does it mean?
CrossFit explains Hero WODs as the following –
"Military, law enforcement and first responder communities were amongst the earliest proponents of CrossFit. Their intensity matched with the fitness CrossFit provides is a match made in heaven. When a service member dies in the line of duty, a CrossFit Hero workout is created in their name. Hero WODs are an opportunity to reflect on the sacrifices of the fallen – to speak their names and honor their memories. These workouts have been a tradition of workout gyms since 2008."
Since CrossFit began there have been multiple Hero Workouts created to pay respect to fallen heroes, a list of which can be found on https://wodwell.com/wods/category/hero-wods-workouts/
The Benefits Of Hero WODs At Your Gym.
First and forest the main benefit is the act of paying respect to those individuals who have made the ultimate sacrifice in order to protect us.
A huge amount of CrossFit affiliates in the UK are run by the military or ex-military due to the mentality of "training for the unknown". If this applies to your gym, Hero WODs are a fantastic way to pay tribute and respect directly to your coaches for their service alongside everything they do for the box.
The workouts created in the name of fallen heroes are notoriously tough, so the act of struggling through them with your fellow gym-goers brings a sense of comradery to the box by knowing everyone went through the same painful and uncomfortable experience together.
BoxMate's favorite Hero WODs.
1. Murph
For Time:
1 mile Run
100 Pull-Ups
200 Push-Ups
300 Air Squats
1 mile Run
All with a Weight Vest (20/14 lb)
Murph is arguably the most notorious Hero WOD in CrossFit with the majority of gyms planning events around performing this workout on remembrance day, so for this reason it's a no-brainer for our number 1 spot.
2. DT
5 Rounds For Time
12 Deadlifts (155/105 lb)
9 Hang Power Cleans (155/105 lb)
6 Push Jerks (155/105 lb)
A triplet of incredibly popular movements and a workout seen at The Games, DT is a great workout to practice cycling a heavier barbell. Just try to hold on…
3. McGhee
AMRAP in 30 minutes
5 Deadlifts (275/185 lb)
13 Push-Ups
9 Box Jumps (24/20 in)
McGhee as a workout personally holds a special place in my heart as I vividly remember it being the first Hero WOD I took part in. Myself and a few of my gym friends (including BoxMate boss Danny) hit up our local box on a weekend to tackle this workout. A fantastic AMRAP that allows you to continuously work for 30 minutes that maybe slightly biasedly takes our number 3 spot.
Taking Part.
Even if your gym decides not to programme any Hero WODs in their classes, BoxMate has a huge number of them in our workout library inside of the member's app.
Why not grab a few friends, pick a WOD, hit up an open gym, and pay your respects whilst getting a fantastic workout in?
To anyone working in the services and reading this blog, we are eternally grateful for the sacrifice and risk you take on daily with the goal of keeping us safe. We can't thank you enough.
Related posts
Instagram
Instagram has returned invalid data.