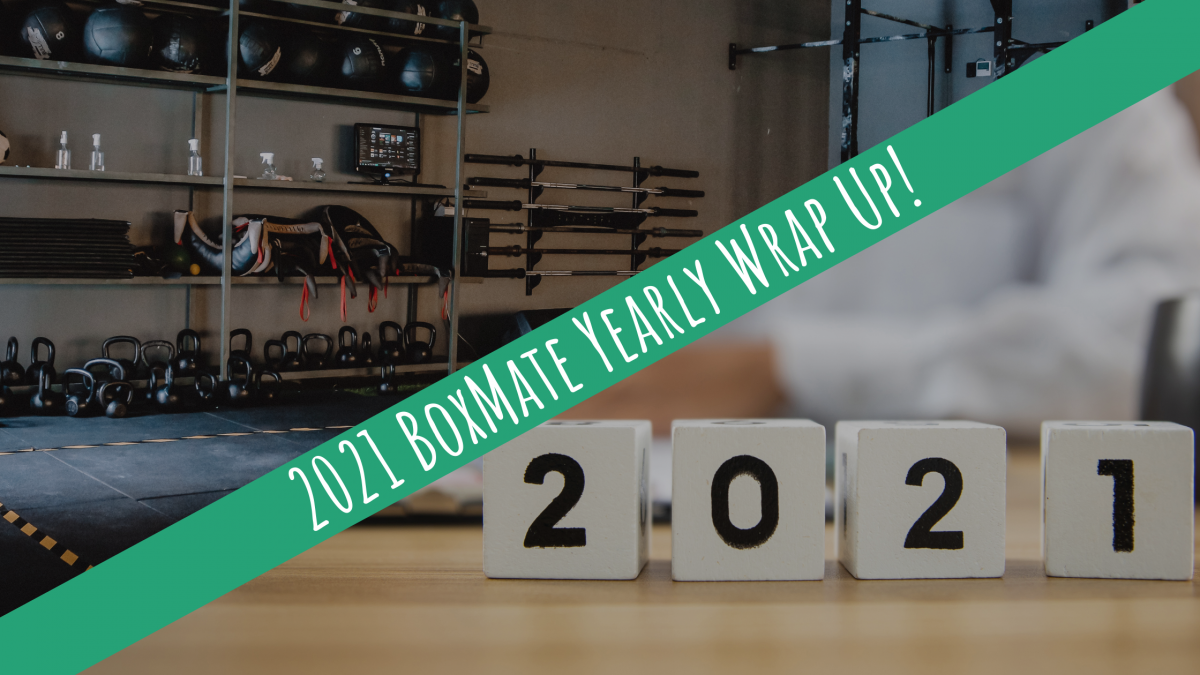 2021 BoxMate Yearly Wrap Up!
George Selby, 2 years ago
0
8 min

read
604
And it's a wrap! With how strange this year has been I'm sure many people have been ready to see the back of 2021 since June, lets take a moment to have a brief recap…
2021 is a year that I say with confidence will be etched into our memory forever. The year where we spent a whopping 194 days (or 53.15%) of the year in National Lockdown with gyms, shops, entertainment shut as families and friends were forced apart to protect themselves from the pandemic.
But nestled in the year that many wrote off were a few gem moments that I would be remiss not to mention. Starting with the moment we, as a fitness community had all been eagerly waiting for. On the 12th of April gyms officially reopened to the general public, after months of trying to make do at home with bodyweight/minimal equipment workouts getting back in the gym was as much about seeing our gym friends for that much needed social interaction as it was about getting a good workout in.
Then came the moment in July that after being kept apart for so long brought us all back together stronger than ever . . . The Euro's. I personally don't think as long I live I will collectively say the phrase "It's Coming Home" more than I have this year. Falling just short of silverware in the grand scheme of things was minimal as the journey was priceless.
Staying in July we got to watch the NoBull CrossFit Games crown a new Male Individual Fittest On Earth in Justin Medeiros as well as recrown the GOAT (Greatest Of All Time) of the Individual Female category Tia-Clair Toomey with her 4th title and in doing so the accolade of most events wins with a staggering 30, passing Matt Fraser! A statistic that could very well never be beaten when you bear in mind Medeiros won his first title with 1 event win!
Fast forward to September for another record-breaking sports performance, this time in tennis when 18-year-old Emma Raducanu won the US Open as the first qualifier (Male or Female) to win a major and the second-lowest ranked woman to win the US Open (No. 150). This sporting achievement is hard to put into perspective and even more mind-blowing that Emma was able to achieve it at 18! A glimpse into the bright future for UK tennis.
Finally, not a single moment, but an entire year of work. It has been fantastic to see Crossfit CEO Eric Roza rebuilding the brand of CrossFit as well as many of the relationships that were tarnished back in 2020. A true leader and the right man for the job, we can not wait to see where he takes CrossFit. We are actually naming our next release in 2022 v10 #ROZA because like he did, we are going to come in and change the game.
Now for the controversial part of the year wrap up…
BoxMate's Best Of 2021 List.
Please remember all these picks are personal preference, feel free to leave a reply below to let us know what you think should have won.
TV Show

Till nearly the end of the year this category was wide open with multiple contenders, and then came Squid Game, by far the favorite show everyone in the office has watched this year. A masterpiece.
Song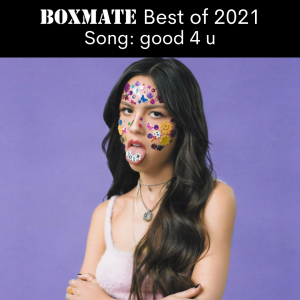 This song had only just left my head and writing this blog has cemented it firmly back in. A huge break-out year for Olivia Rodrigo yet somehow this song fills me with nostalgia. A sing-out loud track guaranteed to provide a dump of serotonin.
Documentary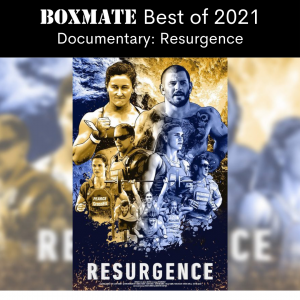 Surely you know this was coming? As big fans of the Buttery Bro's we could not wait to give this a watch and it did not disappoint. If you ever are in need of some training motivation this is it right here!
BoxMate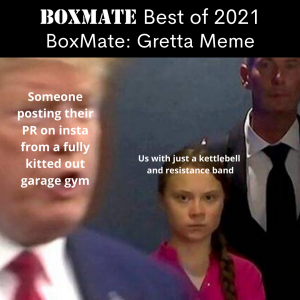 With 337 likes on Instagram Gretta takes the crown. In the middle of a long lockdown, it's easy to see why people related to this one.
BoxMate Annual Survey's
As with every year, July brought our coaches and members the annual feedback survey and the surplus of responses we got back was phenomenal. We read through every single response, made notes, added feature ideas to update boards, and here are the takeaway statistics we collected:
Admins
86% of coaches believed BoxMate helped them retain members
95.55% of coaches rated our onboarding process as 4* or above (with 71.11% rating it 5*)
100% of coaches rated our support as 4* or above (with 84.44% rating it as 5*)
Members
96% of members believed BoxMate added value to their membership
95.45% of members would recommend BoxMate to a new gym
Over 90% of members rated our support as 3* or above (with 90% rating our support as 4*+)
With all the data compiled we started to put together a plan for what has been the main focus of BoxMate the back end of 2021…
The New App
We have been building a brand new app for members and coaches from the ground up which we plan to release in early 2022.
The new app will address a couple of limitations in the current app (such as the android back button…), let you directly screenshot and share to social with just a tap, receive daily class suggestions plus quick book a full week of classes as well as receive training reminders before classes you are booked onto.
We have also added some highly requested features from the feedback we received including favouriting WODs and following other members from your gym. Many users will also be happy to hear about the addition of the text size slider, allowing you to increase specific text size of the app where required, no more taking your glasses to the gym!
Alongside all these new features the app will be multiple user interface improvements to offer you a sleek, cleaner and more efficient application.
The feature we are most excited about is our brand new 2-way messaging feature. We see this feature revolutionising communication in BoxMate with members being able to ask an open-ended question for any of the coaching team to pick up alongside coaches having the capability to directly contact a member and have a 2-way conversation. Messages will go further than one to one communication with the brand new "ask the community", here a member can post questions that anyone can then comment on a start a discussion/thread below (be sure to stay tuned to keep up to date with all update news via our socials and mailing list).
2021 Milestones
This year BoxMate passed the massive milestone of 25000 active members and 200 gyms across 5 countries using the platform all over the world. This was a goal the business had set for a while so reaching it just before Christmas was the perfect end to a year of continued hard work through lockdown to adapt the app to customers' needs.
The platform's audience only continues to grow globally and we are already well on our way to the next milestone. The thought of revealing how much the business has grown at the end of next year already excites me with on paper 2022 looking to be the biggest year at BoxMate to date.
Looking Forward – Ones To Watch
A large proportion of the BoxMate audience are affiliated CrossFit gyms with an even larger proportion being aware of/watching the CrossFit Game, so these are our athletes male and female to keep an eye on.
Female – Mallory O'Brien
This pick for anyone who watch the 2021 CrossFit Games is no surprise, Mal won Rookie Of The Year this year and was the youngest CrossFit Games individual event winner in history, eventually placing 7th at the end of the weekend. It seems that the sky is the limit for Mal and we can't to watch the sort of season she can put together for '22.
Male – Reggie Fassa
This is a slightly more underground pick but for those readers from the UK they will completely understand. Reggie has been setting the UK CrossFit scene on fire all year smashing everything he enters. A fierce young competitor who is no doubt Games bound.
Merry Christmas And A Happy New Year!
It goes without saying that BoxMate has been given the opportunity to grow to the position it is in today thanks directly to all your support. We can not express our gratitude as a whole enough for this, we just hope the ongoing hard work we put into the system to improve and update BoxMate portrays it.
We hope everyone has a fantastic Christmas and New Year spent with loved ones enjoying excellent food/drink and uses this downtime to rest and recovery ready to smash training when 2022 comes around.
Take care guys – Team BoxMate.
Related posts
Instagram
Instagram has returned invalid data.