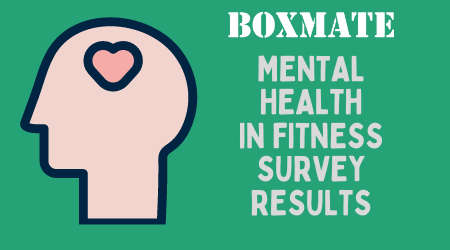 When Lifting becomes Lifesaving
Gabriella Redfern, 2 years ago
0
9 min

read
1712
For Mental Health Awareness week this year, we reached out and heard back from 1329 of you on your experiences of the links between our physical and mental health.
96% said: 'Regular Training improves their Mental Health'.
From using CrossFit to manage conditions ranging from PTSD,  sensory overload, chronic pain and low mood associated with endometriosis and menopause, depression, anxiety, chronic back pain, ADHD/ ASD, personality disorder and many more – the common response was that regular training is pivotal to managing these conditions.
We also received stories of how CrossFit and Functional Fitness style training has quite literally been life-saving for so many people and has been the light and focus they've needed to pull them out of extremely dark places mentally. See our full video where we met with Vicky, co-owner of CrossFit Fierce Spirit & Founder of Mental Health charity Bridging the Gap.
BoxMate's Mental Health in Fitness Survey Results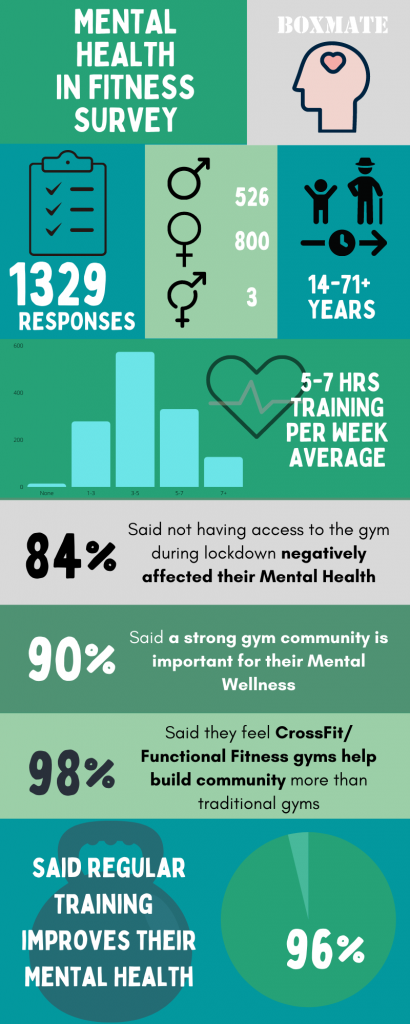 Many of us are aware of the fact that training releases endorphins (such as dopamine, serotonin and norepinephrine). Endorphins boost our mood and give us that training 'high', rally our concentration levels and aid deeper sleep and recovery, but there is so much more that training gives us – especially in a CrossFit space. A huge part of our Mental Wellness comes from the social gym community and the feeling of belonging to something.
 90% of people said that a strong gym community was important for their Mental Wellness.
The theme for Mental Health Awareness Week this year is Loneliness. Mark Rowland, Chief Executive of the Mental Health Foundation, said: "Loneliness is affecting more and more of us in the UK and has had a huge impact on our physical and mental health during the pandemic". Following from the isolation many of us found ourselves suddenly plunged into over the last few years it's no wonder that loneliness has had a huge impact on the increase in mental health issues. The ONS (office for National Statistics) reported that 1 in 5 adults reported some form of depression in 2021, which was double the number pre-pandemic.
84% people in our survey said: 'Not having access to the gym during lockdown negatively affected their Mental Health'
While some managed to cope really well through the zoom workouts and online support their box provided, for most there was just no replacing the actual feeling of being at the gym with other like-minded people, getting a good workout in and socialising too.
Many who have never previously struggled to manage their mental health found themselves battling with new feelings of anxiety and social isolation. Many who already struggled with a mental health condition found that this was worsened during the pandemic.
Why CrossFit?
From our survey, we learned that many of you found you struggled to stay motivated alone, felt frustration at physically not having the space or equipment to stay as fit as you may have wanted, or simply lost the sense of purpose and structure to your day that going to the box had previously given you.
98% of people said that CrossFit and Functional Fitness gyms in particular build community over a traditional gym.
We went to visit CrossFit Fierce Spirit, one of our BoxMate gyms to talk to Co-Owner Vicky about the Mental Health Charity she set up 'Bridging the Gap – Mind Matters.'
Bridging the Gap – Mind Matters
Vicky set up Bridging the Gap – Mid Matters (BTG) after struggling with her own mental health and not being able to access help through the NHS as quickly as she needed it. The charity was started at CrossFit Fierce Spirit as a way to provide fast and effective help to the people who desperately need it. A 6 week programme that combines PT sessions at the box alongside Talking Therapy through trained counsellors from Swains has literally been life-saving for so many people (as you will hear in the short video we have put together).
Since it's origins at the box, the charity has grown into something much bigger – while it's still run by Vicky (without taking a wage alongside her full time job co-running the box), it is now being run out of various fitness facilities up and down the country. From other CrossFit boxes to yoga studios and swimming clubs – the programme funds spaces for people to work on their physical and mental heath holistically – and it works.
Liv, who has been through the BTG programme with Vicky and Andy said: "Talking and physical therapy combined works! It works. Just stay consistent and keep showing up…Vicky and Andy have saved my life. I can't actually express how amazing these guys are. BTG are saving lives and go above and beyond… if you're struggling then please, please contact these guys… I promise you, you won't feel like this forever". 
Not only has Vicky been able to help change peoples' lives in her local community and beyond, but it has also been a really strong move for her CrossFit box too. What started off as a way to help people, paying for their counselling out of her own pocket, has now actually become a way for her to grow their box too financially. With charitable funding paying the gym/ box for the sessions they deliver it means that the facility can help people while also growing their business at the same time.
CrossFit Fierce Spirit have recently opened up a PT studio next to the box as a way to manage the influx of people needed help through the programme.
Vicky said: " 1 in 3 people struggle with their mental health. That's opening up your market to a whole lot of people who really need help. Normal people who might have just found themselves in a really difficult set of circumstances. It's so rewarding to actually be able to meet the people who you're helping and see them at the gym… and as a good outcome of that lots of them then want to join and become lifelong members too'. 
What you told us about your experiences
We had so many incredible answers to why CrossFit in particular helped people to feel included and look after their Mental Health. Just a handful of those responses are below – it makes us feel proud to be part of this community!:
"We talk to each other. We are like family. There's no fear of expressing how you feel if you are upset or worried about something…there is always someone to talk to."
"The better members of the team support the weaker and together we grow".
"Being part of a CrossFit community enables you to be with others and just forget about whatever else is going on in your life. Sometimes it's just good to speak to other people, have a laugh and focus on something else for an hour".
"Community is what separates CrossFit from other mainstream gyms. Everyone will cheer you on to the last rep. It's a community where you can talk, laugh, workout. I've never known anything more amazing"
"Both my mental and physical health improved so much since finding the CrossFit community and helped me to recover from a long term illness."
"The sheer act of working (suffering!) together brings this great sense of camaraderie"
"It's so worth it! every WOD is hard but having a supportive, non-judgemental community makes it doable. I started Crossfit about 9 months ago and it really has helped my mood. It's like movement therapy"
"As someone who has been told they have anxiety, depression, potential ADHD, potential autism, traits of BPD, emotional intensity disorder and intrusive thoughts… Crossfit has saved me. I'm fitter, stronger and surrounded by the kindest people. I tried a regular gym but I wasn't motivated, it was full of people concerned about getting the perfect selfie. Here, people work to improve their skills and help you to work on you. Not sure I'd even be here if I hadn't discovered my box. It's the best part of my day and I look forward to getting out of work and heading down to do the WOD".
"CrossFit doesn't label you, it welcomes you into a community of like minded people who will fill your soul with positive energy on the daily, and that is contagious. I've never felt more positive about myself then being in a CrossFit environment".
"The minute I walk through the door I feel less stressed, less anxious and less exhausted like a weight is lifted. I seem to forget anything bothering me for a while which is calming. Like the world outside stops. Crossfit is not therapy, but it sure does make a difference".
"CrossFit somehow completely boosts my self-esteem / confidence in a way that no other exercise has".
"The lack of mirrors to stop obsession around your body. The community is great. The focus switch from aesthetics to performance has done wonders for me mentally".
"Whilst I still have ups & downs my mental health is far more stable since I've been a member of a CrossFit Box. The support and encouragement I get from both the coaches & fellow members has not only helped me to improve my physical fitness, but has given me a sense of belonging and I am finally starting to believe in myself.. it's the best thing I've ever done".
How can you be involved?
Bridging the Gap – Mind Matters are working to provide people with partially or fully funded places to improve their lives. To find out more about the work they do, or donate to the charity please find more information through the links at the end.
If you are a box or gym owner who wants to know more about how your facility can get involved with the programme then please reach out to Vicky at CrossFit Fierce Spirit and she can explain how you can become a registered provider for the charity and start helping people in your local area (while also growing your business!)
Bridging the Gap – Mind Matters Information 
Related posts
Instagram
Instagram has returned invalid data.