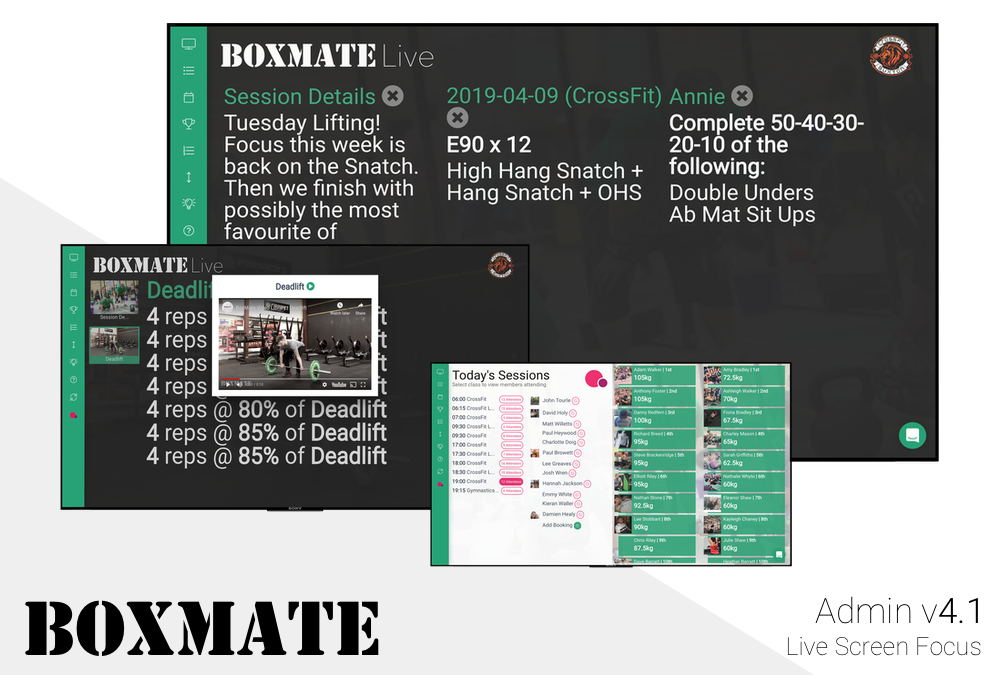 Admin v4.1 – Live Screen Focus
Danny, 3 years ago
0
2 min

read
1175
We know… it's only 2 weeks since we last released a huge update. Well don't stress, this minor release simply beefs up the BoxMate Live screen and gives you a couple of new small features, let's take a look at what they are!
BoxMate Live
Along with making the display much more smooth and clean, we added the following new features which were nearly all user suggestions so once again thank you:
Light Mode – Toggle between light and dark mode in the new sidebar to match the box setup
TeamUp Booking – Add a member on to a class that has turned up without booking or remove someone from a later class
Auto Scroll Leaderboards – This only works if you have the new generation of BoxMate Live equipment
Date/Programme Selection – Much easier switching between programmes and dates in the new sidebar
Embedded Videos – You can now display your linked videos in full screen for movement demos/other videos
New Views – Display the full session side by side in session view and everything programmed across all sessions with programme view
Members
Deleted Members – View a list of deleted members accessible from the bottom of the members' page
Member Cleanup Tool – Remove old members scores from BoxMate using their ID from deleted members
Special Members – This new option allows a specific member to bypass the visibility settings and see hidden programming/activity
Coaches
Multiple Installations – Coaches in control of more than one installation/gym can now switch between with a single account
Programming – Linked coach accounts now see hidden sessions in the members' app automatically
Member Locations – Coaches can now set a members location
TeamUp
Attendances Display – A new setting allows you to turn on attendances for the members in the app so they can see who is booked on to classes
Attendance Reports – This new section lets you view TeamUp bookings through BoxMate in a monthly graph with comparisons
Programming
Programme Sync – Those in control of multiple installations can copy full session blocks between gyms
For Quality – This new workout type lets you display workouts in the app that don't require a score logging
So that's it for this one, actually, there is probably a little more in there than we made out but we're sure you will agree its all good stuff!
As always, take a look and let us know what you think!
Regards,
Team BoxMate
#traintrackrepeatbeat
Related posts
Instagram
Instagram has returned invalid data.