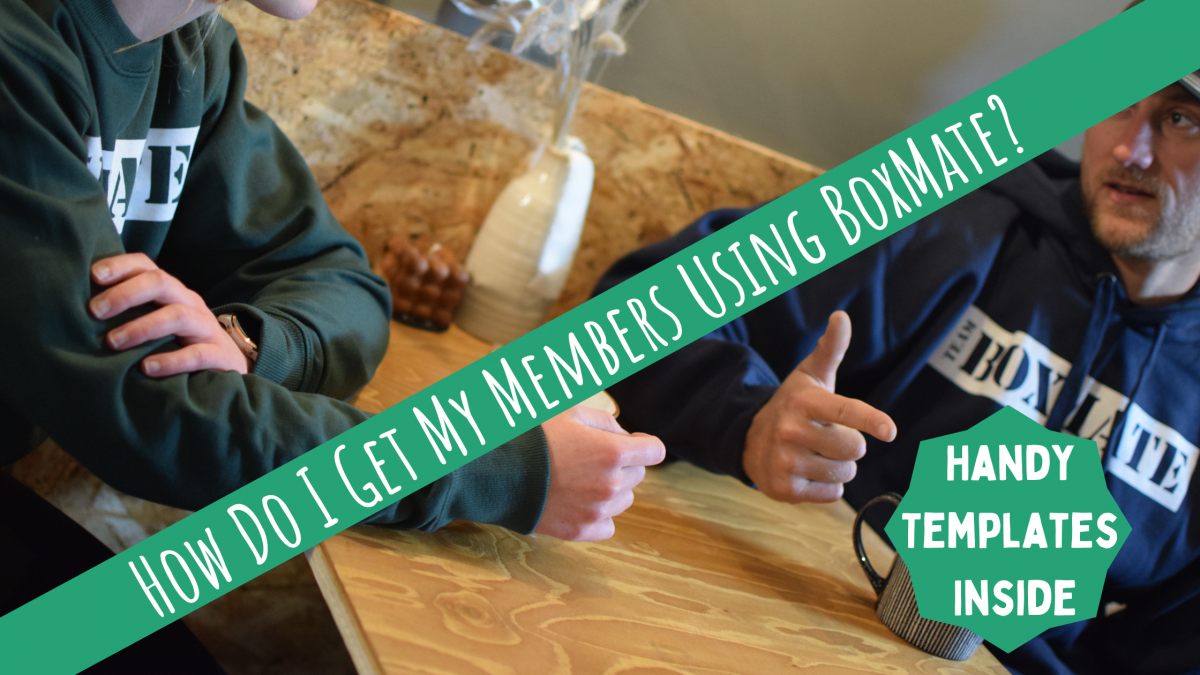 How Do I Get My Members Using BoxMate? Handy Templates Inside.
Gabriella Redfern, 1 year ago
0
6 min

read
562
Jump to the end for handy templates to send out to your coaches & members for maximum uptake. 
Having your members regularly logging their scores will arm you & your coaches with invaluable data. You'll be able to see exactly where your members are progressing and where their weaknesses are sitting to tailor your approach to them accordingly.
BoxMate will increase your client retention rate by helping make each member feel supported & integrated into your community. For it to work to its full potential your members need to be using it – this article will talk through our top tips for getting them into the habit of tracking!
Get Prepped 👩‍💻
Uploading programming before your members sign onto BoxMate for the first time is key. This way they can immediately start logging their workouts and exercises to get that instant gratification of progress from the confetti screen and PR screens.
Once your members are consistently logging their scores, your programming will be more personalised for them when you set percentages and targets – individualised weights will display for them helping them feel confident in the workout and meaning your coaches don't have to play a guessing game when it comes to suggesting weights – it's a win win for everyone.
'Good' quality programming inside BoxMate is essential – by this we mean having everything in the correct place and in an easy format for your members. So it's really important to jump on a call with one of us (Danny, George or Gaby) so we can have a quick check and make sure everything is in the right place before your members start logging. You can easily book a setup call through this link: Book a Set Up Call Today
Put out a News Post which tells your members exactly why you want them to start using the system & how it's going to help them. This will ping straight to their phones and homepages too so you know it's not getting missed. Check out the template at the bottom of this post for a template to tweak and send. 
Lead by Example 🚣
Like any other social media platform, BoxMate works best when your mates are all involved too so it's important to get a good number of your members involved right from the start! 🙋‍♀️ The best way to do this is for you and your coaches to use it yourselves. You can download for IOS and Android by clicking these links and registering for your gym.
Get the WOD up on the BoxMate Live screen at the front of the class and make a point of reminding members at the  end of every class to track their scores and add notes to help them progress next time. It's not all about competition – members can choose to keep their scores private if they want to – it's about them being able to see their own progress easily.
Once they see you and your coaches regularly logging on the app and talking about the benefits of tracking training they will buy in too.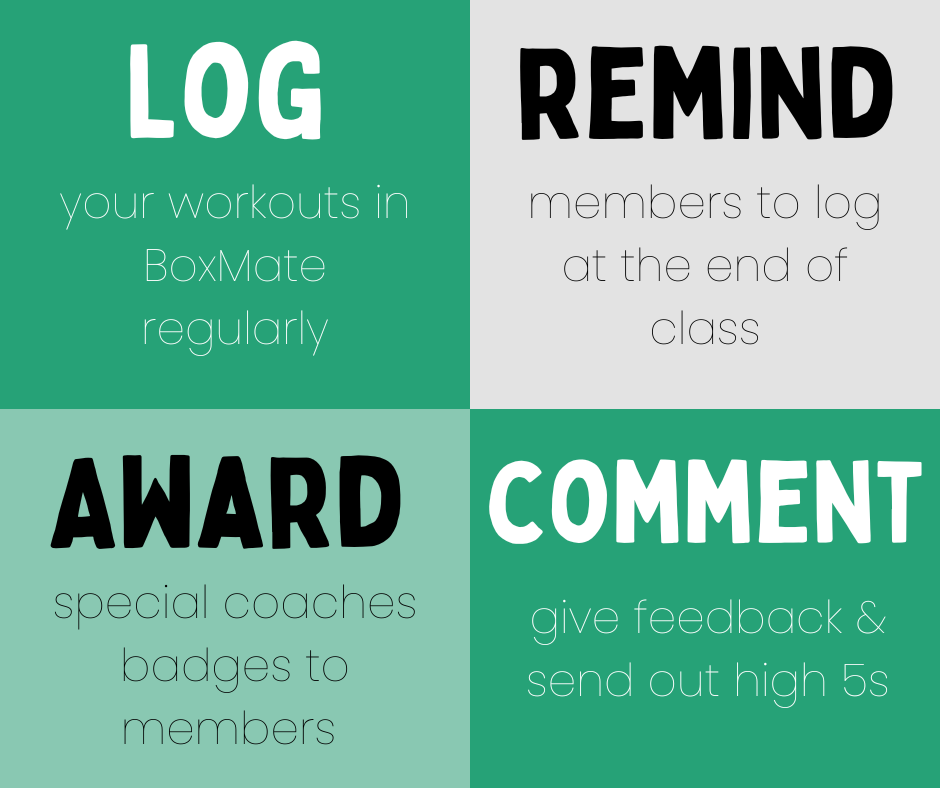 Handy Templates 🖋️
Use/ edit the below template for your Coaches
Subject line: BoxMate is Rolling Out 
Hey Team 💪
As you're aware, our gym is adopting a new gym management system, BoxMate. 
BoxMate is going to allow our members to book their classes, prepare for & track their workouts and communicate with us easily. Having their training data on the app will allow us to support and tailor our coaching and push individuals to really make good progress and feel included in our community. 
BoxMate will work best when all of our members are using it. We need to form new habits with our members and for this to work we need you, our coaching team, to be fully on-board with the new system. 
If you haven't downloaded the app to your phone yet please do so by clicking the links here for IOS or Android and registering for our gym – you can link your coaching and member app so that you can track your own workouts as well as using the coaching tools inside the app. 
Please could you also do the following:
Log your own workouts regularly in BoxMate.
Remind members at the end of every class to log their scores. 
Award at least one special coach badge to a member every week. 
Comment, give feedback and send out high 5s to members every day. 
As always, a huge thanks for your support – this place wouldn't be what it is without you. 
Use / edit the below template with your Members – (why not send as your first News Post?)
Hey Team! 
Welcome to BoxMate. This app will now allow you to track your training progress. You will be able to record your workout results along with all other lifts and exercises and the app will automatically recognise when you've hit a PB or made an improvement. You will also be able to book classes through the app (with the TeamUp integration) and interact with other members and coaches on the activity feed. 
We've invested in this system for you guys as we know it's going to really help you with your training. Tracking your workouts is so important to help you to continue to improve, and to help you enjoy your training. After all, you're the one putting in the hard graft so you should be the one to get celebrated when you make those incremental improvements – whether that's your strength, fitness or skills. 
With BoxMate you can keep up-to-date with the progress others are making in the gym and help them stay motivated by sending high fives, GIFs and comments! You guys already know how important the community is to us, so why not send your first high five today?
BoxMate will work best when you are using it regularly. It will be able to personalise your weight suggestions for lifts and targets when you're putting in the data, so please record your scores after every workout. 
If you haven't downloaded the app to your phone yet please do so with the links for IOS and Android here and and registering for our gym. 
As always, a huge thanks for your support – this place wouldn't be what it is without you. 
Reach Out To Us! 🤗
We really mean it when we say we're on the end of the phone to help us when you need it. If you're struggling and need more support then just get in touch and we'd be delighted to help!
BoxMate is such an easy way for your coaching team to make sure every single member is getting one-on-one attention. We know from experience that members who feel known and valued at the gym are much more likely to stick around meaning a higher member retention rate for you.
Work smarter, not harder!
Love and High 5s
Team BoxMate (aka Danny, George & Gaby)
Related posts
Instagram
Instagram has returned invalid data.