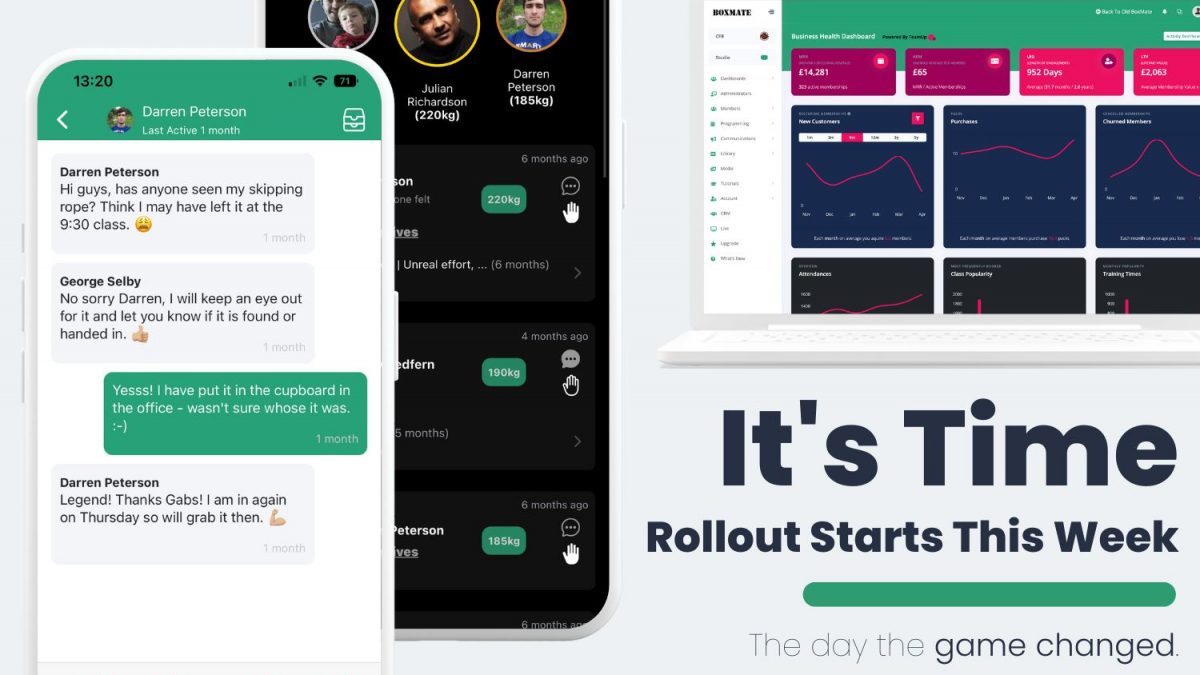 Update Guide | For Members
Gabriella Redfern, 8 months ago
0
6 min

read
546
This guide will walk you through the new BoxMate Member app with links to video tutorials and detailed explanations of how your newest features work!
First up here's our videos for how to register for the new app and authorise TeamUp too if you need to do this in the new app – click below for the relevant video.
Now, let's dive in with your new Homepage!
Your new homepage view is designed to give you quick access to information you need to see quickly.
Tapping the burger menu in the top left of the screen, or by swiping right, will bring up your new side bar navigation menu. From here you can find your way to important information in the app. Such as your notifications and messaging inbox, your TeamUp page, and you can also find here your preferences page. You can also access support here and report any issues to us by tapping 'Support' then 'Bug/ Issue'. And, you can also check you are on the latest version of the app by tapping 'Check for Updates'. 
By tapping on 'Preferences' you'll be able to scroll down and customise your app to work the way you want it to! You'll also find a section called 'Dashboard Widgets' where you can toggle which widgets you'd like to display on your homescreen. (More widgets are being designed as we speak for things like PT, competitions and challenges!) 
Logging Scores!
Score logging has had some huge improvements too! To see some quick videos on all the changes you can follow the links below:
Click here to see what's new with logging scores >> Logging Scores 
Click here to see what's new with logging sets >> Logging Sets 
To give you a quick summary here – you'll now notice when logging sets that you have the option to mark a set as failed by tapping the fail icon next to the set. This is handy information for you next time to see which weights you failed on / needed to re-attempt etc.
As well as this, whenever an exercise or set is programmed, by tapping the score icon next to it, you can see a quick pop up of your last logged score or set for that movement so you know what you're aiming for this time!
When logging a score, by tapping the 3 dots at the top right you will be given a dropdown of more options such as:
Simply marking the workout as complete, posting silently, adding a time over an hour, linking your MyZone.
You can tap the image icon in the top left to add an image or GIF to post with your score too!
New Icons & What they do!
In the new app you'll notice some new icons under scores on the homepage, timetable and activity feed. These icons help you get to where you want to go quickly.
PLUS BUTTON – This icon works just the same as the old app – tapping this will let you log your score! 
STAR ICON – This is a new icon which allows you to favourite a workout or exercise to find easily later. To find your favourite workouts, simply head to the library page and then tap 'Personal' across the top. Here you'll find all your favourite workouts and exercises along with any of your own programmed stuff. 
TROPHY ICON – This icon will direct you straight to the leaderboard for that workout or exercise. Check out the section below for more info on your new Leaderboard!  
ARROW ICON – This icon will take you to your score page!
New Leaderboard Page!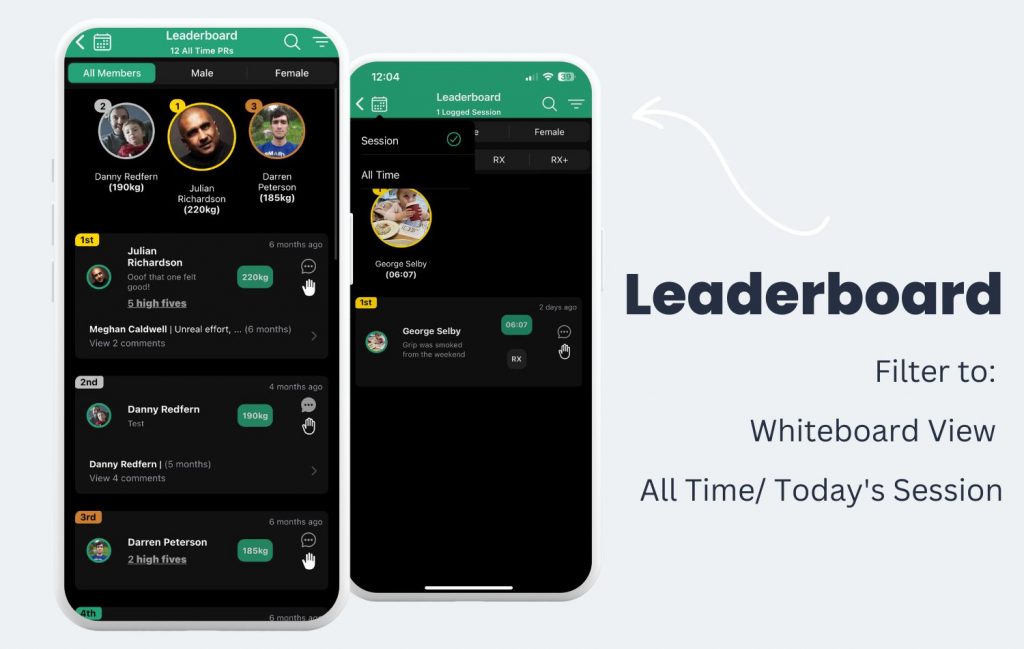 You can access leaderboards wherever you see the trophy icon in the app. This area has been cleaned up to show scores and activity much more cleanly. You also have new options too for viewing scores on the leaderboard!
By tapping the calendar icon in the top left, you can filter to 'Session' or 'All Time'. (This will work when you have accessed a score/ workout from the homepage/ activity feed or timetable)  This lets you see scores from either just the session you have clicked on, or, all scores that have ever been logged for this workout or exercise over time.
The next filter option you have is in the top right. (Note* If your gym has leaderboards turned off, you won't have this option). This filter will let you tap 'whiteboard'. This will now show you scores in order of when they were logged by time, rather than in a leaderboard view if you prefer to see scores this way.
Your New Gym Feed!
Your new gym feed (4th tab along the bottom) is where you can really get social with your friends! You can now filter to see a combined feed of all social posts and scores, scores only, or just social posts!
Now, wherever you see the usual high 5 icon, you can tap and hold to bring up the emoji pop up to let you react in a more personal way to a post or score you see on the feed. You can still comment and mention friends underneath any score or post to chat too!
You can share images and links on the social feed to bring your friends together and arrange meet ups outside the gym, share links to events or just giving pages and more!
**Your own activity can be seen on your homepage – just head to your preferences and make sure you have this widget enabled.
Messaging! 
You can now message your coaches inside the app! To access messaging, you can either do this by tapping the burger menu in the top left of your homepage and tapping 'Inbox'. Or, you can head to your community tab and tap the messaging icon in the top left.
This will allow you to type out a message to send to your coaches. You have the option to send a message to the full coaching team so that anyone who sees the message first can pick this up, or, you can tap to select an individual coach to send a private, direct message just to them.
Any messages coaches send out to you can also be found here. It's important to have notifications turned on in the app so you'll get notified when these come through!
So, there are the main changes covered for you in your new members' app! Check out the links below to more help videos too:
How to set a Default Programme 
How to Manage TeamUp Classes
How to Score a Partner Workout
How to Set a Goal
How to Register for a Competition 
How To Make Sure You Are on the Newest Version 
Related posts
Instagram
Instagram has returned invalid data.