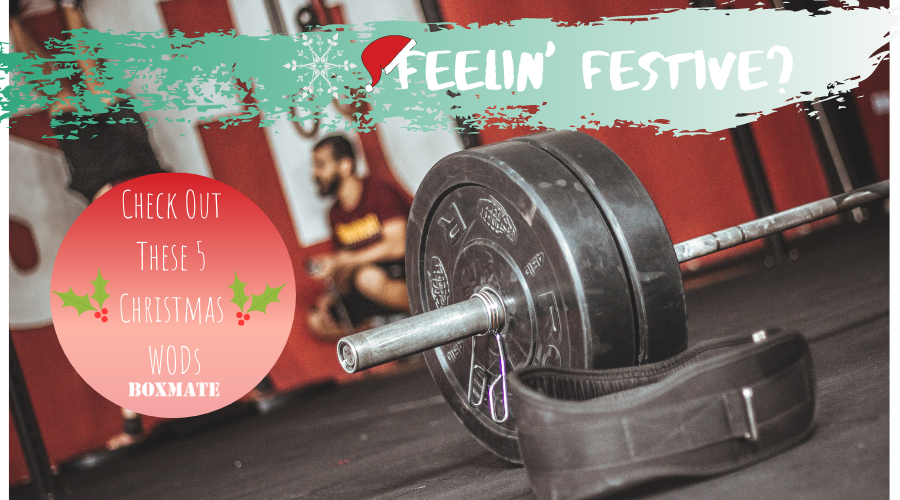 Feelin' Festive? Check out these 5 Christmas WOD ideas!
Gabriella Redfern, 10 months ago
0
3 min

read
1207
🎅 Christmas CrossFit WODs 🎅
This festive season make your training extra merry by adding a few Christmas WODs to your training plan. Whether you're making it into the box to give one of these a go with some friends, or keeping fit (in-between the mince pies) from home, these workouts will help you balance out the indulgence of Christmas with a good old-fashioned sweat!
Number 1: 12 Days of Christmas (CrossFit Invictus Style)
Yep, this one is as bad as it sounds and is infamous in the CrossFit world! You can basically substitute any of these moments for another but the idea is that you follow the 12 days of Christmas song and build each exercise onto the next.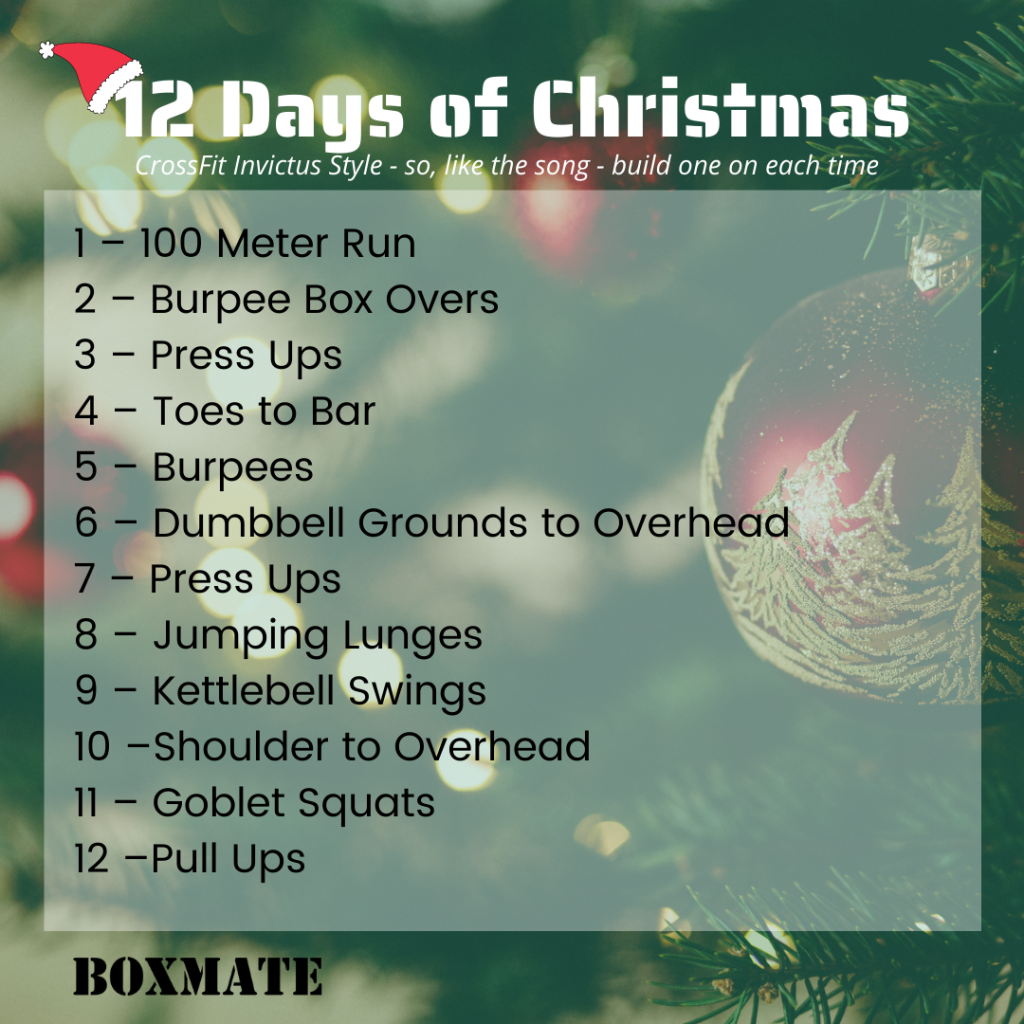 So, for example it would start like this…
1 – 100 Meter Run
2 – 2 Burpee Box Jump-Overs; 100 Meter Run
3 – 3 Push-Ups; 2 Burpee Box Jump-Overs; 100 Meter Run
4 – 4 Toes to Bar; 3 Push-Ups; 2 Burpee Box Jump-Overs; 100 Meter Run
Christmas Hats and songs are encouraged throughout this one! 🎅
Number 2: 12 Days of Christmas (Home/ Minimal Equipment Edition)
Same thing as above but with some modified movements if you can't make it into your gym or are training from home!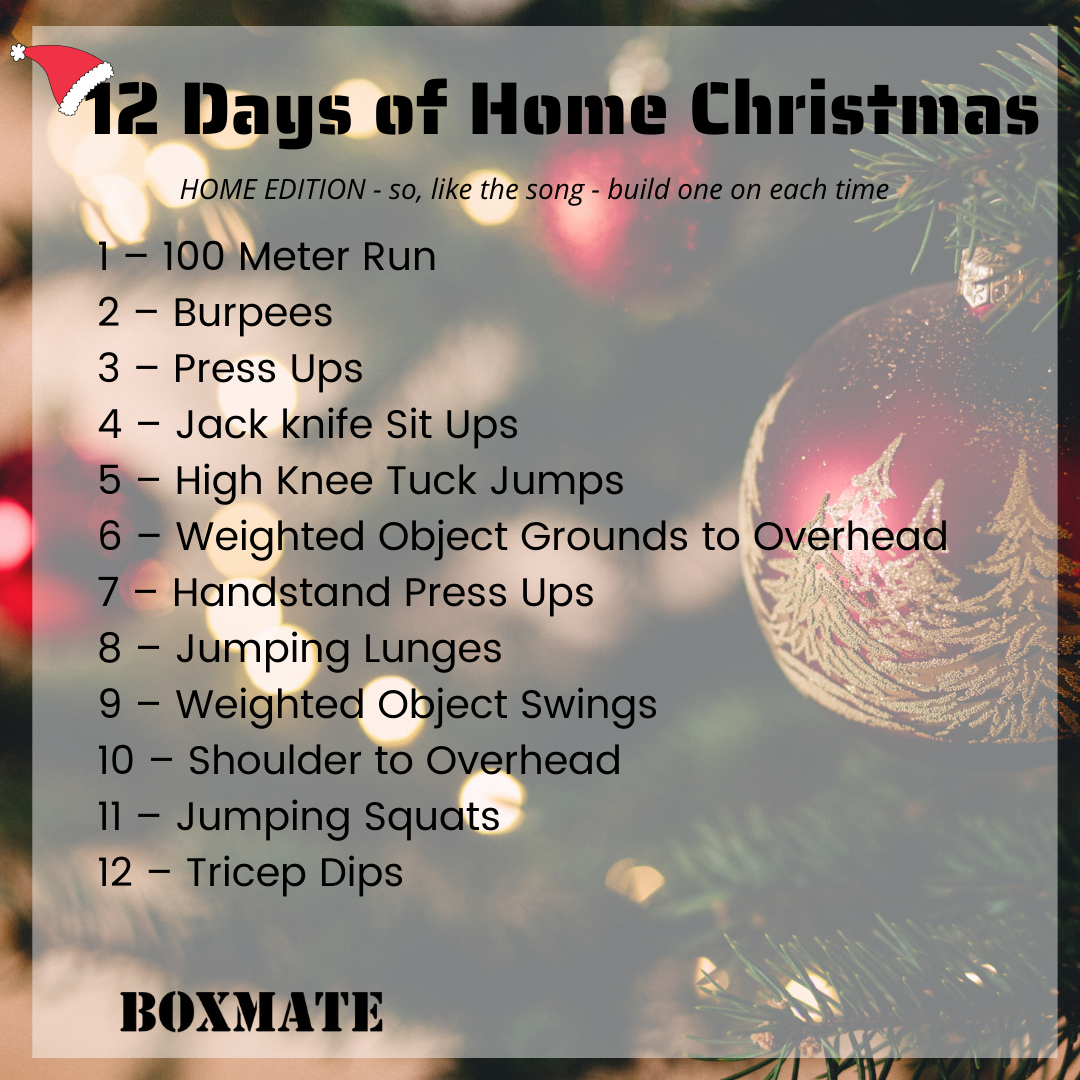 Number 3: The Grinch
So, this one is pretty much for if you are very gymnastic as it involves back flips and freestanding handstand press ups – yep… not easy 🤣 but some good fun to challenge yourself if you want to give it a go! Feel free to substitute for movements you can do if back flips are not on your radar!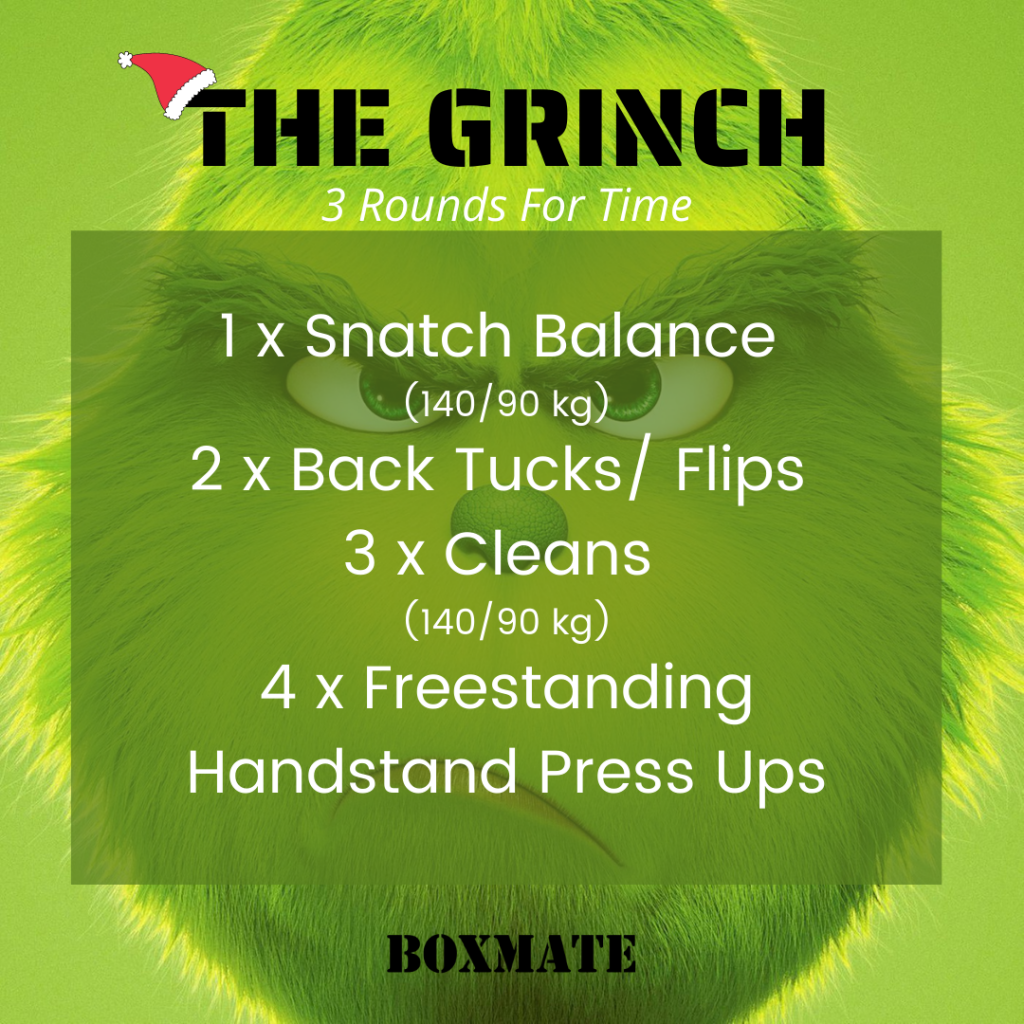 Why not click here to watch Noah Olsen give this one a go here >>> Noah Olsen takes on the Grinch!
Number 4: Jump for Joy
This is a fun sweaty one! Grab your robe and get stuck in! You could substitute for Jumping Jacks or Tuck Jumps if you don't have a rope to hand!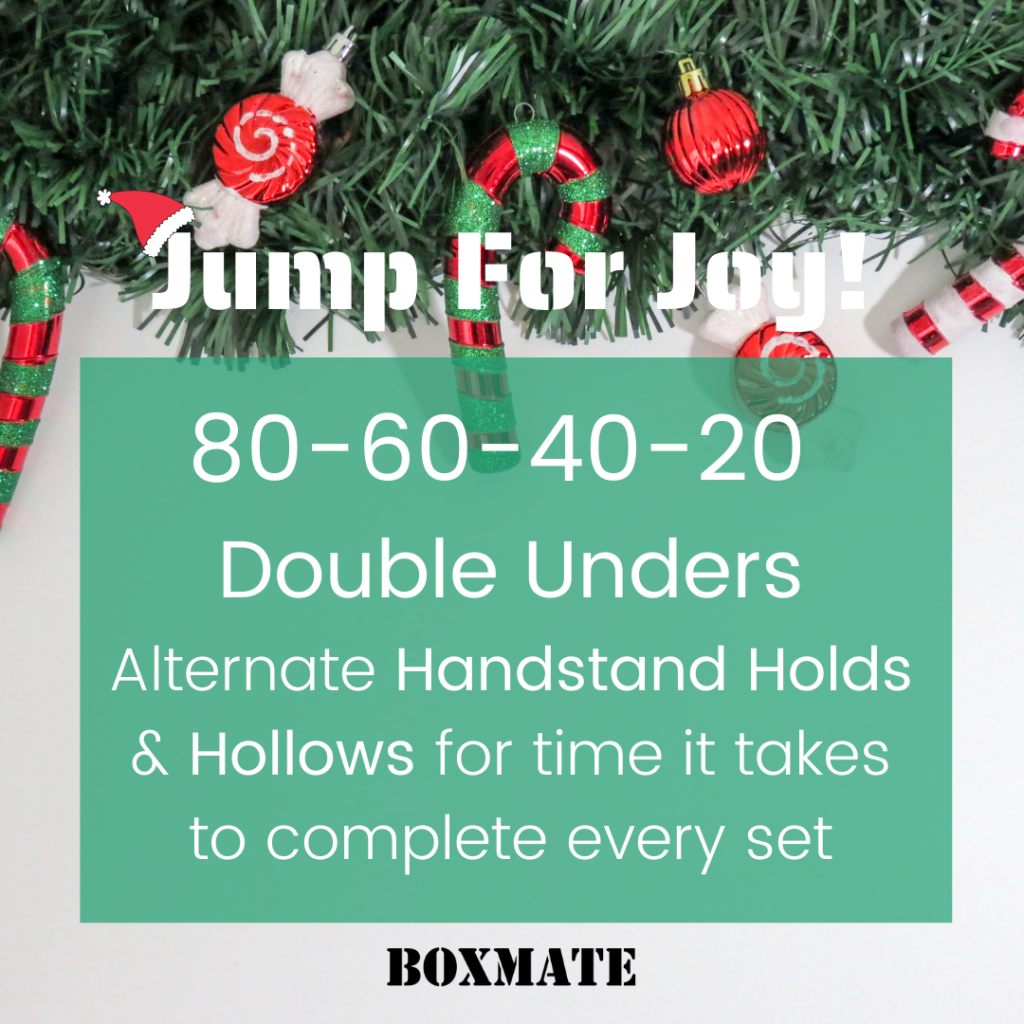 E.G If completing 80 DUs takes you 1 and a half minutes then you'd hold a handstand for 1.30 minutes before starting your 60 Double Unders then hold your hollow for however long it takes you to complete your 60 and so on!
Number 5: Santa's Little Helper
This one you can get the kids/ pets involved too! Load up your chosen weight in either a front or back squat position (a.k.a your child/ pet / any other festive weight!).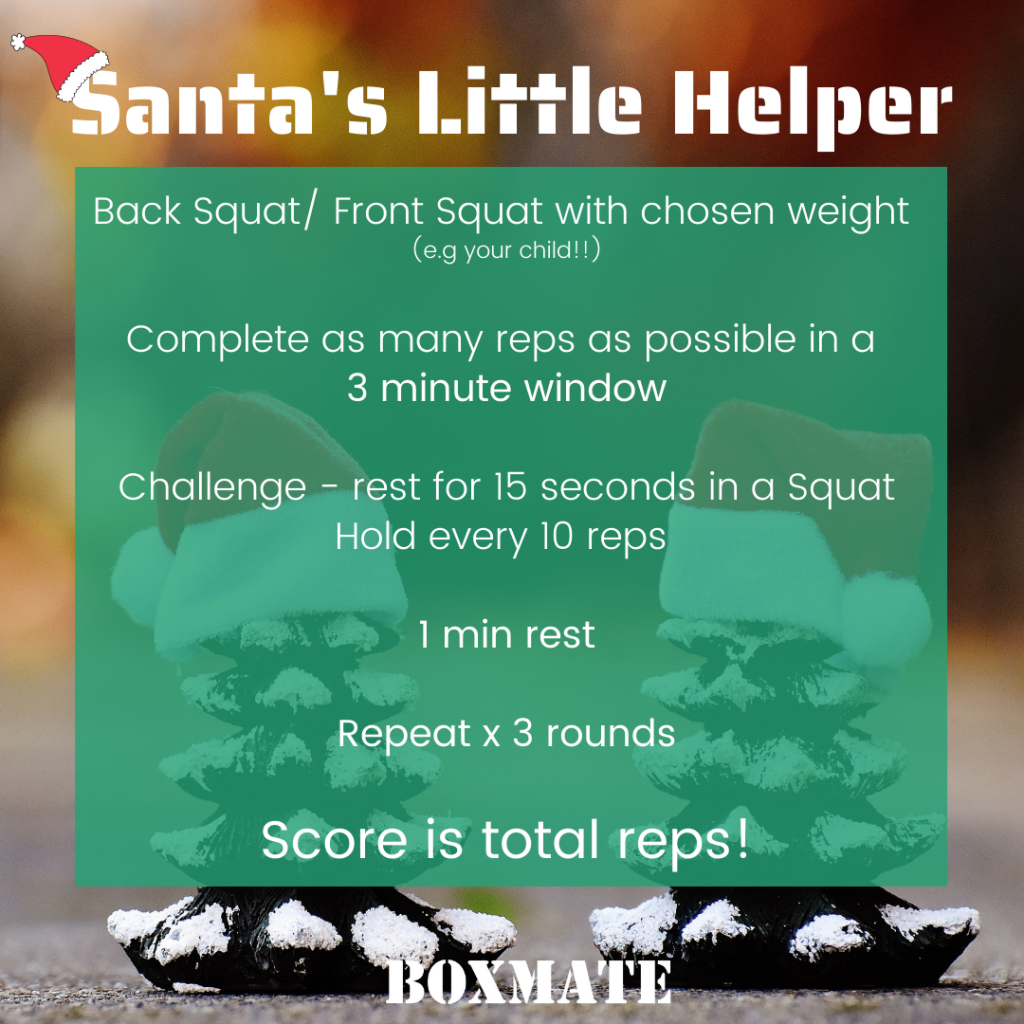 We hope you enjoy the Christmas WOD line up!
Whatever you are training over Christmas this year remember to keep your body moving! 2020 has been a tough old year but we are gonna come out of it stronger! Get yourself out for some winter walks and jogs, fit in a few quick and sweaty body-weight AMRAPs and try and sling some weights about when you get a chance. You'll feel much better for it in January!
But most importantly – enjoy a lovely Christmas with your loved ones and let yourself indulge a bit and relax too- it's what Christmas is all about after all!
Love, High Fives and Christmas Vibes
Team BoxMate 🎄
Related posts
Instagram
Instagram has returned invalid data.