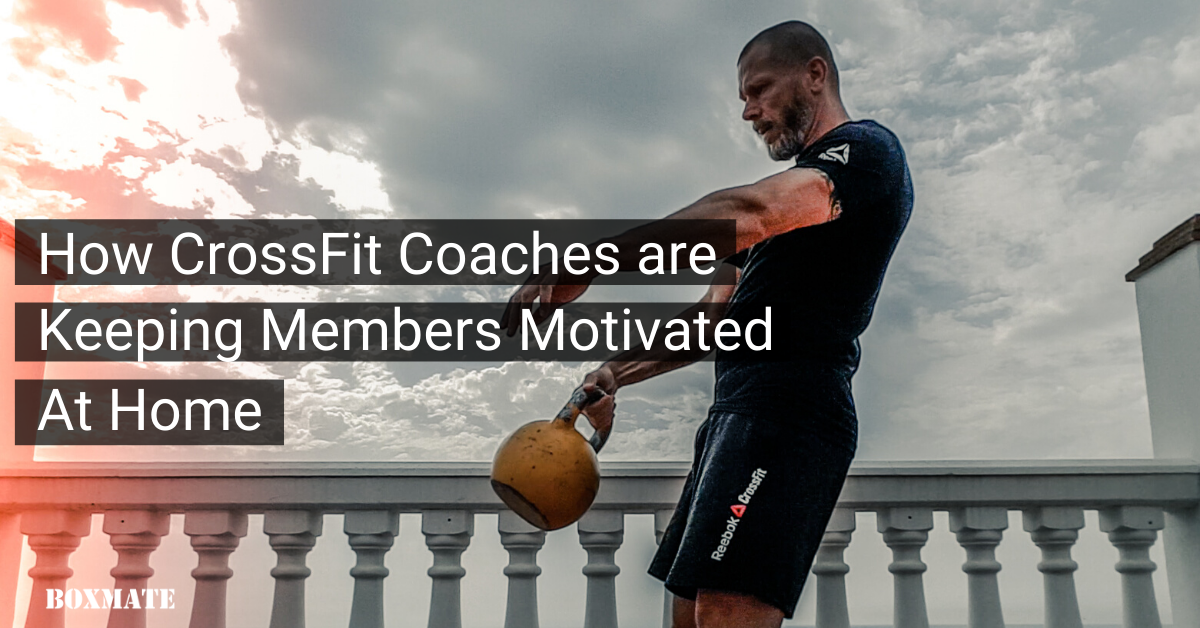 How Coaches are Keeping the CrossFit Community Motivated.
Gabriella Redfern, 2 years ago
0
9 min

read
1004
With over 88% of CrossFit affiliates closed globally CrossFit boxes across the world have been thrown into free fall having to adapt fast to ensure their members can keep enjoying their training, staying fit and staying sane from home.
This has been no easy feat for coaches when you consider the fact that most members don't boast a full kit of workout equipment or a large flat outdoor space, let alone their own home gyms. Despite the mountain of obstacles in the way, the CrossFit community has pulled together to keep training going.
20th March | UK CrossFit Boxes & Gyms Close 
20th March is a day that will stay etched in our memories for a long time to come. Although expected, with social distancing measures coming in previously, it still came as a shock when the doors had to be officially shut. 
CrossFit gyms found themselves thrown into a totally new situation, unclear of how their members would adapt to virtual training, unsure whether members would even still be able to pay for memberships with their own jobs at risk, and facing logistical issues of how to keep members fit at home with little to no equipment.
We spoke with box owners and head coaches about how the box closures have impacted them, and what they are doing to ensure their members stay motivated from home.
Q: How did it feel that moment when gym closures were announced? 
Stew Bothamley, Head Coach at Fit Missions:
"That was a really scary moment for us – of what to do next and working out what plans we could implement straight away and moving forwards including loaning out kit to our members."
Richard Hornsey,Owner of CrossFit Boudica:
"Friday the 20th March I'll probably always remember. I was actually on my way to Cornwall when the news came through and I then spent almost two hours sat in the services replying to messages, sorting out my team and making an immediate action plan. Within 12 hours we had created equipment loan contracts and had a plan of action in place for loaning equipment while maintaining social distancing measures. Over that weekend we proceeded to lend out over £50k in equipment and we also set up a charity pot for any that really need help".
This same generous reaction rippled throughout the CrossFit community and social media was filled with CrossFit boxes making up home workout packages for their members, lending out everything from bars to plates and ergs. Once the equipment issue had been addressed, the next big challenge for many gym owners was how to adapt WODs and sessions to suit all members when not everyone has the same space and equipment.
So, we wanted to know what different coaches have been doing to ensure their members still get in a good training session from home. 
Q: How have you had to adapt since shutting the gym? 
Adam Walker, Co-Owner of CrossFit Buxton:
"We're always learning and experimenting with our programming. Because of that, adapting to online coaching came pretty easily for us. Challenges have been about coaching our members to adapt and to find the motivation to work out in their own homes, and we've also had to overcome various technical issues with mobiles/ laptops.
To aid smoother communication we've put less emphasis on verbal praise in an an attempt to limit communication issues and instead more use of physical signs for example during a Zoom workout we might use: thumbs ups = good, waving = stop/correction needed". 
Stew:
"Going online and working with the Zoom app has been great as we can still structure our classes in a very similar way to how they would run in the box. To adapt for at home training we've introduced more simple movements and higher reps.
We also offer more alternatives for movements – for example if it would normally be a DB snatch, we show how to do this with a kettlebell or a household object instead – we've used a rucksack variation a number of times now and that's worked really well. We've researched to find a similar stimulus that a rower/bike could give you without actually having one at home so that our members can still keep working on those movements from home."
(If you're interested, you can find video tutorials for movements over on the Fit Missions Instagram here)
Richard: 
"We worked quickly to build online classes –  yoga, Pilates, romwod, spinning, gymnastics, olympic lifting, ask the coach sessions, a new running group, and a 12 week bodyweight training programme. We've also sent out 2 recipe books along with a MyFitnessPal pal guide and nutrition plans.
We focused on challenges like pistol challenges and HSPU challenges along with daily home workouts. We also use MyZone and have created challenges and teams within that. The banter in all of these groups is amazing – it's fun but it's all been about getting people engaged and moving'.
(You can find some of those daily challenges on CrossFit Boudica's Instagram here)
Keeping Communication Going
From all the owners we spoke to the core message was the same – keeping the focus on communicating with members and coaching them through the changes. The important thing is making sure members can stay in touch, stay fit and feel happy and ultimately so members will want to stay as part of the team and keep memberships despite the physical box being closed.
The amount of effort that has gone into creating banks of resources for home WODs as well as nutrition plans and daily challenges has been incredible. It has shown that CrossFit goes so far beyond the 4 walls we normally train within – it is a strong community that can keep each other going from a distance. 
Viewing Change As Opportunity
Despite the undoubtable challenges that many gyms have been facing and the huge pressures gym closures have put facilities under, many owners have been focusing on the positives. Many have found the time to implement new programmes and ideas that they've wanted to do for a while but haven't found the time to do under normal circumstances.
Many gyms have also found that they are in fact bringing on-board new members throughout lockdown. Whether these are people who may have been a bit too intimidated to try out CrossFit before, or people who are using the time at home to get fitter and want help doing that. 
Q: Is there anything you've done to motivate your members that you'd like to carry on doing when your box does re-open? 
Adam:
"We've kept our members motivated through daily challenges along with more regular online client contact on WhatsApp through check ins and conversations about well being and mental health. We"d like to continue with this when the box does re-open".
Richard:
"We've actually had ex members come back to us and take out a membership again to support us. This has opened up massive opportunities for us as a company and I'm certain some aspects of this will stay once we are allowed to re open. For instance the daily home workouts and online yoga movement tutorials could possibly stay as a YouTube channel along with the MyZone challenges. Through all this I'm actually still planning my third gym looking at the opportunities. My take away from all this is simple – look after the community you've built, adapt fast and don't be afraid to think outside the box."
Stew:
"We've worked it out so that between our coaching team we have coaches assigned to call all our members individually to have catch up conversations. Here we can set goals with them, have a catch up chat about how things are going and make sure they're keeping on it with their training. With feedback we keep keep the programming interesting and fun and add different movements in to keep it refreshing . We also run breakfast clubs and coffee breaks on Zoom where our members can log in and have a general catch up and socialise together over a coffee or their breakfast to give everyone a space to let some steam off and feel connected. When the box reopens i do think we can keep some elements online and keep the catch up chats going – and it will be good to have the conversation about what we will keep and what we will move away from". 
Retain Your Members with BoxMate
Like these box owners, by putting your daily home challenges and workouts on BoxMate your members can stay connected through competing and training together. Members can see how each other are doing in training and motivate each other to keep going with the workouts from home.
Our Zoom integration through TeamUp makes it really simple for your members to join classes from the timetable inside the app. You can check out our dedicated COVID-19 resource hub for all help with integrating zoom and other home programming features.
We've seen so many coaches utilising our notification features like nudges, questions and box news more than ever since lockdown began to keep their members in the loop with training. Send your members a nudge notification to let them know about a new Home WOD video, to announce the days WOD, or just to send them an encouraging message to get them through the day!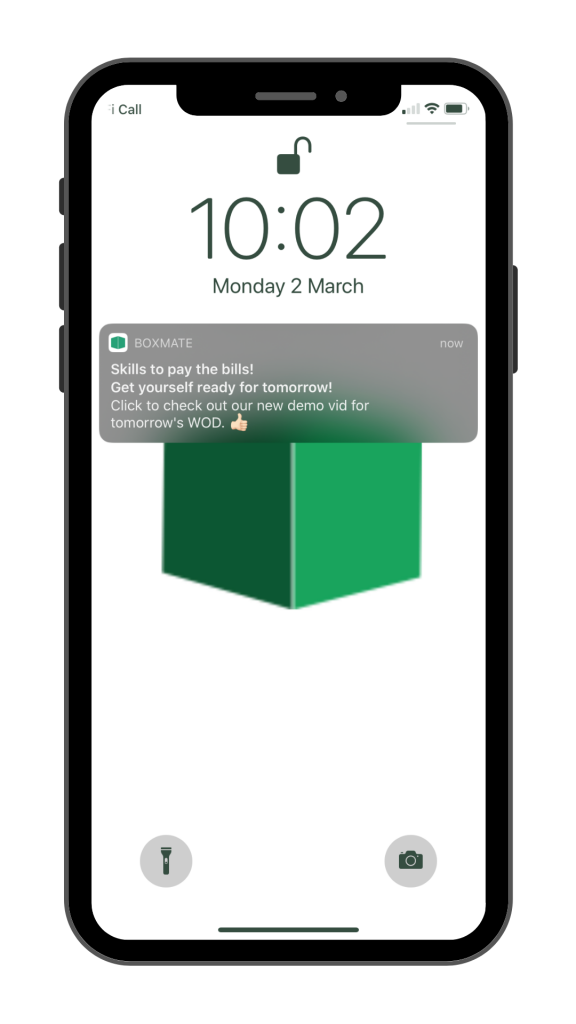 Many members have been checking out our daily BoxMate Home WODs on our Instagram too to compete against each other and log their scores in the community tab in the app. You can use these to help you with your programming or direct members here for extra sessions.
If you don't yet have BoxMate at your gym, you can still start your free 30 day trial (no card details needed/ cancel anytime) while your box is closed and get your members logging scores for home workouts and interacting with the gym community. By getting members to feel part of the community and focusing on progress you can retain memberships throughout lockdown and ensure you can keep your facility going strong until we can finally re-open those doors.
If you want to use this time to learn more about the features you have to communicate with your members with BoxMate, check out our tutorials here.
BoxMate PLUS
Watch this space. We're working hard behind the scenes to bring BoxMatePLUS features (for free during lockdown) to our gyms including a personal training dashboard to PT clients and a platform to host online competitions for your members through lockdown.
We will be releasing more details in the next few weeks, so join our mailing list to be the first to hear about these latest feature releases, please sign up here. 
Related posts
Instagram
Instagram has returned invalid data.