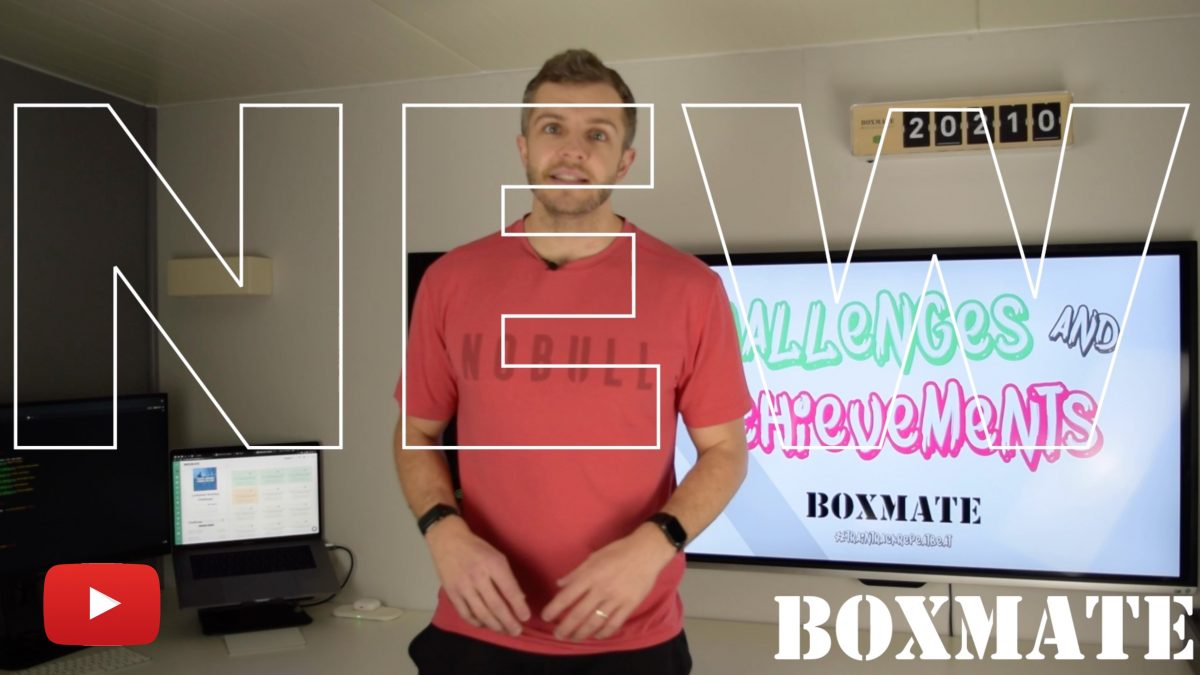 Say Hello to BoxMate Badges & PR City!
Gabriella Redfern, 3 years ago
0
5 min

read
1634
This latest release is all about helping you motivate your members!
We know that you guys do this day in and out, all year long… but we thought this was particularly important right now while members can't train together at the box.
These following 3 features have been designed to add fun, accountability and structure to your members training, and help you and your coaches to keep motivation and engagement high!
You can watch all the new video tutorials which guide you through step by step how to use the features below. Take a full look at what you can expect here in our release video! 
Challenges 🏆
Our all new challenges feature is going to allow you to create a 'Challenge' for your members to enter into. You set the timeframe – whether this is a week, 2 weeks, a month, or a completely customised date range, and then create the challenge you want your members to get stuck into!
Challenges Tutorials
Learn Tutorial – For you & Your Coaches
How Do I? – To send to your Members!
You have two different challenge types to choose from!
1 – Accountability Challenge.
This challenge type will ask your members simply to mark off each day whether they have completed the daily challenge. At the end of the challenge you and your members will be able to see how many days they successfully completed the set challenge with a Confetti Screen. This is PERFECT for a nutrition challenge, for example, you might set up a week long heathy breakfast challenge. Each day you can input a breakfast meal plan for your members to follow, or even just a motivational message or a tip to keep them on track, and they can mark off whether they completed the day. Simple!
2- Counter Challenge.
This challenge type will allow your members to work together towards a total goal as a team. For example, you might set up a 500 mile challenge at your box over lockdown. Every day, you ask members to contribute the miles they managed to the overall score, whether this was walking, running, biking, erg… and they work together as a team to hit that grand total. You can set this as an open ended goal if you wish – so you can just see how many miles you can achieve together without their being a limit! You could also set this up as a 'Reps Challenge' and then put a different exercise each day – for example, Day 1 – Burpees, Day 2, Squat Jumps, etc…
You and your members will be able to see Leaderboards throughout the challenge! In the Accountability Challenge type this will order members by the number of days they have completed, in the Counter Challenge it will be by the contributions they have made!
Members can also 'Join the Conversation' in the challenge chat area – they can share comments and talk while the challenge is live to keep things social!
As a coach you can easily see which members have entered into the challenge and contributed. You can announce a challenge to all of your members once it's created to let them know it's live, and then after this you can send out messages to just the participants of the challenge.
Badges & PR City
Achievements Tutorials
Learn Tutorial – For you and your coaches!
How Do I? – To send to your Members!
Badges is something we've been working on for a while and we are very excited about this one! We know how much we all love to hit a new PB or goal, and badges adds another level of personal achievement for your members!
Members can earn badges for sending and receiving high 5s, for completing their first hero WOD, for hitting a new PB, for getting a perfect training week and so much more! Badges will be worked out automatically for members and will then be displayed for them in their achievements tile so they can see which ones they've earned and motivate themselves to earn and unlock more!
There are 6 special Coach Badges that you can award to your members to give them an extra boost too – check them out and get sending these out to your members.
If you have an epic idea for a new badge, hit us up!
Members can now also see their PR City which shows them all historic PRs they have hit. They can filter by month and view confetti screens and more. As a coach you will also be able to keep an eye on all members badges and PRs easily from your admin area.
Squads (PLUS ONLY)
This is a new element to our competitions feature and we think you guys will absolutely love this, especially with the Open on the horizon!
Squads lets you group your members to add another layer of fun to the competition! Whether this is team Red v Blue, Girls V Boys, or maybe even 5 separate squads with a different coach heading up each one!
Each squad will have a group of competitors in – whether these are individual competitors or teams. The squad will then work together throughout the competition and any team or individual points will go towards the Squads grand total.
Competition & Squads Tutorials
Learn Tutorial – For you & Your Coaches  ** Check out the new Squads Feature at 6.20mins in**
How Do I Register for a competition? – To send to your Members!
We hope you will enjoy this latest update and use it to motivate and interact with your members! As always, we want to hear back from you on your thoughts on the new features so reach out and let us know what you think!
Stay safe team! 💪
Danny & Team BoxMate
Related posts
Instagram
Instagram has returned invalid data.