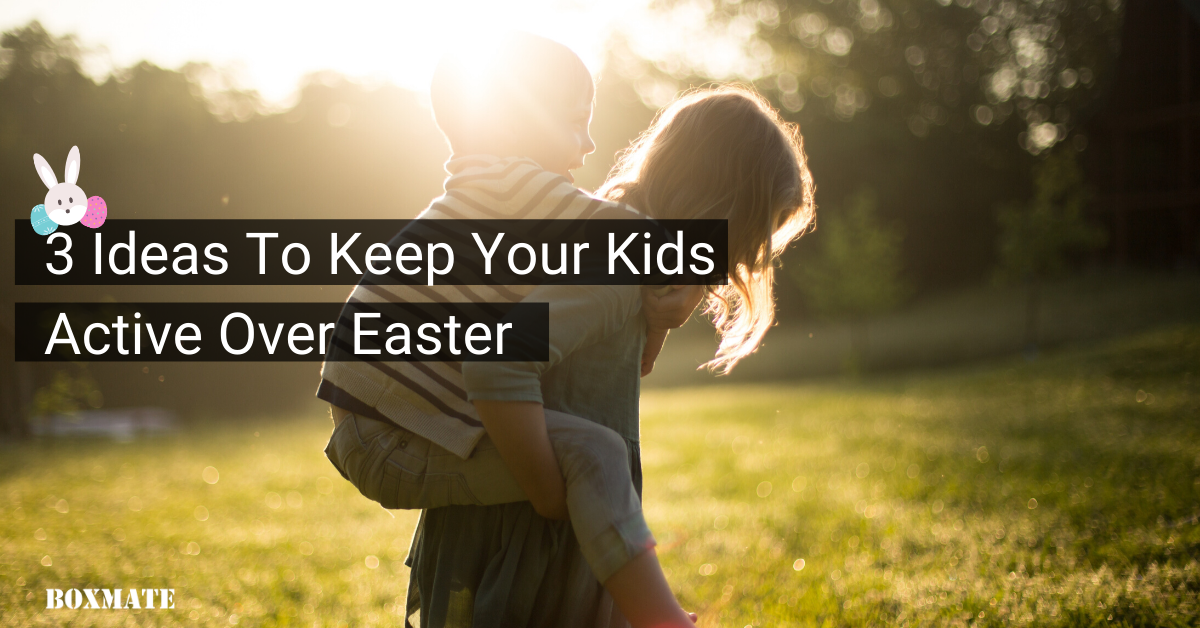 Fun Exercise Ideas For Kids this Easter Weekend.
Gabriella Redfern, 2 years ago
0
4 min

read
994
We know many parents are now taking on the role of PE teacher (amongst 1000 other things!) and it can be tricky to keep inventing new ways to make getting active fun.
So, to help out, we've rounded up 3 ideas that might give you some inspiration this Easter Weekend.
We will be keeping everything crossed the weather holds up for us all which means we can hopefully all get to enjoy some fresh air too, and even better, some outdoor egg hunts!
Of course PE with Joe at 9am every morning with @Thebodycoach has been a huge hit for loads of families which is great! If that's not your thing though, or if you just want to mix it up we've put together 3 alternative ideas below to get your kids active and having fun at the same time.
CrossFit Games for Kids
Kelly Brown brings us a really cool idea over on the @CrossFitTraining Instagram page. Make exercise fun – hopscotch style! Give the video a watch to check out how to play.
FYI – To get set up for this game you'll need: 
10 x Circles to 'hop' into (you could draw these circles on a driveway with chalk, or even use jumpers/ anything around the house to fashion into circles).
10 x Number Markers 1-10 (this can just be on sheets of scrap paper!)
Something to throw! (if you don't have a spare horse-shoe lying around 🤣 a small bean bag is ideal, but this could be a pair of socks or anything else really that won't bounce).
A score card (pen and paper)
Dancing for Kids
If you've got a little dancer on your hands then they will LOVE the daily classes that Oti Mabuse and her husband have been running. Oti is a Strictly Come Dancing champion and she's been putting on daily dance classes at 11.30am.
She does them live on Insta every day on her page @otimabuse (click here to find it) – you can find all videos on highlights from Shrek to Frozen!
She also posts all videos over on her YouTube channel so you can find them later and get involved at a time that better suits you and your family.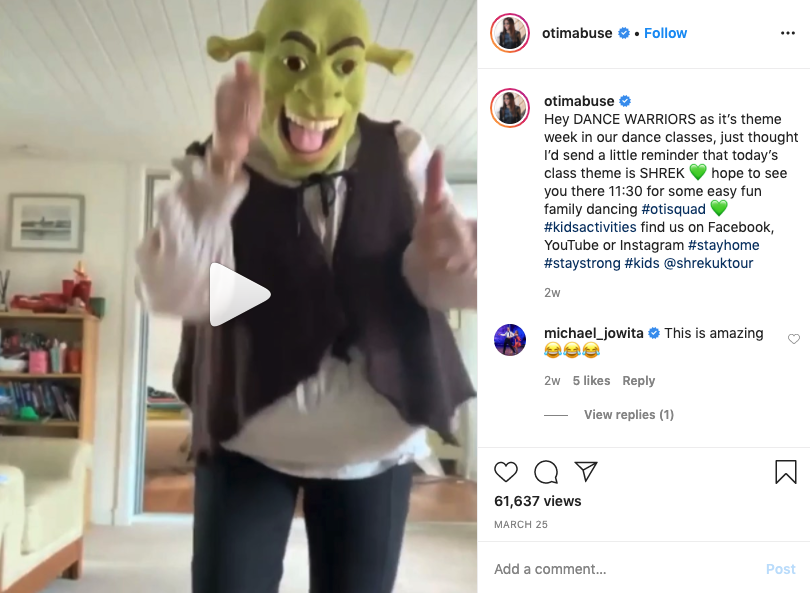 These are happening every day which is epic but we LOVED the themes she's going to be running over this Easter Weekend. Here's a heads up to help you plan ahead – remember 11.30am. Dressing up is encouraged 🤪
Thursday April 9: Spider-Man 🕷
Friday April 10: Tangled 💇‍♀️
Saturday April 11: Happy Feet 🐧
Sunday April 12: Madagascar 🦁
CrossFit Kids WOD
If you've already been getting your kids involved with your daily workouts and want to have a bit of a sweaty, fun session with them, why not try the workout below and have a family race?
FOR TIME
Bear Crawl – there and back across the garden/ yard / indoor room
If you don't have a garden space this can just be a bear crawl across what ever indoor space you do have! If you're not sure how to do a bear crawl check this 30 second video out
20 x Star Jumps 
Crab Walk across the Garden/ Yard/ Indoor space – there and back
check out this 30 second video for how to crab walk
10 Jumping Squats
20 Side-to-Side Jumps over a line/ object
You could draw a chalk line or just use any object to put down on the floor to jump over 
20 Sit Ups 
Garden/ Yard/ Indoor Sprint – there and back! 
If you have a bell, musical instrument or even a flag this is fun to put near the finish line so the winner can make some noise and make it clear they have completed the race!
Most importantly, have fun with whatever exercise you do as a family and remember that by getting something active done alongside other activities like egg hunts, painting or baking you can release those amazing endorphins and help everyone let off some steam too.
Whatever you get up to, we're wishing you a lovely Easter Weekend – Love and High 5s Team BoxMate. 
Related posts
Instagram
Instagram has returned invalid data.