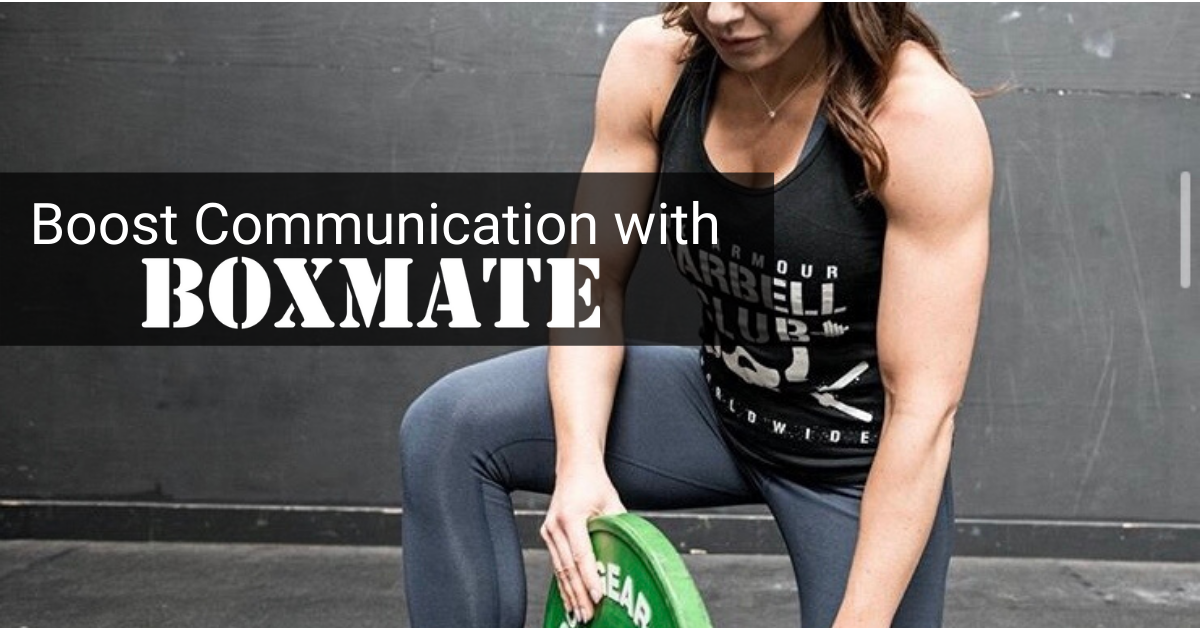 3 Ways to Boost Communication in Your Box.
Gabriella Redfern, 8 months ago
0
4 min

read
621
Communication is key as a coach. Your members are at your gym to make progress, have fun and feel like part of the team. However, sometimes it can be easier said than done to make sure we're keeping everyone fully in the loop.
We've all been there when we need to get messages to our members but worry if they're actually ever going to get to read them.
Whether we're announcing the week's upcoming programming, giving details about an event or even warning members about a late opening that day due to unforeseen circumstances – it can be hard to know that the message has actually got through.
How can BoxMate improve communication?
With BoxMate in your gym, you don't have to worry about a social media post going unread, an WhatsApp getting missed, or an email going unopened again. You can ditch MailChimp or your email list, forget the groups and Facebook/ Instagram polls and do everything all from one place in the BoxMate admin area.
When you send a message in BoxMate, your members will get a notification straight to their phone.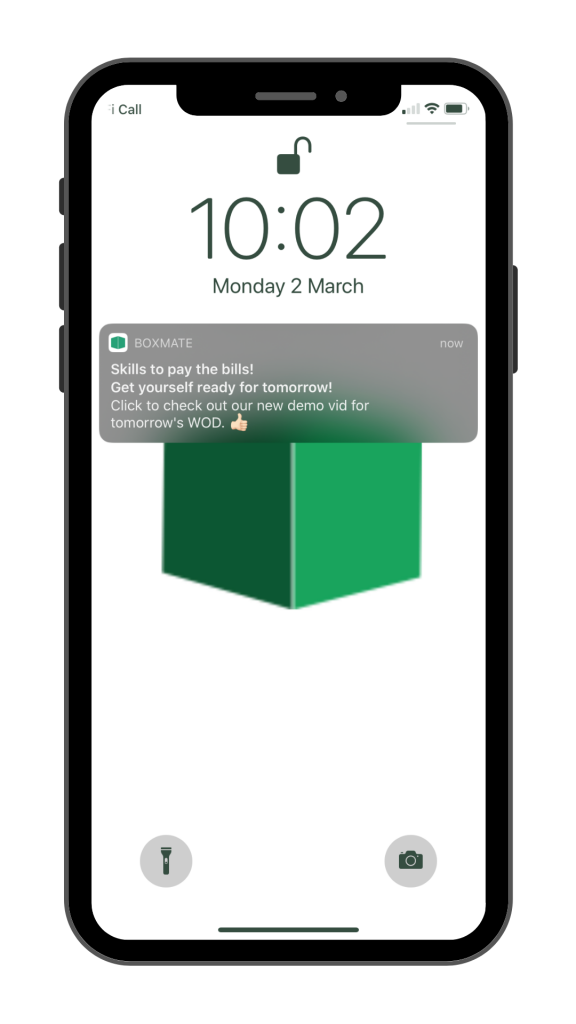 There are so many features to help you connect to your members – from checking in on their personal goals to analysing their progress – so, for the full line up of our latest features, you can check out out our latest release blog here.
3 features to boost your member communication.
Just finished the week's programming and have an an epic week coming up? Have a special WOD planned that you'd like everyone to check? Hit the 'Announce' button in the session calendar to send a notification and take them straight to view timetable.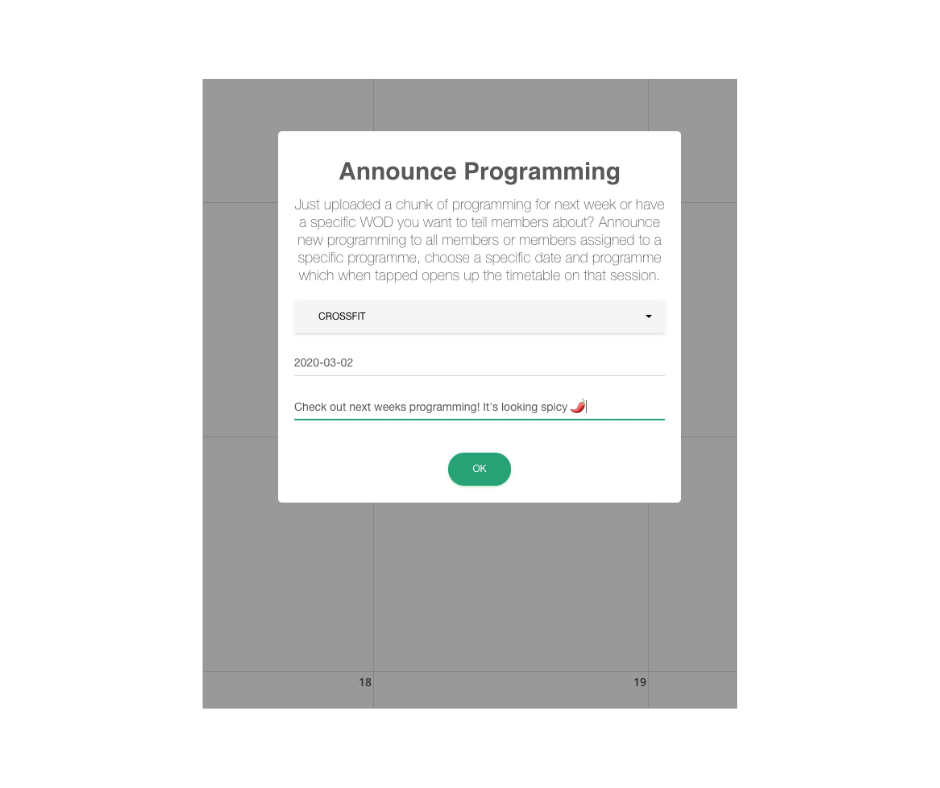 We know that programming is where the magic happens and that your members will be eagerly anticipating it, so, find this feature under Programming > Session Calendar > announce. Click on the green 'announce' button in the top right of the calendar to let your members know that programming is live.
Watch our short tutorial here to get started. 🔥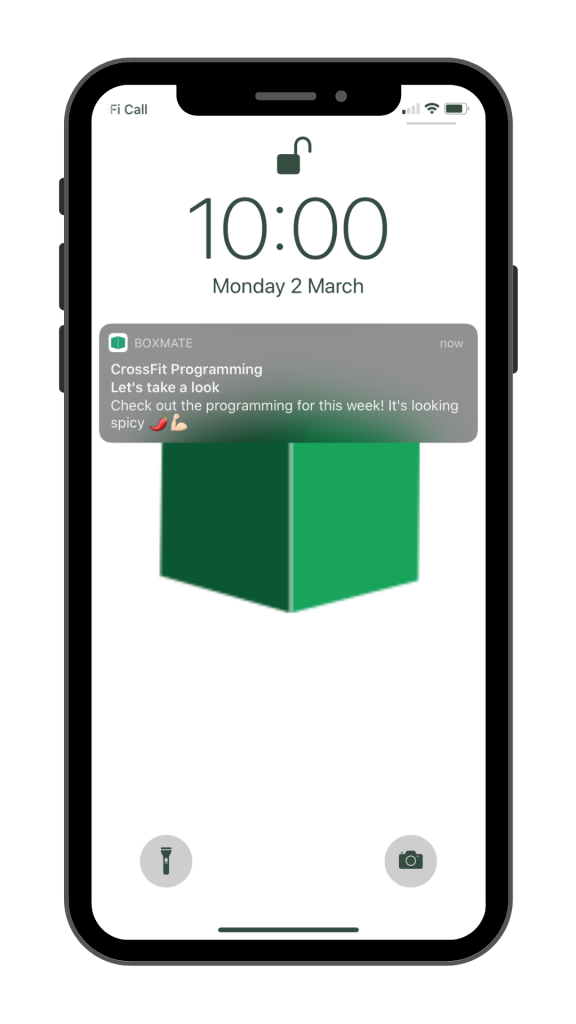 Notifications will also come through to smart watches too for those members who prefer to use their watches to keep up to date.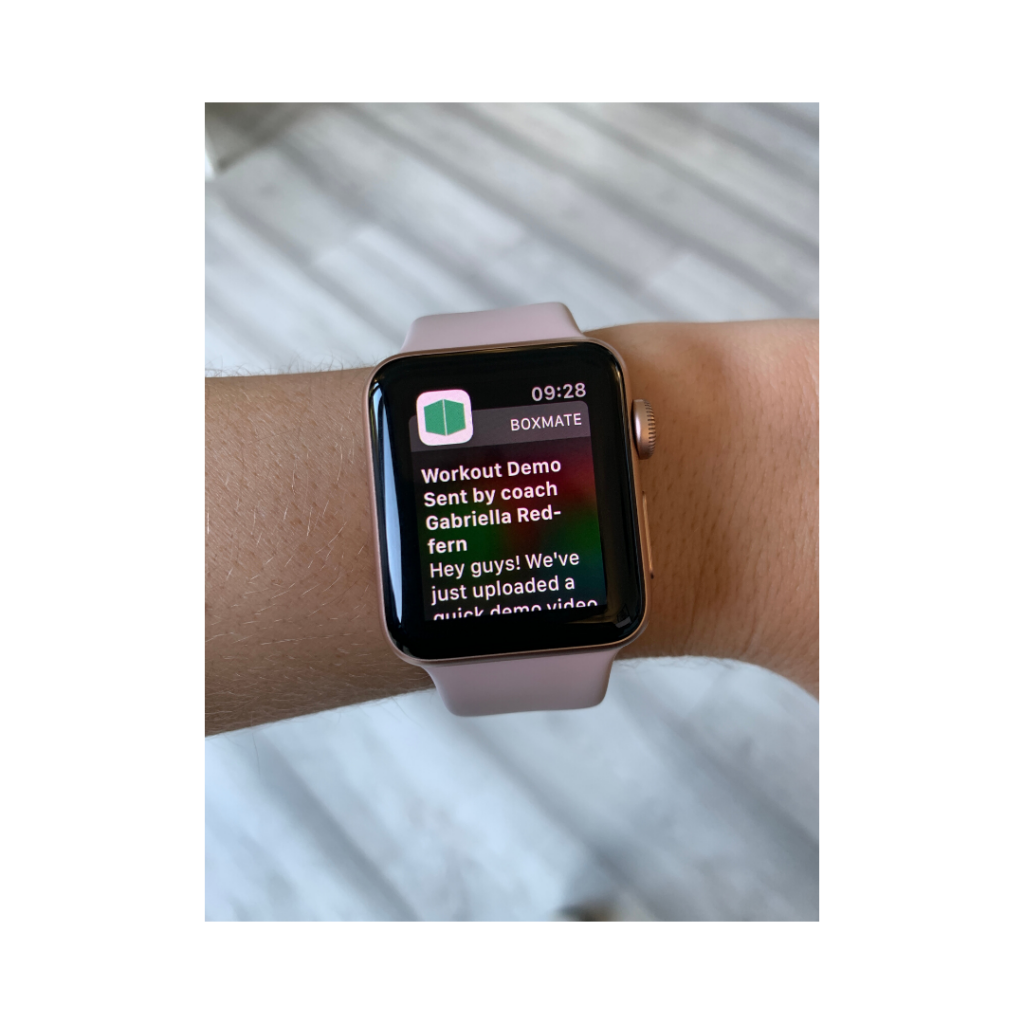 Nudges are SUCH a handy tool to quickly connect with your members. You can send a nudge about literally anything you want them to know! Click here to watch our short tutorial here for how to use nudges!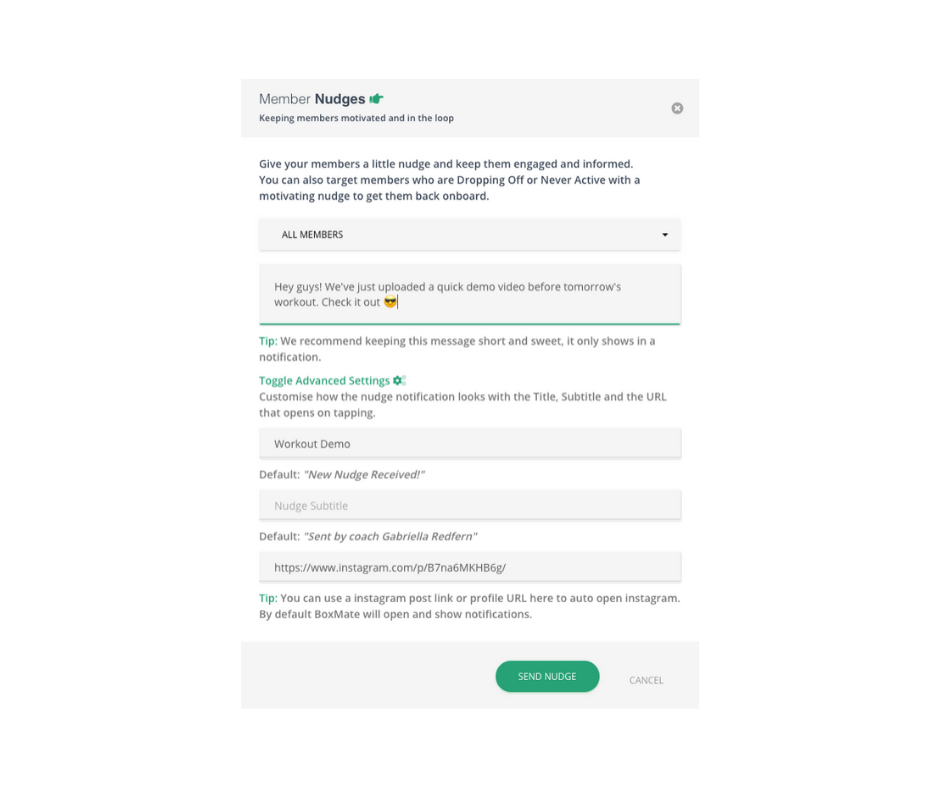 The best bit? You can now add a URL to a nudge. This might be to a specific Instagram post, YouTube video, or a website page.
So, if you've filmed a handy workout/ skill demo that could help them prep for their next session – send your members to it so it doesn't get missed. When they tap on the notification it will take them straight to the link you've sent them.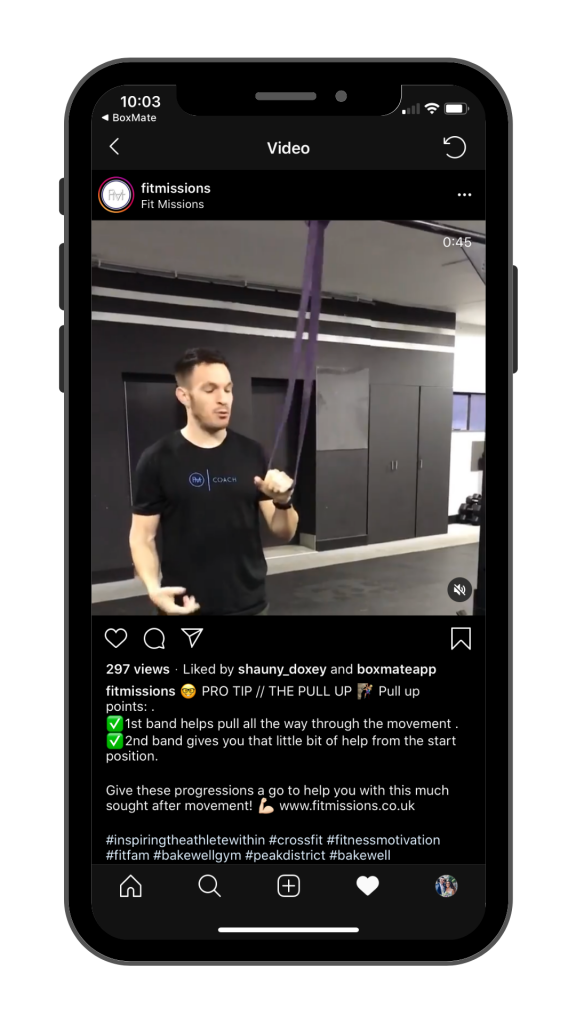 This works with all video hosting platforms – Vimeo, YouTube, Instagram etc – just copy and paste the URL into the nudge before you click send!
Use Questions to involve members in decisions
Want to know which WOD last week was your members' favourite? Trying to figure out the best date to host your next in house comp? Want to see which bars you should restock the vending machine with?
Don't be left guessing – ask your members!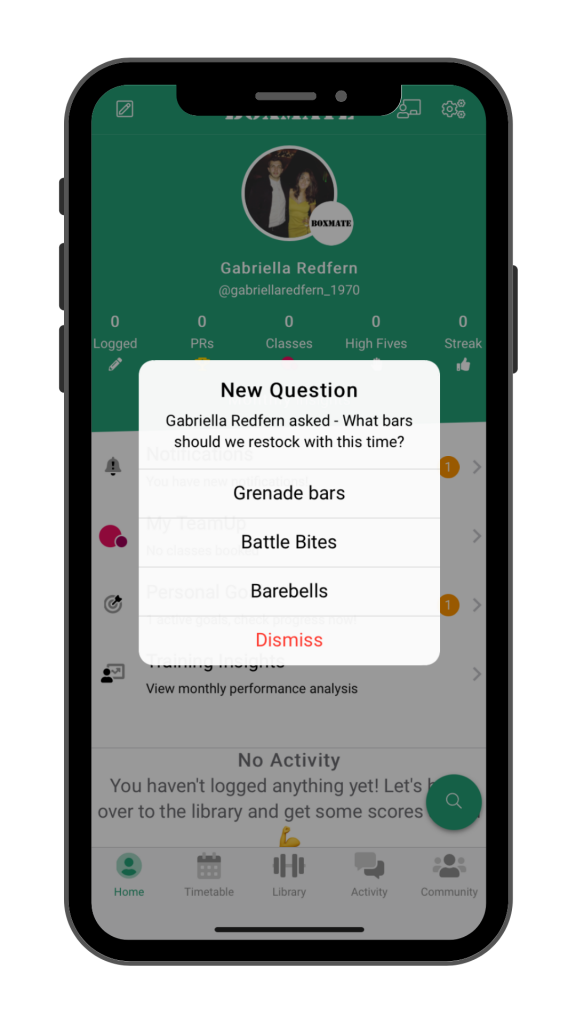 Your members will get a notification and a pop up when they next open BoxMate and can simply tap on their chosen answer.
Then, you can see all the answers to questions you've asked your gym members in one easy-to-view place. The most popular answers are highlighted in green with percentages of votes shown so that you can identify the results quickly. 
As well as this, you can re-prompt members who haven't yet answered if it's something really important. Just go onto the question and resend  just to members who dismissed the answer initially or haven't yet answered to get as many responses as you can before you make your decision.
Watch our short tutorial here to help you get started. 
Love and High 5s,
Team BoxMate
Related posts
Instagram
Instagram has returned invalid data.