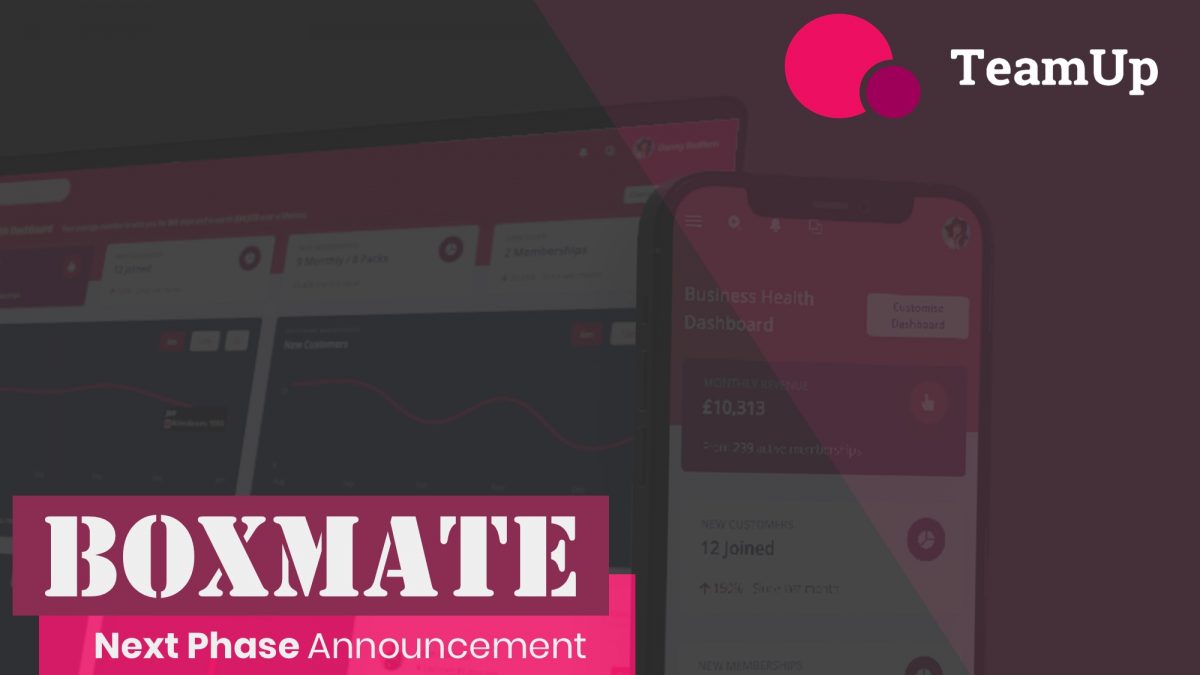 Strengthening Our TeamUp Partnership 🤝
Gabriella Redfern, 1 year ago
0
4 min

read
1307
We are excited to announce the next phase in our partnership with TeamUp 🤝
Since the beginning, we have integrated with TeamUp's booking system and we are happy to say we are now strengthening that partnership.
We do what we do best & they're the best in the game when it comes to scheduling, membership management and payments. So, with both systems working together your members have one place to book their classes, track their workouts and communicate with you & each other outside of the gym.
What does this mean for you?
You will now see a much deeper integration. This means we can make a more seamless experience between both systems & work closely with TeamUp to align future feature developments.
So, let's take a look at the new features & improvements you can enjoy in this new update (coming very soon!):
Business Health Dashboard
The Business Health Dashboard has been getting some great feedback already from those gyms using the preview (if you haven't yet jumped on the preview, why not click here & test it out now?)
The all new dashboard collates all the most important data for your business from TeamUp and displays it in simple to navigate graphs for you.
Inspired by research that shows the importance of looking closely at information about your churn rate, MMR, ARM, LEG and LTV you can now dig into the data that matters to you and your gym's growth.
Customer Relationship Management
Your new CRM system is the real showstopper of this latest update. Bringing you a customised lead capture form hosted on your website, automatic sync from new TeamUp sign-ups, capture links for your socials & ad campaigns and a full customer journey so you never lose track of a lead again.
The TeamUp partnership means that all your leads can be automatically progressed through the customer journey funnel, showing you your New Leads, Leads in Trial, and a 90 day New Customer Nurture journey. Why not take a look at your CRM on the preview now?
New Member Sign Up Flow
The new sign-up flow is probably one of the most frequently requested features!
In the new update (coming soon) members now simply download BoxMate, tap 'use TeamUp' on the register page & use their TeamUp login details. This will automatically create their BoxMate account, link to their TeamUp & log them in. This saves members having to register for the systems separately, avoiding any confusion & making it so simple to onboard your members!
Simple TeamUp Roll Out
As well as the new sign up flow, the 'Roll Out' is so much easier too. You will now send an email to invite all your TeamUp customers to BoxMate meaning they will get an email link to download the app, login and be good to go.
As well as the above brand new features our stronger partnership has enabled us to deliver, we have also made improvements to existing features too. You can check out more info on our partnership page with TeamUp here too! 
Further TeamUp Improvements (coming soon!)
You can now add and remove members from the timetable through your Coaches' Corner.
Your members will now see suggestions for booking their favourite class time on the home screen with the option to quick book.
To make booking for members even clearer, you can now setup linked class types for programmes. This means class booking will be segmented by programme and only classes assigned to that programme will show for members. This will avoid any confusion & members booking onto the wrong class.
With this next phase comes so many opportunities for us to keep improving this integration and offering you more of what you want from your joint gym management system.
We are looking forward to working closely with TeamUp's development team to align features and bring you the improvements we know you want to see!
As always, we'd love to hear your thoughts & feedback!
Danny, George & Gaby (Team BoxMate) x
Related posts
Instagram
Instagram has returned invalid data.